Medical Voluntters (IRM) Help Orphans and Committee of Rohingya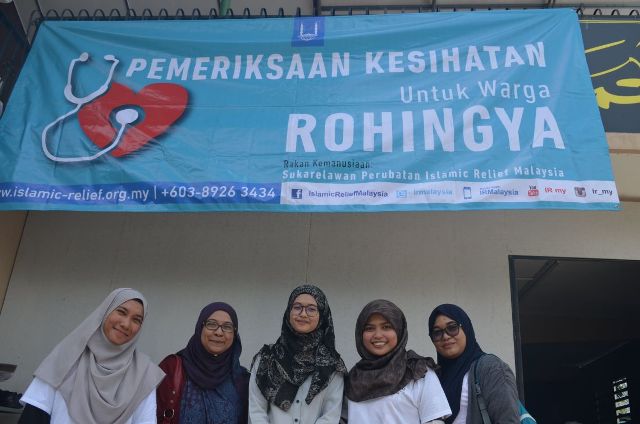 Islamic Relief Malaysia (IRM) through medical volunteers was organizing health screening programme for those in need.
This health screening programme involved different community and was held for two days. On 15th Oct. 2016, the Health Screening Programme was held at Pusat Kebajikan Anak-anak Yatim Nur Hidayah, Bukit Gantang, Perak. the Focus of this programme was to create awareness about the importance of health care to orphans and free health screening to the residents of Kampung Cheh. Among the activities undertaken was the demonstration of the proper way to brushing the teeth, skin and health inspection as well as the distribution of hygiene kits. Others than Medical Volunteers, the programme also received an awesome support from IRM volunteers from Vukit Gantang and Muadzam Shah, Pahang, Royal College of Medicine Perak UniKL and Pantai Premier Pathology.
Whereas on 16 October 2016, the health screening program was held together with the Rohingya citizens from Baitul Rahmah Rohingya Learning Centre, Alor Star, Kedah The programme aims to create awareness on the importance of health care as well as provide free health screening. A total of 99 people childrens of Rohingya from the center of the education benefit through this program. Six doctors, three medical students, four nurses, four pharmacists and one Medical Assistant from Medical Volunteers of IRM, employees of the Kementerian Kesihatan Malaysia (KKM) district of Johor were involved in the programme. Other than medical examination, the recipients also received free medicines and vitagen drinks.
Previously, the same program were also held at the Knowledge Garden Learning Centre (KGLC) in Seri Kembangan with the Ethnic Rohingya Committee of Arakan (ERCA) and Sekolah Pelangi Kasih at Batu Caves in collaboration with Malaysian International Humanitarian Welfare Organisation (MyWelfare).