Since 1948, Palestinians have suffered from endless war. Until today, news of the death of Palestinians has been heard. Children are among the most affected by this conflict.
Your attention and concerned can help to save lives.
War-torn Yemen Needs Global Attention
Yemen has been blighted by armed conflict since March 2015 which has plunged the country into what the United Nations (UN) described as the world's worst humanitarian crisis in a century. Poverty in Yemen currently holds the first ranking in the Middle East. This long-standing feud has a devastating impact on the civilians' lives especially young children.
Crisis Summary and Figures
Estimated 100,000 people including children have died from preventable causes, however the actual figure is likely to be much higher.
Over 3 million more have been forced to flee from their homes and living in dire condition.
The failure in sewage systems has left 17.8 million people in need of clean water and sanitation.
3 million acutely malnourished children, pregnant, or lactating women.
The conflict has forced 20.1 million people to wake up in hunger every day.
The ongoing cholera epidemic (the largest in epidemiologically recorded history) and Covid-19 pandemic outbreak stoking fears to the people and exacerbated the conflict. As the outbreaks strain Yemen's insubstantial healthcare system (some were forced to temporarily suspend their operations due to airstrikes), 19.7 million people need basic healthcare.
Million people were on the brink of famine and not having the basic living essentials they need to survive.
Estimated 24 million people, which comprising of more than two thirds or 80% of the population rely on various humanitarian aid.
The urgent needs specifically are food supplies, drinking water, sanitation and hygiene kits, healthcare, and medical equipment.
 
Islamic Relief's Response
Through Yemen Appeal campaign, we are working with our global family to save lives across Yemen.
Islamic Relief is operating across the country, with more than 200 staff, and 2,000 volunteers on the ground in Yemen.

In times of extreme famine and conflict, Islamic Relief distributing essential food aid to more than 2.5 million people, providing hygiene supplies, medical equipment, and health supplies to 45 health facilities.

Providing clean drinking water to 10,000 individuals in need.

Islamic Relief equipped 21 hospitals and clinics across the country to support the medical frontliners to treat wounded, sick, and malnourished people.

Islamic Relief is currently finding ways to increase health-related support in Yemen to reinforce preventative measures and build medical centre capacity as Covid-19 outbreak has crept into the city's settlements.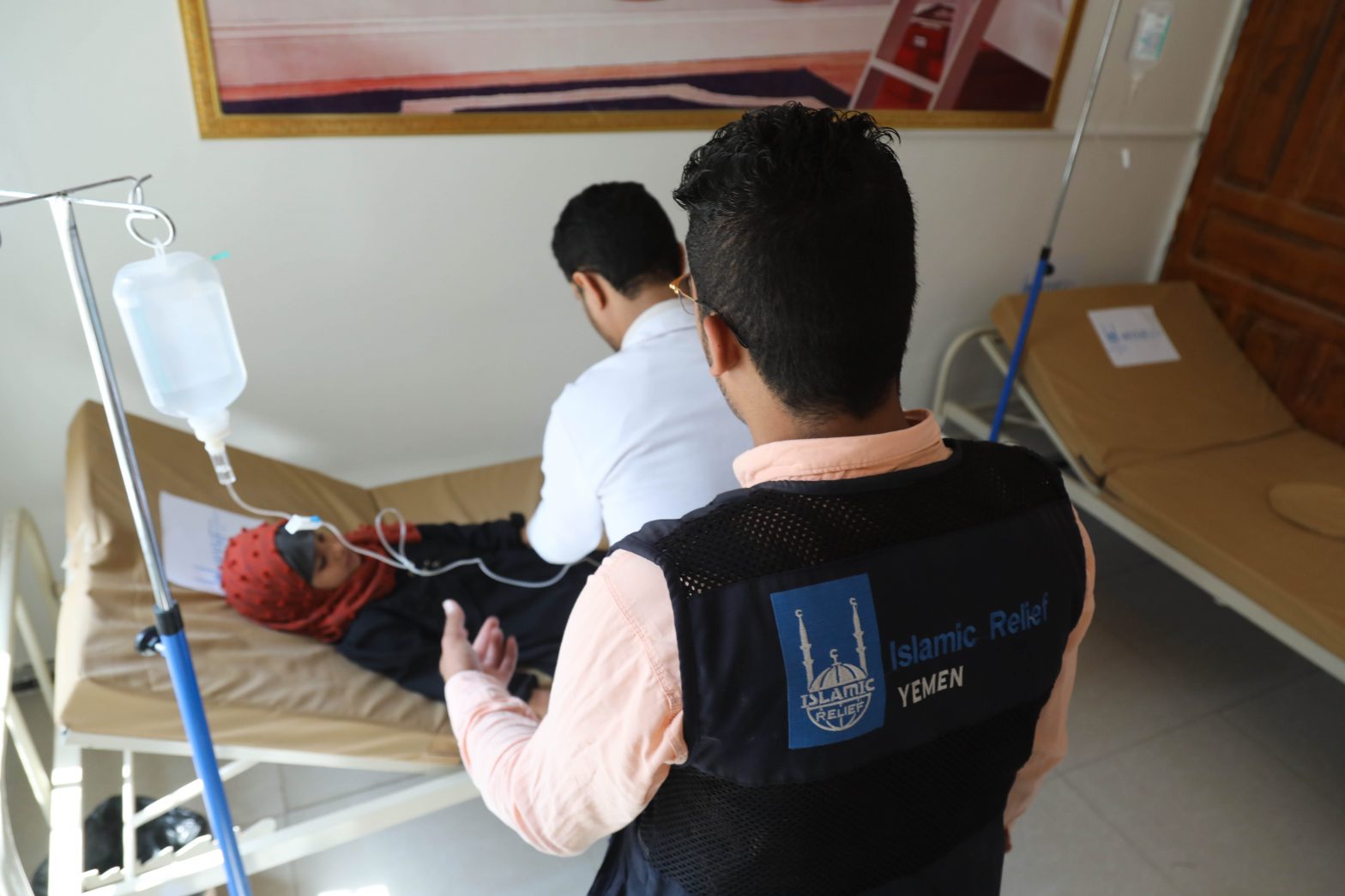 About Islamic Relief Yemen
Islamic Relief began working in Yemen in 1998 and registered an office there in 2003. The programme was significantly strengthened following the escalation of the conflict in March 2015.
We work in 19 of the country's 22 governorates, delivering aid to many hard-to-reach areas. Our country office is in the capital, Sana'a, and we have eight sub-offices in Dhamar, Amran, Aden, Taiz, Hodeida, Saada, Maarib and Rymah.
Our emergency and development response, including food aid, water and sanitation, health care, orphan and child welfare and vocational training for young people, has benefitted millions of people over the last three years.