Islamic Relief Malaysia Launches Somalia Water Wakaf Fund Project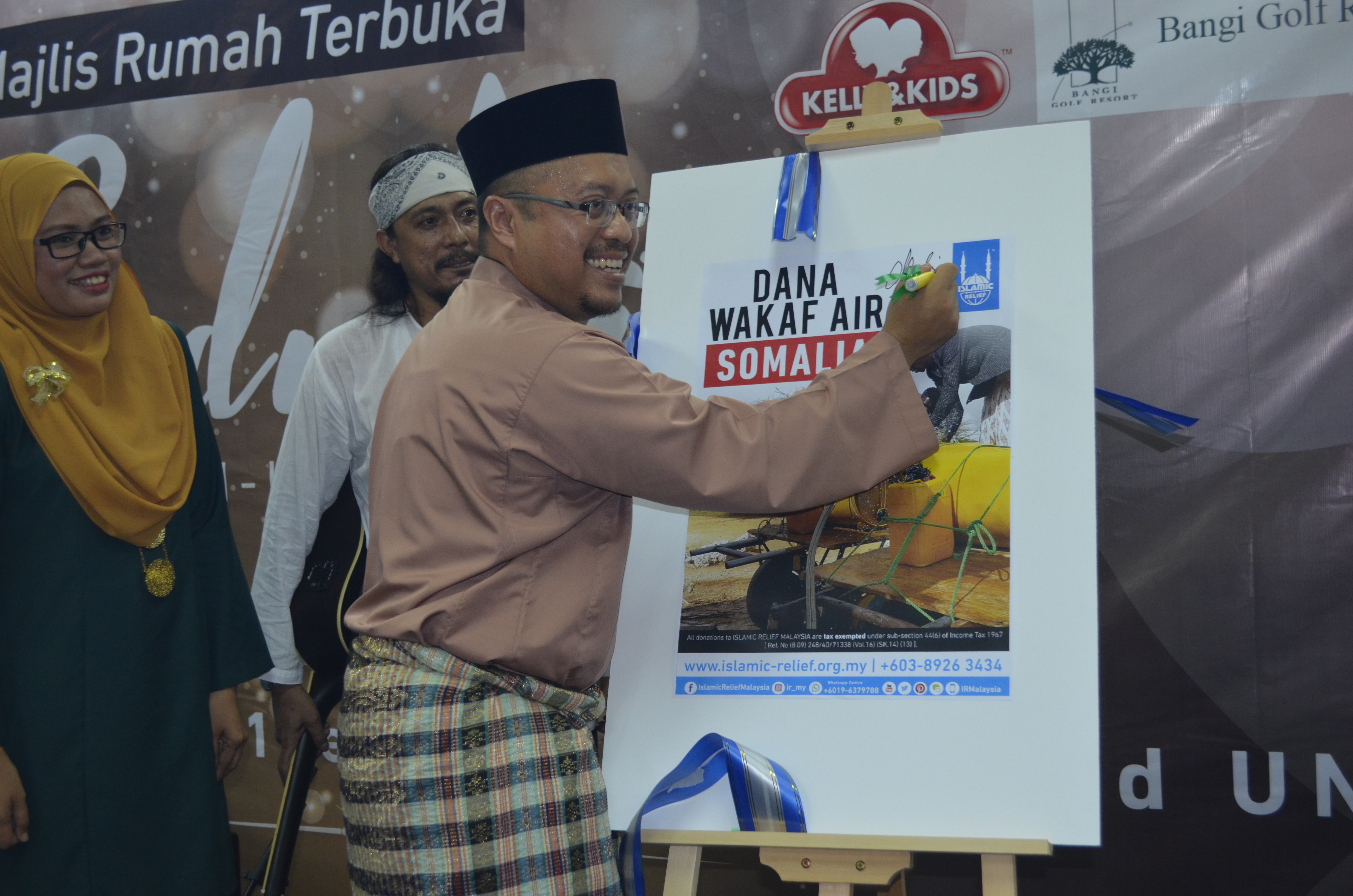 Kajang, 23 Julai 2017 – Over 10,000 residents from the Shabelle Region, Somalia will benefit from the construction of two wells in the area.
The Somalia Water Endowment Fund project was introduced by Islamic Relief Malaysia (IRM) in an effort to provide long-term solutions to Somalia's people who suffered from famine crisis due to prolonged drought since 2011.
This was explained by IRM's Head of Division Program, Kamarul Halim Sakrani representing IRM's Chief Executive Officer, Zairulshahfuddin Zainal Abidin who is currently overseas. He was met at the Asnaf Open House Eidulfitri Open House organized by IRM in collaboration with Universiti Tenaga Nasional (UNITEN) held at the UNITEN Mosque Hall, today.
"Following the surveys and assessments made by the IRM Humanitarian Mission team in Somalia last Ramadan, we see that the project will have a long-term impact of up to 20 to 30 years ahead not only to the Somali people but also the animals and crops cultivated by them .
"We are targeting fundraising of RM1.5 million through this project and will be implemented by Islamic Relief Somalia (IR Somalia) which has been there since 2006," Kamarul said.
Asnaf Open House Eidulfitri Council
In the meantime, the IRM-UNITEN Open House Council was attended by about 800 visitors comprising sponsors, IRM humanitarian partners, beneficiaries, contributors, volunteers, media partners and the public.
It aims to celebrate and bridge ukhuwah among all parties involved with the IRM as well as promote several IRM beneficiary products such as cakes, clothing and fish.
300 beneficiaries attended from around the Klang Valley, Mahmudah Stranded Homes, Persons with Disabilities Malaysians (POKOAM), Rohingya Intellectual Skill & Excellence (RISE), Kajang Murni Prudential Housing Association, PPR Batu Muda, Persatuan Orang Kurang Upaya Malaysian Muslim Muslim Association (MACMA), PPR Kota Damansara Muslim Women Bureau, Malaysian Dwarfs National Organization (PKOKM) and PRISMA.
The ceremony was officiated by Prof. Dr. Siti Salbiah Mohamed Shariff, UNITEN Deputy Vice-Chancellor (Development & Management) representing Dato 'Prof. Ir. Dr. Kamal Nasharuddin Mustapha, UNITEN Vice-Chancellor.
In addition to the launch of the Somalia Water Wakaf Fund and the exhibits of beneficiary products, the other activities held were MOLPay's Head of Business Development (Special Project), Azizul Fikri and the performances by Raihan, Syed Amran, Mr Mimpi and Soul Brothers.
The ceremony was also attended by representatives from Kelly & Kids as a sponsor of snack products and representatives from Hotel Bangi Putrajaya and Bangi Golf Resort who handed over checks to IRM's recent collections during Ramadan.
MOLPay is one of the gateways in Southeast Asia that allows users to donate through multiple channels and currencies, via debit card or credit card, domestic banking and Online-to-Offline (O2O) payment called MOLPay CASH.