IRM Visits Isolated Village in Sabah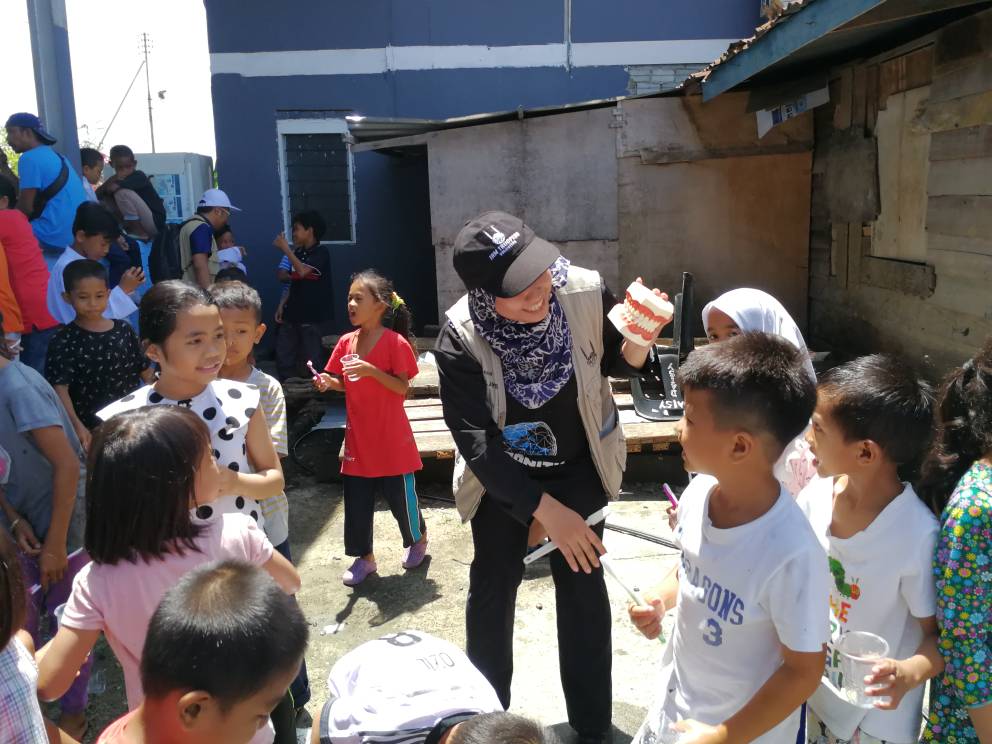 Sabah is unique and when it comes across our mind, the first thing that pops is the diversity of ethnic in the state such as Bajau, Brunei, and Dusun. Although the distinctiveness of ethnicity is seen as a symbolic of proud for Malaysia, the land below the wind actually has a number of hidden stories which are far kept from the sight of public.
Islamic Relief Malaysia (IRM) along with National Security Council (NSC) had an opportunity to visit a few villages in Sabah namely Kampung Simunul, Kampung Selamat, Kampung Bangau-Bangau, and Kampung Halo led by Captain Effendi. All villages are located within the zone of Semporna. The prime objective of this visitation was to perform a thorough evaluation and review in overcoming their problems occurred in the place.
The first location visited was Kampung Simunul situated nearby the Semporna Jetty Port. Forthrightly, Kampung Simunul is one of a kind as it is built on the water which has the capacity of occupants approximately around three to four thousand. Majority of them work as a fisherman, carpenter, general worker and some are doing small business. Besides, the village has been in the area for over more than 100 years and most of them were refugees originating from the root of Bajau and Suluk before they were granted Malaysian nationality.
About five years ago in 2013, we were shaken up by the shocking news taken place in Kampung Simunul where 10 security armies were killed and for this reason, Eastern Sabah Security Command (ESCOM) was set to establish. IRM too, had a chance to conduct a few friendly activities in the neighbourhood at a community hall that was built with the help from local authorities.
IRM sees cleanliness and well-being as the most essential element in life to keep our health under great care. Hence, an activity called "the best technic to brush teeth" was done with the young kids as they are not exposed fully to cleanliness and health of the body. On top of that, IRM also emphasised the importance of education, so basic learning of Malay Language, English, Mathematics, and Islamic Teachings were conducted.
Next, IRM continued the mission to Kampung Selamat which is located nearby Kampung Simunul. Just like Kampung Simunul, the residents at this place has a capacity approximately around three thousand people. But yet, most of them are refugees and denied Malaysian nationality.
In Kampung Selamat, IRM had a chance to visit Alternative Learning Centre (ALC) that was built with the initiative from NSC. In Sabah alone, 12 ALCs were built and although no funds contributed by any humanitarian organisations, NSC sees it as a checkpoint to expose young kids to learn Islam more in depth. Majority of the people in Kampung Selamat are used to living on the water and for this reason, they have become too dependent on fisheries as their earnings.
The next two destinations after Kampung Simunul and Kampung Selamat are Kampung Bangau-Bangau and Kampung Halo. Both of these villages have nearly some common relationships. Visitors are required to walk and pass through Kampung Bangau-Bangau prior to entering the territorial area of Kampung Halo. Unlike Kampung Halo, Kampung Bangau-Bangau is a community that is acknowledged by the Government of Malaysia.
Source of electricity, systematic lane, and a primary school are among the facilities that were spotted in Kampung Bangau-Bangau. However, the case is different in Kampung Halo which does not have the same electricity system, no nationality granted, and they are also vulnerable to dangers such as tilted bridge and no safer access to enter their home.
From this evaluation, IRM found out that the problems experienced by these villagers are common and associated with each other such as no true source of electricity and flawed wiring system. Wires are connected using twigs, but they are imperiled to short circuit that may cause wildfire to occur. Apart from that, these communities also suffer from hygienic problems as most of them are not equipped with the knowledge on the importance of cleanliness. What's more unfortunate, they live on water yet lack source of clean or treated water to carry out daily routines such as washing and bathing.