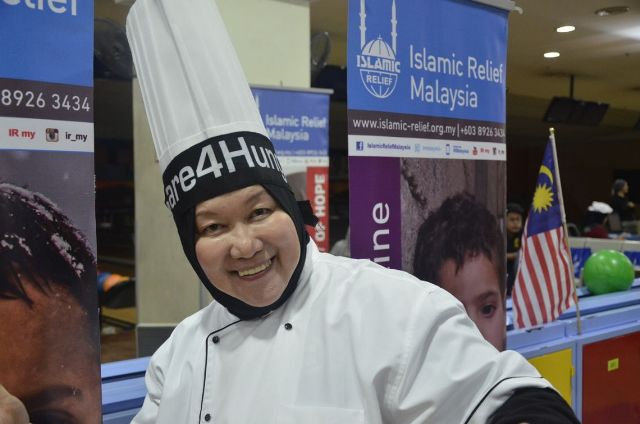 Sri Petaling,Nov. 5th 2016 – The Islamic Relief Malaysia (IRM) was organising an intriguing sports competition of ' Bowling For Hunger ' event. All the bowling players were dressed in cooking chef uniform while competing with each other in scoring down their bowling pins. The competition was held at the Pusat Bowling Megalane, Endah Parade was aims to raise funds to help those in needs and thus conveying messages of humanity to encourage the community to contribute in Care for Hunger fund.
According to Senior manager of Charity Shoppe IRM and also director of the programme, Datin Norelan Ismail, Care for Hunger was a campaign launched in 2015 as a response to the issues of hunger where it listed in one of the world's largest crisis affecting more than 840 million people in the world.
"As a symbolic to the problems of malnutrition, the IRM choosed to dress in chef uniform so that all attendees were able to appreciated the situation suffered by those who are starving while we here can provide delicious cuisine without any sympathy. In Shaa Allah, we will continue this kind of program with different themes." she said with an experienced of 20 years doing charity work.
Meanwhile, a participant who participate in the program resulted with a joy because it was unique and strengthen the relationship amongst participants and the organizer.
A total of 120 participants took part in this charity programme involving various background such as the public, government agencies, celebrities and media partners such as Chef Imelda, Ustaz Shahrul Faizie, BERNAMA, JAKIM, BTN, MAHA, MAMPU and others.