Thanks A Million As Charity Week Young People Raise Record Sum For Islamic Relief Children's Projects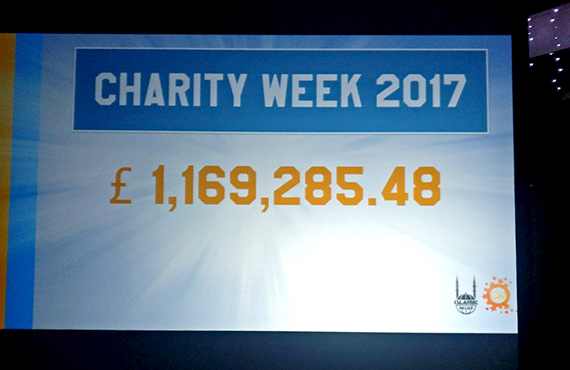 Young people across the UK and overseas have raised the record-breaking sum of almost £1.17m for Charity Week – by far the largest total in the Week's 14-year history.
The money raised – £1,169,285.48 so far – will be used by Islamic Relief to provide aid and assistance to vulnerable children around the world. The provisional total beats by over £100,000 last year's then-record-breaking £1,057,220.12.
This year's Charity Week, which ran from 23 to 29 October had the theme of Let's Build Together. Thousands of young people fundraised in more than 200 universities, schools, colleges, youth groups and businesses across the UK, Canada, Germany, Qatar, the United States and Australia.
The record-breaking sum brought together the totals raised by students in London, the UK and internationally. The total was revealed on Sunday 26 November during Islamic Relief's Charity Week International Annual Dinner at the Crowne Plaza Hotel in Glasgow, attended by 400 guests from across the UK and from overseas.
 Imran Madden, UK Director of Islamic Relief, said:
"This is a fantastic achievement. Thousands of students and volunteers across the UK and around the world have given of their time and energy to fundraise for Charity Week, working so hard and so creatively to achieve so much for those children and young people who have so little."
The provisional UK regional totals raised for Charity Week are as follows (as of Wednesday 29 November 2017):
Scotland: £120,728.71

Wales & West of England: £50,830.80

North of England: £93,846.22

The Midlands: £117,975.30

London: £464,026.47

South of England: £ 91,143.62
The volunteers raised the money by organising and participating in a wide range of activities and challenges including mountain climbing, football tournaments, fashion shows and Jungle Runs to 40 fundraising dinners, street collections in 43 city centres, bake sales, fundraising auctions and even a Mad Hatter tea and cake party. 
The fundraising auctions proved particularly popular, with a banana selling for £3,000 at the UCL dinner and auction, making it possibly the world's most-expensive fruit. Elsewhere, 18 brick-themed cakes were auctioned for a cumulative total of £82,662 and a canvas painting at the University of Exeter sold for £2,500.
As part of Charity Week, the young people choose where the money goes to by selecting the Islamic Relief projects to benefit from the proceeds. Projects being funded by Charity Week include:
Providing essential emergency aid to children suffering in Myanmar

Providing equipment and medicines for multiple malnutrition clinics across Yemen

Providing 20,000 children with screening, speech therapy and hearing aids in Gaza

Rehabilitating and equipping a school for 1,000 children in Malawi

Providing paediatric clinics across Somalia with medicines and equipment

Protecting refugee children in Greece from exploitation and facilitating their migration to the UK.
 Ahthsham Ashraf, National Director of Charity Week UK, said:
"This year our volunteers have exceeded all expectations and we have had an amazing Charity Week. At our International Dinner volunteers joined us from all around the world to showcase and celebrate our amazing achievement this year.

"I am grateful and thankful to all the volunteers who have given so much to this this amazing project and made it such a success."
 Ahmed Shaikh, International Director of Charity Week, added:
"People often complain about the youth of today and sharing examples of how different this generation is to ones gone by. However, Charity Week 2017 showed over a million examples of what the youth of today can achieve when they work together to serve orphans and needy children around the world. 

"This year the world witnessed phenomenal young people doing phenomenal things from all across Scotland, England, Wales, Northern Ireland, Germany, USA, Canada, Qatar and Australia, all for the sake of those children who rely on them to unite.

"It is narrated that the Prophet Muhammad ﷺ described the Ummah as bricks of a building each one supporting one another. This year we witnessed how these bricks came together and built hospitals, schools, malnutrition clinics and shelter for those orphans and needy children who need it most.

"We've built on our vision of unity, built a team and year-on-year we continue to build that hope that is changing the world. Nowhere else do you see the youth so energised, so passionate, and so dedicated to work for one amazing cause.

"We've celebrated what we built in Charity Week 2017 and will build on these achievements as planning for Charity Week 2018 begins now."
Since 2003 Charity Week has raised more than £6.7m for 49 projects helping more than 140,000 orphans and needy children worldwide.
Source: Islamic Relief UK