Islamic Relief Volunteers Support FareShare's Christmas Food Drive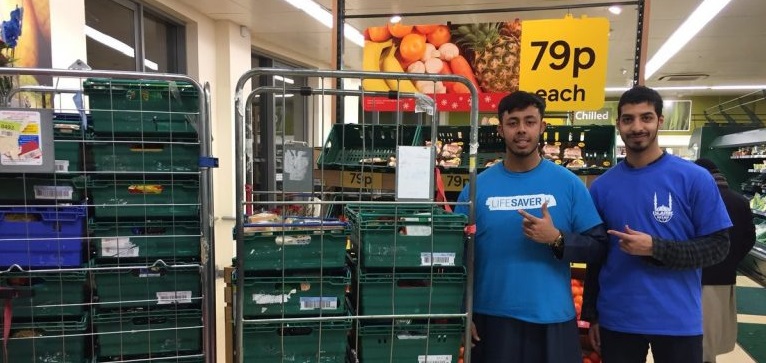 Two teenage Islamic Relief volunteers offered a helping hand to FareShare's annual food collection to help those in need this Christmas.
Two of our keen volunteers, Hosaam Safdar and Muhit Chowdhury, both aged 19 – supported this year's FareShare's food drive at Tesco in Whitechapel, East London, which took place over three days in early December.
Working alongside FareShare, our volunteers were in store greeting customers as they came in with a list of items most needed by charities. The aim was to encourage shoppers to buy items and donate them to FareShare at the end of their shop.
In just three hours our volunteers collected 32 crates of food. FareShare estimates that equates to enough food to make 600 meals.
Hossam said:
"I felt absolutely amazing. It was great to see how many people just looked at our stall, and immediately brought food without us asking.

"So many people from different faiths, just coming to support the cause. I think visually, when people saw how much food was being donated, it inspired people to take part which really demonstrates the fruits of our efforts and how our efforts really inspired people.

"A lot of Muslims said to us 'Jazakullahu khayran' (May God reward you with good), as they were touched to see how confident we were in putting ourselves out there to people and getting them engaged in the cause.

"Alhamdulillah this is something I would love to do more often, to really get people involved in helping the homeless in our locality."
FareShare is a national charity who work with all sectors of the food supply chain – producers, manufacturers and retailers – to help feed those who are vulnerable and in need.
Islamic Relief's National Community Fundraising and Volunteering Manager, Zia Salik, said:
"We are pleased to support FareShare and its commitment to helping charities provide much-needed food to those in need."
FareShare will now distribute all the groceries collected to local homeless shelters, food banks, hostels and refuges across the country to help those most in need this Christmas.
Steffie Clement, Partnerships Officer at FareShare, said:
"At FareShare we'd like to thank Islamic Relief for helping to support our annual food drive. Volunteers across the UK collected an incredible amount of food donations from the public – all going to help feed people in need."
FareShare not only help the homeless but those experiencing food poverty, regardless of religion, race or gender. They give food to homeless hostels, children's breakfast clubs, lunch clubs for older people, domestic violence refuges and community cafés.