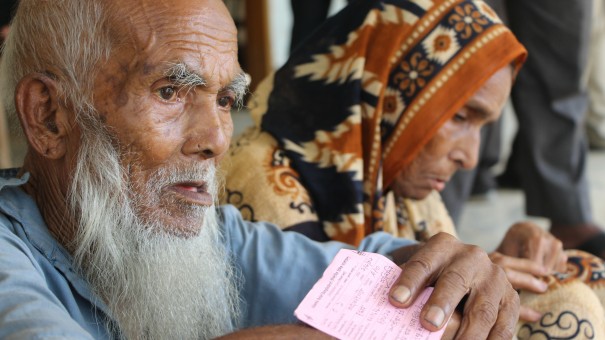 Every Ramadan, Islamic Relief Bangladesh provides food packs to the most vulnerable people in poverty stricken and disaster prone districts of the country.
Samad used to work in Mymensingh before an accident damaged his back. Now he cannot put pressure on his spine, engage in any physical activity and, as a result, is unable to make a living. "My wife makes cakes and sells them in the market every day," Samad said. "If the sale goes well, we get to eat. If the sale doesn't go well, we don't get to eat anything that day."
As his wife's business relies heavily on external factors, anything from bad weather to not being able to afford materials for cakes can affect whether they have a meal that evening. "We never get enough food, but we thank Allah (swt) for the little we do get. But most of the time it's like fasting has become a regular practice in our lives." Although Samad cannot support his wife through work, he remains hopeful. "I try to help my wife at least with the chores of the house. But she is strong, very strong, and she has kept us going for all these years."
Islamic Relief Bangladesh provided Samad and his wife with a food pack containing rice, lentils, chick peas, soybean oil and sugar, ensuring that the couple remain food-secure during the month of Ramadan. "I would like to thank Allah (swt) for sending this food to me through Islamic Relief."
Approximately 1.5 million people across the globe will receive a Ramadan food pack this year.