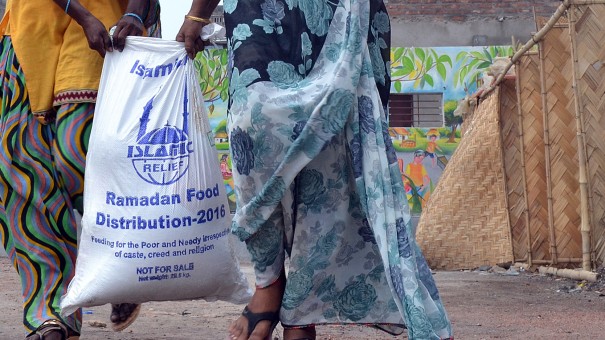 Islamic Relief has been distributing food aid in Murshidabad, one of the most deprived districts in the West Bengal, for the past five years. This Ramadan was no different, with over 1,000 food packs distributed in this district alone.
"I am a widow living with my daughter who is a divorcee," 40-year-old Mujkira told us. Both Mujkira and her 20-year-old daughter, Manera, work together to ensure they have enough food to eat on a daily basis. "We don't have any source of income as such," Mujkira said sadly. "For grinding ten kilograms of rice, we get one kilogram of rice powder as a wage."
The pair live in a small house in Sherpur and face many challenges accessing water as well as food, with their nearest tube well quite a walk away. "The food shortages and lack of safe drinking water cause many health problems for us, but there is no proper medical facility nearby and we cannot afford whatever is available." During Ramadan, Mujkira often worries about how they will break their fast. As part of Islamic Relief's food distribution programme in India, volunteers visited Mujkira and Manera to find out more about their circumstances. "They understood my situation and needs, and they selected me as a needy person and gave me a Ramadan food pack."
Islamic Relief provided Mujkira and Manera with a food pack containing rice, flour, pulses, sugar, chick peas and tea leaves, ensuring that they remain food-secure during the month of Ramadan. Mujkira said: "This food packet will be enough for me and my daughter during Ramadan, inshaAllah! I am very happy and relieved that I'll not have to worry about our meals and will be able to concentrate on prayers."
Approximately 1.5 million people across the globe will receive a Ramadan food pack this year.