Thousands flee their homes in Iraq as fighting intensifies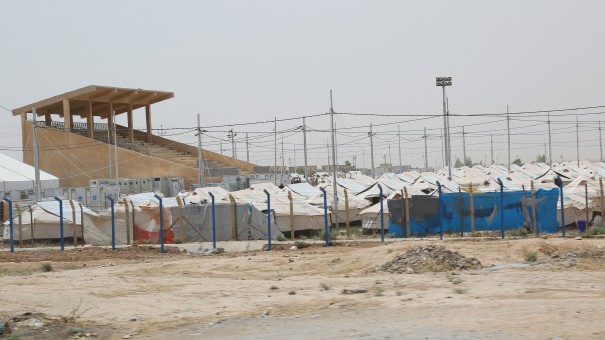 Camps reach capacity as families flee Fallujah and Makhmur in scorching summer heat.
Islamic Relief is distributing emergency food packs to thousands of people who have fled their homes in Iraq.
As Iraqi security forces attempt to retake areas held by the Islamic State of Iraq and the Levant (ISIL) families have left everything behind and are now without shelter in the scorching summer heat.
More than 85,000 people have fled their homes since military operations to recapture the city of Fallujah began one month ago.
The scope of the crisis has outpaced humanitarian capacity.
Humanitarian organisations have no access to Fallujah and an estimated 50,000 civilians are still inside the city, with limited or no food supplies and few sources of safe drinking water.
The newly displaced people are taking shelter in three camps in urgent need of food, water, sanitation and fans to overcome the searing heat as summer is at its peak.
At the same time, 200 miles (350km) to the north, increasing numbers of people are fleeing their homes following military operations in Makhmur District.
Since Sunday (June 19, 2016) nearly 3,000 people from Makhmur have arrived at nearby Debaga Camp (shown above), which is now well over its 5,000-person capacity.
Distributing food packs at Debega Camp
Islamic Relief has distributed 331 food packs to 1,655 people in Debaga Camp and is planning to distribute 3,000 more to 15,000 people in the three camps outside Fallujah.
We have been operational in Iraq since 1996 and our presence and established networks put Islamic Relief in a strong position to access hard-to-reach areas.
Extra support is urgently needed to supply vulnerable displaced people with food, water and hygiene items.
At a glance:
The humanitarian crisis in Iraq is one of the largest and most complex in the world, impacting nearly one-third of the population.

Ten million Iraqis currently require humanitarian assistance.

There are reports of people drowning, being injured or being killed by snipers or improvised explosive devices in their attempt to flee Fallujah.

Before this most recent military operation 75,000 displaced people were already residing in camps near Fallujah.

With rising temperatures and lack of clean drinking water the risk for disease outbreaks is high.