7th Anniversary of the Syrian Conflict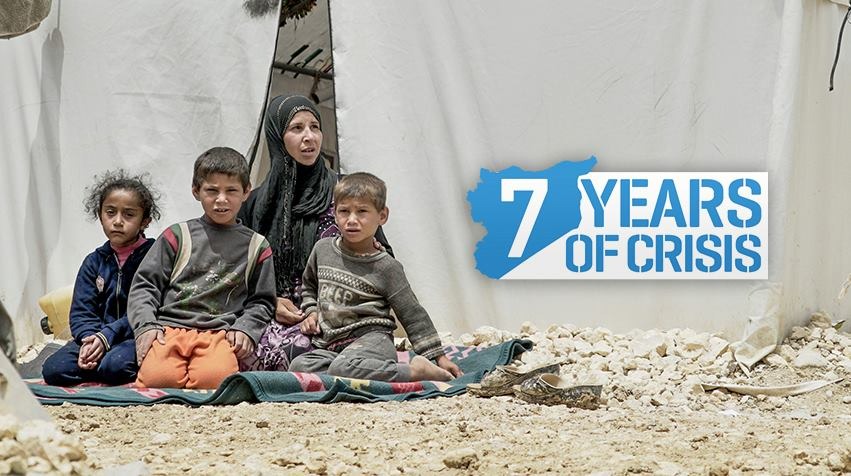 For seven years the Syrian people have been bombed, besieged and forced to endure one of the worst humanitarian crises in living memory.
The recent intensification of violence and increase in military offensives has made the situation even more dangerous for ordinary civilians. Ordinary men, women, and children have borne the brunt of this conflict, they continue to suffer a war that does not seem to have an end in sight.
The war continues to impact every aspect of life.
Imran Madden, Islamic Relief's UK Director, said:
"The Syrian conflict has lasted longer than the Second World War: we need a political solution. The UN Security Council must negotiate a peace settlement to prevent the mass slaughter of innocent civilians."
Islamic Relief continues to do all it can to help alleviate the suffering of the Syrian people. Despite the situation in Syria having become increasingly dangerous we continue to operate on the ground. Our humanitarian work in and around the country has been a multi-faceted effort, we have spent £239 million on projects inside Syria and neighbouring countries which are hosting large refugee populations.
We've helped over four million people inside Syria. We have provided over half a million winter kits to displaced people and given out 2.3 million food parcels to the most vulnerable people. Our comprehensive Syria emergency response includes:
Medical assistance

Food parcels

Shelter and cash assistance for rent

Water and sanitation

Livelihoods and education support

Psychosocial assistance

Essential items such as baby kits, blankets, clothing, and heaters
Islamic Relief has been responding to the crisis since 2011 and the situation is not getting any better. Over 400,000 civilians have died, 13.5 million need humanitarian aid, 6.5 million people face acute food insecurity, 1/3 of all schools are unable to provide education and 5.3 million people live in shelters without any cooking, heating, or washing facilities.
For more details our work please read our latest report.
We will not stop helping the people of Syria, please support our work by making a donation. Your donation could help save lives.
Source : Islamic Relief UK