Thousands displaced as hospitals and schools targeted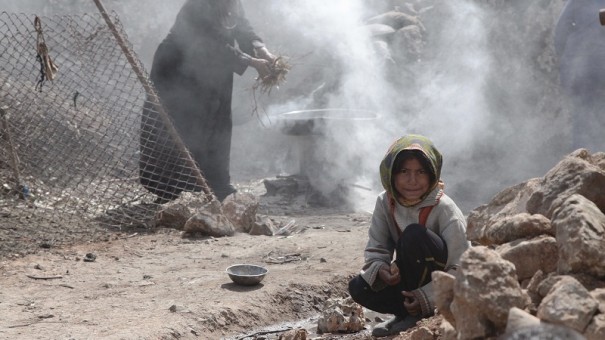 In one week, the number of people living in camps at the Turkish border has increased by 30,000 to around 100,000 people. Many families were displaced from Azaz city, in the far north of the country, where hospitals and schools were the targets of airstrikes.
A further 40,000 people lost their home on Monday when Tell Rifaat, a city in the north, was targeted.
"Monday was a dark day for women and children in Syria," said Ahmed Mahmoud, an Islamic Relief staff member working in Syria. "The people killed included pregnant women and new-born babies in incubators. This is simply unacceptable.
"Civilians have been displaced several times in the last five years, some of them for three, four or five times. These people left their homes because of bombardments and moved to displaced people camps; the camps were hit so they moved to collective centres in schools; the schools were hit and many of the injured people were taken to hospital. And then the hospitals were hit. So where else can people go to protect themselves?"
Ahmed Mahmoud speaking to BBC Radio 5 Live about the situation in Syria
The blast from airstrikes in Azaz blew out the windows of a kidney dialysis centre that Islamic Relief is running in the town centre. The machines are still functioning but many of the patients who desperately need the dialysis treatment are now too scared to come to the centre, which is the only functioning dialysis centre in northern Aleppo. Instead, dialysis will be provided through the night when airstrikes are less frequent.
Around Azaz, Islamic Relief has stopped distributing food parcels at centres as the risk of people being injured or killed while travelling to or gathering at the sites was too high. Instead of asking people to come to distribution sites, Islamic Relief teams are now distributing food parcels door-to-door.
Ahmed added: "Going door-to-door has increased pressure on the team as well as the cost of distribution, but it will protect the lives of the people who are possible targets to the airstrikes."
"Leave no diplomatic stone unturned"
Many families at the border with Turkey have very little food, clothing and utensils with them. In the next few days, in coordination with the Turkish authorities, Islamic Relief plans to deliver 25 sanitation units to the new camps that have been set up inside Syria near the Turkish border. Each unit will include seven toilets and sinks and are designed to help with hygiene.
Islamic Relief strongly condemns the targeting of civilian infrastructure, such as hospitals, schools, markets and bakeries.
"All parties to the conflict must respect international humanitarian law," says Ahmed. "Everyone can see civilians, health care workers and ambulances entering and leaving these hospitals. They are in highly populated areas, a long way from the frontline. The targeting of civilians has to stop right now."
"This conflict has continued for five years. More than 11 million have forced to leave their homes and over 250,000 killed. The situation is dire and there seems to be no real prospect of a solution. The international community must leave no diplomatic stone unturned to find a solution to this conflict."
Over the last year, Islamic Relief has provided food, medical items, warm clothing and shelter for more than 3 million people inside Syria.