Syria crisis hits new low as hospitals and schools hit by airstrikes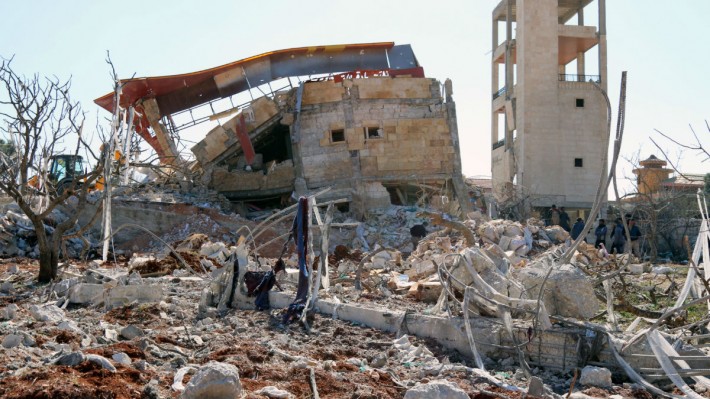 The airstrikes that hit schools and hospitals in northern Syria yesterday killing up to 50 people marks a new low in the conflict, says Islamic Relief.
"Yesterday was a dark day for women and children in Syria," said Ahmed, an Islamic Relief staff member working in Syria. "The people killed included pregnant women and newborn babies in incubators. This is simply unacceptable."
"The civilians have been displaced several times in the last five years, some of them for three, four or five times. These people left their homes because of bombardments and moved to displaced people camps; the camps were hit so they moved to collective centres in schools; the schools were hit and many of the injured people were taken to hospital. And then the hospitals were hit. So where else can people go to protect themselves."
The blast from the airstrikes that hit Azaz yesterday blew out the windows of a kidney dialysis centre that Islamic Relief is running in the town centre. The machines are still functioning but many of the patients who desperately need the dialysis treatment are now too scared to come to the centre, which is the only functioning dialysis centre in northern Aleppo.
Islamic Relief is continuing to deliver food aid, medical items, tents, shelter materials, toilets and wash basins in northern Syria but it is becoming more and more dangerous for the staff and the people Islamic Relief is trying to help. Recently, convoys carrying humanitarian aid have been attacked.
Islamic Relief teams are now delivering aid directly to individuals instead of expecting people to queue at various distribution points where they could be at risk from the intensified airstrikes. This puts extra pressure on the team, but ensures that aid is delivered to those who need it most.
"We are doing our best in a very difficult situation to maintain our operations in Syria," explains Ahmed. "We have to; the needs of the people are becoming more and more desperate by the hour."
Islamic Relief strongly condemns the targeting of civilian infrastructure, such as hospitals, schools, markets and bakeries.
"All parties to the conflict must respect international humanitarian law," says Ahmed. "Everyone can see civilians, health care workers and ambulances entering and leaving these hospitals. They are in highly populated areas, a long way from the frontline. The targeting of civilians has to stop right now."
"This conflict has continued for five years. More than 11 million have forced to leave their homes and over 250,000 killed. The situation is dire and there seems to be no real prospect of a solution. The international community must leave no stone unturned to find a political solution to this conflict."