Q&A with Naser Haghamed, CEO of Islamic Relief Worldwide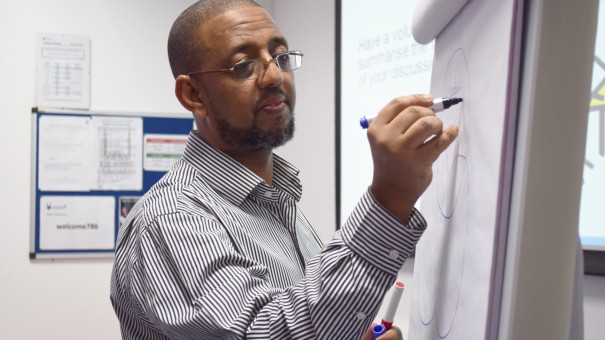 IRW's new leader speaks about his experience as a child refugee, the challenge of Islamophobia and his vision for the future.
Naser Haghamed joined Islamic Relief as an IT manager in 1993 and went on to help set up IRUSA, to spearhead the development of TIC and to lead the International Programmes Division.
He has lived in six countries and speaks English, Arabic and Tigrinya.
Today, he lives with his wife, Samia, and their five children in Yardley, Birmingham.
Here, he speaks about his experience as a child refugee, the challenge of Islamophobia and his vision for the future as CEO of Islamic Relief Worldwide.
Who has inspired you most?
"My inspiration was Dr Hany El-Banna [the founder of Islamic Relief], who has put this organisation ahead of everything else. Islamic Relief was his priority. He had dedication and commitment, and he always focused on the beneficiaries, wanting to help as many people as possible."
What part of the job has affected you most?
"In the year 2000 had a visit to Ingushetia [near the border with Chechnya] to see refugee camps where we were distributing food and setting up our own clinics and ambulances. I remember how cold it was. The design of those camps and the latrines… it was a typical refugee life and I saw how grateful the people there were to receive our help."
And you've experienced forced migration, yourself?
"Yes, when I was 13. The war in Eritrea started to get fierce and the liberation movement were taking control of the bigger cities so my dad, who had been co-operating with the rebels, decided to leave the country. He had to travel to Ethiopia using paperwork supplied by a friend of the family. From there, pretending he was going to Hajj, he fled to Saudi Arabia to escape. After that, my mum was harassed by the local army and police who wanted to know where my dad was, so we realised we couldn't stay. I remember we walked to the border city of Asmara and took transport provided by the rebels going to Sudan. When we were stopped at the border we said we were going to a family wedding. It was quite scary and it has certainly influenced me. I remember I was captain of the football team and I had to return all the kit to the rest of the team but I wasn't able to tell them I was leaving. That was very difficult, leaving behind my friends and not being able to be honest with them. I didn't know where we were going, what problems we'd be facing or how we'd be travelling. It was quite emotional and something I'll never forget."
"The toughest challenge Islamic Relief currently faces is Islamophobia and increased radicalisation"
What sets Islamic Relief apart from other INGOs?
"We're the largest Muslim organisation of our kind, combining western and contemporary thinking in approaching and delivering aid with the Islamic faith. When it comes to Muslim charities Islamic Relief is very inventive and leads the way. The Qurbani meat canning project is a good example. Traditionally Qurbani was a Muslim sacrifice of animals, distributed to the poor in the same country. Islamic Relief came up with the idea of collecting donations to have an animal sacrificed in another country, and then canning that meat where fresh produce was not available easily. Other charities are still copying us to do that."
What are the major challenges facing Islamic Relief?

"The toughest challenge Islamic Relief currently faces is Islamophobia. Conflict, stringent laws and fear is making it much harder for an organisation such as ours to achieve its mission. As a result we have banking issues because banks are becoming more risk averse so remitting funds to volatile places and conflict zones is becoming increasingly difficult. This is now affecting charities across the board. Another issue is that we are not getting access to deliver aid in besieged areas and civilians are not being protected. It's a challenging situation and it's getting worse by the day."
"Eighty per cent of people suffering are suffering because of conflict and the world is watching and doing nothing about it."
Islamic Relief launched in 1984 in response to a famine in Sudan. Three decades later, we've just launched an appeal for the same cause. Does that suggest the system is broken?
"Yes, to some extent I think it is. I think a lot of charities are just copying each other and we haven't been innovative enough in eradicating poverty. But there are other elements outside our control such as climate change, corruption and war. Take the examples of Syria, Iraq and Yemen, where the people didn't need that much aid 10 years ago but now they are probably 30-40 years behind and we'll be working for the next three decades to rebuild those countries. Eighty per cent of people suffering are suffering because of conflict and the world is watching and doing nothing about it. The world's superpowers have to reform the UN with greater commitment to holding accountable different regimes, powers and groups to adhere to international laws."