Mushrooms boost business for women in Indonesia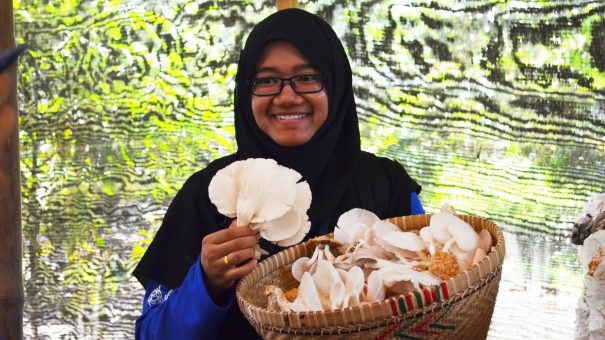 Widows in the country's most deprived region launch life-changing street food ventures.
Islamic Relief has trained widows in West Lombok (Lombok Barat) to grow and sell oyster mushrooms in street food snacks, from mushroom crisps to satay, and pudding to ice cream.
Many of the women did not finish primary school and have struggled to find jobs. But mushrooms are highly prized in Indonesia and bring quick returns on small investments.
Surmini, a mother-of-three (pictured right), said: "For me, this activity has changed my life and my income dramatically.
"I sell mushroom products every day and sometimes I can't meet the customer demand because of the limited availability of the mushrooms."
When Surmini's husband died over a year ago she was left supporting her five-year-old son and two step children with no means of income. Finding work as a housemaid, she was struggling to support her family of four on just $2-a-day.
She said: "After my husband died, I was very worried about my children's future.
"In training I remember we were told to care for the mushrooms in the same way you care for a baby.
"We were very surprised when we saw them growing. I remember I screamed loudly in the mushroom growing house in delight!"
As well as mushroom growing, the women have received training in other areas of business management including packaging, seed cultivation, marketing and accounting.
Working in groups, they can produce around 350kg of fresh mushrooms each month, which they can sell for around £400.
Supporting 149 women (and a further 629 people indirectly), the mushroom businesses offer opportunities for expansion with women creating new revenue streams by developing different products.
Find out more about our work in Indonesia here.