"We have fled again and again but we still live in fear": a mother's desperate search for safety in Syria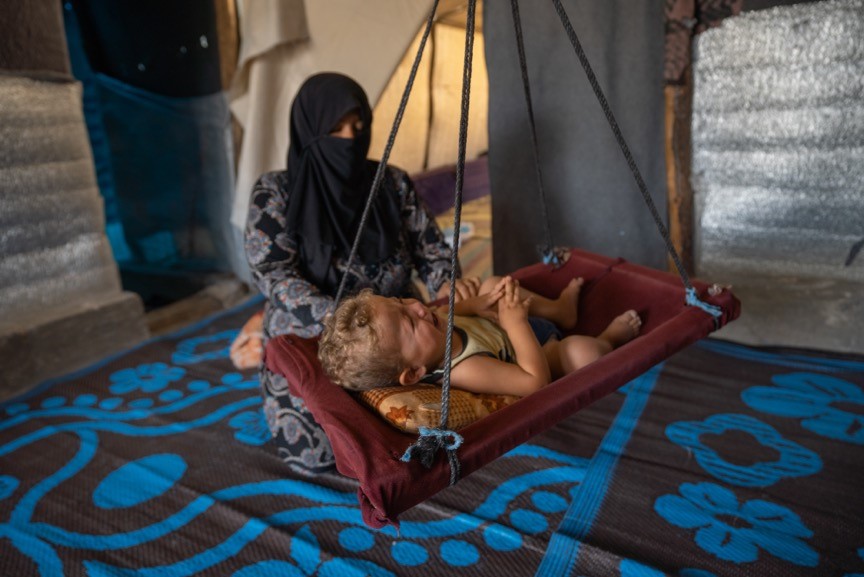 Umm Ibrahim is a widowed woman raising her children in one of hundreds of camps scattered across northern Syria. Umm Ibrahim's 3 children each have mental health issues.
"My daughter Jamila experiences periods of mania, which affects her sleep and causes her to cry out. My daughter Wafa struggles with obsessive behaviour, and my son, Hassan, also struggles with mental illness. They all need special care and I long for them to find treatment."
The family have fled repeatedly in search of safety
The family have been displaced multiple times due to repeated airstrikes. They left their home behind when their village was bombed and in the years since have fled repeatedly, desperately searching for a safe place.
"Five years ago, our village, in Jisr Al-Shughour, was bombed and my children and I had to flee for our lives. During the bombing, our home was completely demolished and nothing was left standing. We lost everything."
Umm Ibrahim's son was badly hurt during the airstrikes. He had fled from the house but sustained shrapnel injuries to his stomach. He was taken to hospital but nobody notified his mother, who spent 10 desperate days searching for her son.
"I was in a state of panic and searched for him everywhere. I spoke to some hospitals but they could not locate him either. For 10 days, I cried and prayed, asking God to return him safely to me and to make him well again. Thankfully, God returned my son. I cried as I hugged him."
Unimagainable horrors and tragedies
The family home was destroyed by the bombs and Umm Ibrahim and her children have since been displaced several times, living in various villages and camps. The mother-of-3 finds it difficult to describe the feeling of constantly being uprooted and moving to the next place.
"We have faced many tragedies since the crisis began, and we are still suffering now. We cannot even meet our most basic needs in this camp."
Poverty and trauma
The family shelter in a tent and rely upon humanitarian aid for survival. They do not have enough money for food and rarely eat meat. They live in fear due to the terrifying memories they have of the airstrikes that drove them from their home.
"We have had nights where we have gone to sleep on an empty stomach due to the lack of food. Our situation feels very unstable because we do not know what life might throw at us next.
"We live in fear because of what we experienced in our home village. When we hear the sound of aircraft, we feel so afraid. I take my children from the tent and run to the neighbouring farmland because I am so frightened."
Hopes for a better future
Alone with her children, Umm Ibrahim often reflects on her homelife and her friends and family.
"We all wish to return home to our country and be reunited with our loved ones and neighbours. We were very close and used to visit each other often. My sister lived nearby and we used to enjoy meeting to eat delicious meals together. I would like to rebuild my house so that my children and I can live there once again.
"It has been five years since we fled and I pray that this crisis will end soon so that we can return to our lives. We have suffered from every kind of injustice and I ask God to help us live in safety and peace. We have lost so much."
Islamic Relief provided Umm Ibrahim with food parcels, hygiene kits, charcoal for heating, and clothes to keep them warm.
With your help, we can continue to be a lifeline for the many families still suffering in conflict-torn Syria. Please donate to our Syria appeal.