Umm Faisal lost her family and now lives in a warzone during a pandemic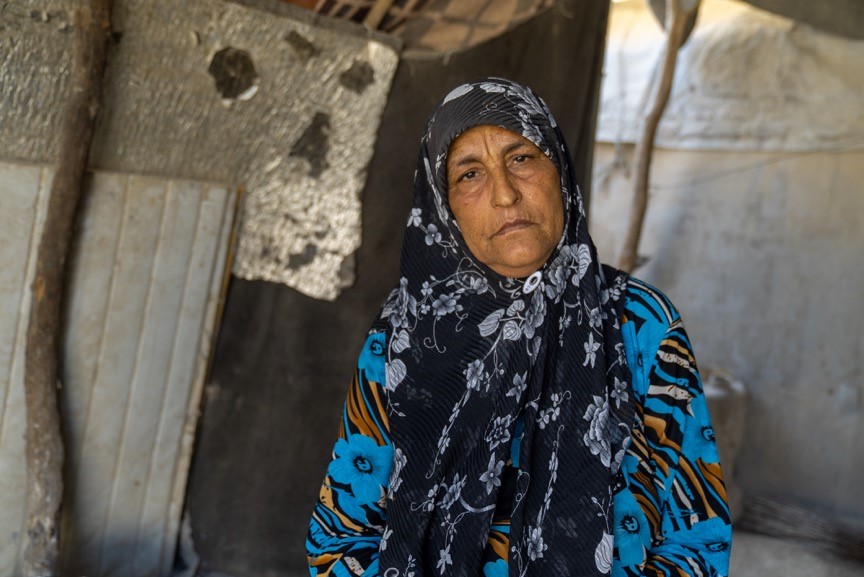 Umm Faisal has suffered repeated tragedy and trauma since the war in Syria began a decade ago. Both of her sons were killed when their village was bombed. One died from injuries caused by shrapnel, the other was killed while he was working.
The house was completely destroyed and Umm Faisal only survived because she managed to flee to another village in time. From there, she fled to the Aleppo countryside before heading onwards to another village. Umm Faisal describes the grief she felt at this terrible loss.
"My sons were the most precious part of my life. Youssef was 20 years old and Faisal was 35. One of them was married and had 4 children. I grieve for his family. My grandson saw his father dying and fell ill for months due to the shock. He then passed away as a result of this."
Living in constant fear
Umm Faisal also dealt with severe trauma as a result of her loss and this has triggered health complications, such as asthma.
"A mother's pain after losing her two children is indescribable, it feels like more than I can bear. When I heard the news, I wanted to take their place."
She is now responsible for her grandchildren. Traumatised, the family live in fear of passing planes, the sound triggering deeply painful memories. They have been displaced for five years, and now live in a tent.
Hardships in finding food
Due to extreme poverty, Umm Faisal and her grandchildren rely on aid from humanitarian organisations. She does her best to earn money to provide for her family, running a small vegetable store and using the profits to buy food, but worries what will happen if coronavirus advances still further.
"If it wasn't for this shop, I wouldn't be able to provide any food for my grandchildren. I am very worried that the coronavirus pandemic will mean a lockdown will be imposed in this area, which will stop me from being able to sell my vegetables. I pray to God to keep this disease away from us so that I can continue to work."
Covid-19 has made conditions even more unbearable
The coronavirus pandemic has worsened the already difficult living conditions in the hundreds of camps throughout northern Syria, posing an extremely high risk to people that are living in very close confines, with limited hygiene supplies. Islamic Relief has been distributing essential personal protection equipment, such as masks and hygiene kits to help people to protect themselves from infection.
Umm Faisal received a mask and has been wearing it, but finds it very difficult because of her asthma. She finds life in the camp even more difficult now that there is such a high risk of infection.
"I am scared of the virus because I suffer from severe asthma and a doctor warned me that I am at high risk of developing complications from the virus. I always keep my inhaler by my side, and it is very important to me. When I feel short of breath, I use it immediately and it helps. When I lose it, or if it's not available, I feel anxious.
I have been trying to protect myself, but it is impossible to socially distance in these camps. Seven people live in each tent, which puts us at high risk."
Hope for an end to the war and a reunion with family
In addition to masks and hygiene kits, Islamic Relief has provided food parcels and qurbani meat to alleviate.
"The support you give us is an essential part of our lives that we cannot live without. I pray that you will keep providing us with aid."
After a decade of conflict and suffering, Umm Faisal longs for things to return to the way they once were. Her surviving relatives are living all over the world and she dreams of meeting them once again.
Read more in our report. Help us continue to be a lifeline for people like Umm Faisal who are suffering in this desperate crisis: please donate to our Syria appeal.