New generations are being damaged by the traumas of the Bosnian wartime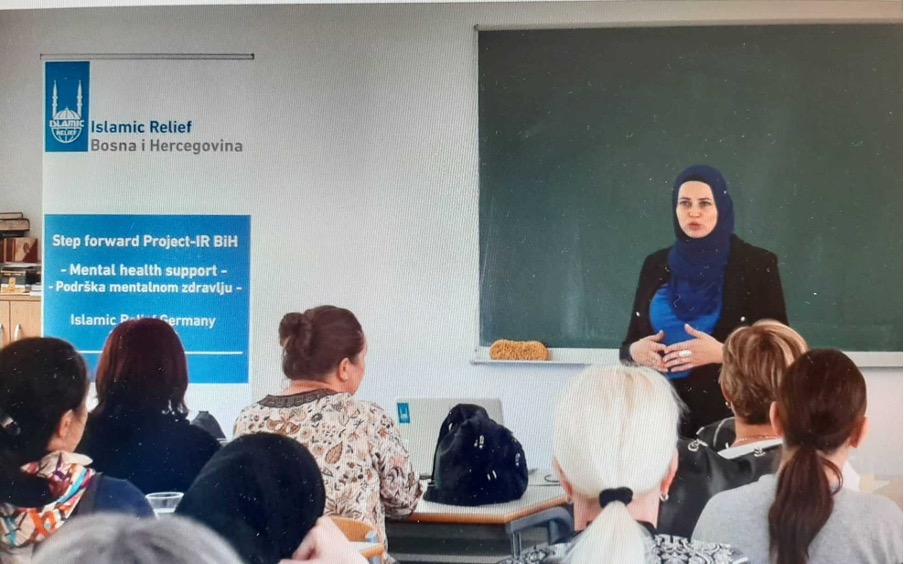 Bosnia and Herzegovina's war has caused devastating psychological effects on its citizens, including the generation born during or after the war. It has been estimated that twenty to fifty thousand women were raped during the 1992 war in Bosnia and Herzegovina. Now years after the war, these women and men are still waiting for justice. Many still struggle with serious psychological and physical complaints on a daily basis. Often as a result, they are not able to provide for themselves or their families and they live in deep poverty. Islamic Relief works with mental health professionals like Larisa to mitigate some of the causes and to start the healing process within.
It has been almost three decades since the war ended in 1994, when more than 200,000 people were killed and more than half of Bosnia's 4.2 million citizens were displaced, and very little has been done to address these psychological traumas. Even though the Bosnian genocide occurred only thirty years ago, many people still struggle with the trauma caused by the event. Psychotherapist and project coordinator of the Step forward project Larisa Bajric sees the complexity of the problem reflected in her daily practice. According to her the trauma would have been easier to treat just after the war. But many of the women she works with were quite young at the time, often teenagers, when they became victims of sexual abuse and in many cases, they now have families. Many of them feel guilty and ashamed. A feeling that is often kept alive by the community, who frown upon for people to speak openly about the traumas caused by the war.
In Bosnia talking about any form of gender-based violence is taboo, and many people find it hard to seek mental health support. Talking about sexual assault is too painful and unmentionable in a society that is still trying to heal from the war. The women and children that Larisa works in Tulza Canton encounter a lot of misunderstandings in their immediate home environments. She explained to us, "there is an educational barrier that I see with mothers of orphans who live in rural areas who don't see the abuse they go through as something detrimental, but rather a part of their life. Often, these women are blamed for provoking the abuse, making it all the more difficult for them to come forward."
A traumatised country
The women often don't know how to share these traumatic events with their husbands, and the men, in turn, don't know how to deal with them and often put the blame on the women or themselves. It is for this reason that domestic violence is so prevalent in this part of the world. Even the fourth generation suffers from the trauma. "There is a general lack of knowledge about violence in Bosnia, especially when it comes to psychological violence. A lot of the communities I work with are suffering with transgenerational trauma", says Larisa.
This is where the trauma has been passed down to future generations through genetics and oral storytelling and now multiple descendants are dealing with the aftermath of a damage that has not been worked through by the survivors. This is very noticeable in Bosnian society, where there is not enough education or understanding of mental illnesses or mental health in general.
The importance of mental health
Larisa works closely with Islamic Relief Bosnia to promote the benefits of psychotherapy through their mental health projects specifically targeted for vulnerable and disadvantaged communities. Where she helps women and children identify and change the behaviour patterns that disrupt their relationships with people. Her group therapy sessions also help users to improve their ways of handling problems, develop social interactions and develop self-confidence. Larisa has worked on cases of women and children who were physically and mentally abused for years. One of her cases was of a young girl who was suffering from mental health issues.
"There is a girl in therapy that I am working with, she is 20 years old, and is diagnosed with hebephrenic schizophrenia. She was sitting at home, terrified of going outside without anyone else. Her mother abused her mentally and physically while she was growing up, and is now taking care of by her aunty who is helping her to recover as much as possible. The mother was projecting a lot of her own issues and traumas onto her own daughter, who was forced to take medications due to her debilitating condition. After I started working with her, she was able to reduce her medication doses that she relied on for so long and eliminate some of them completely. Then she joined two associations that help people with similar diagnoses get socialised. She started coming to therapy alone by public transportation and after only three months of therapy, she started feeling better, and her doctor was surprised at how quickly she has improved from the person she was before I started working with her."
Breaking the cycle
Bosnian society today is shaped by the war experience, as Larisa explains. For her, every trauma is an individual case, but millions of individual cases make up a society. So, the only way to break the cycle of silence and frustration is to talk, and that's the hardest part according to Larisa, "Working with young people is easier as they are more open to new methods, and not stuck in their ways unlike the older generations who I also work with. Developing children's self-confidence and nurturing their abilities is important in processing their trauma. This will lead to healthier adults that will break the generational trauma."
Difficult as it is, having the dialogues and creating activities, workshops and safe spaces for vulnerable families is what Islamic Relief Bosnia and Larisa hope to achieve with their mental health programs. The success lies in honing on each generation lived experiences, which is vastly different, but they are all interconnected. "The way I see it is that if the head is sick the rest of the body will follow quickly, and that is the same with the families I work with. I want to make sure that mental health becomes part of Bosnian society and working with Islamic Relief to raise awareness of its importance is crucial to me."
Islamic Relief has been a lifeline for those affected by the Bosnian war and with your help, Islamic Relief can provide even more support to those affected by the Bosnian war and to help people change their lives – and their futures. Donate now .