A year after the attack on Gaza, businesses are still struggling to recover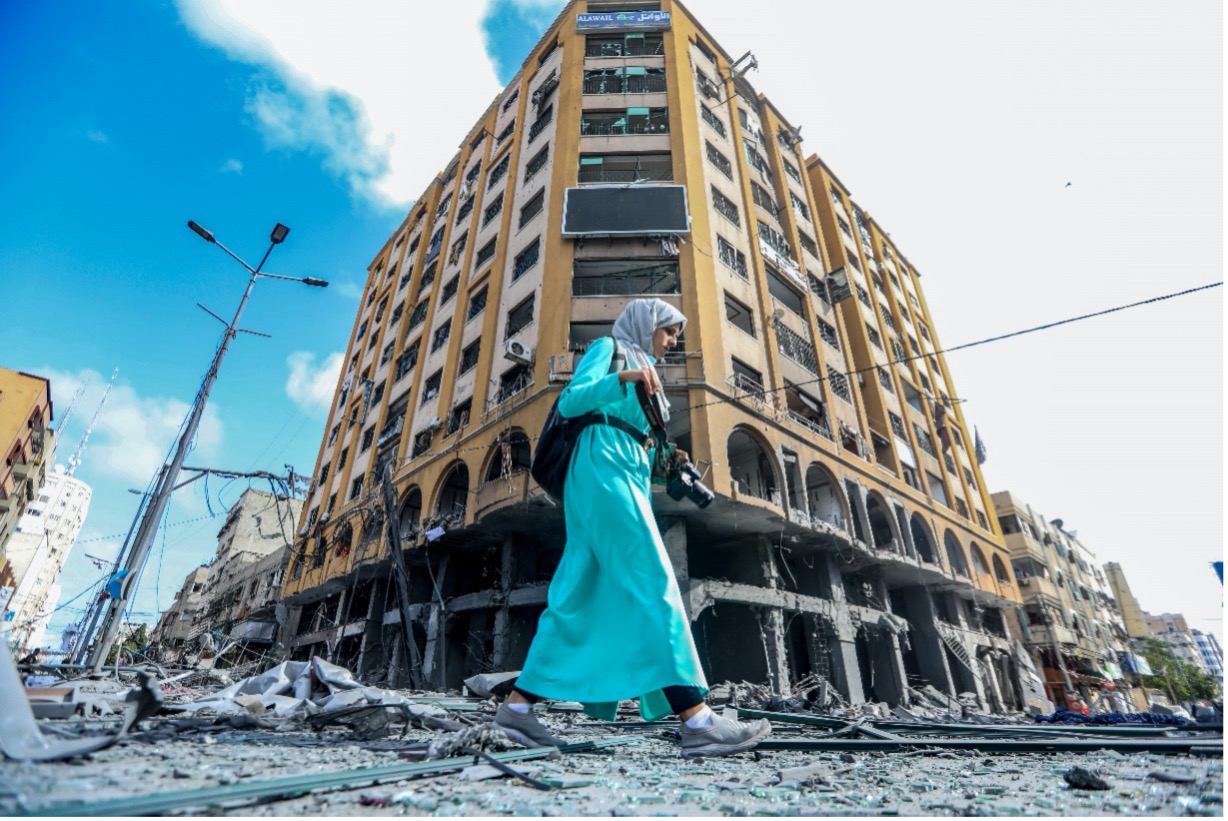 On the International Day of Solidarity with the Palestinian People, Islamic Relief is highlighting the devastating impact of decades Israeli blockade on the businesses that are the lifeblood of Gaza.
In 2021 and during the 11-day strikes on Gaza, hundreds of civilians were killed and injured in Gaza. Thousands were displaced. Basic services were severely disrupted and homes and infrastructure destroyed or damaged. According to the Ministry of Public Work and Housing, 2173 housing were units destroyed or severely damaged. It exacerbated the dire humanitarian conditions and trauma Palestinians in Gaza already face.
Reconstruction of the thousands of destroyed buildings is extremely slow, with the continuing blockade stifling the supply of much-needed building materials. Without an end to the blockade, recovery is impossible.
Gone up in smoke
Al-Jawhara tower, located in the center of Gaza City, was owned and operated by Mohammad Abu Atta Jarour, one of its founders. A bustling place, it housed a variety of local and international media outlets, businesses, and government agencies.
But in May last year, the tower was one of many buildings destroyed or badly damaged in the al-Rimal district, the business centre of Gaza City, in an attack widely seen as an attempt to inflict massive damage on the local economy.
It is civilians who are affected
Mohammad, who lived in the building, is still haunted by memories of fleeing his home, recalling, "My apartment was on the seventh floor and we were forbidden from using the lift because we could be bombed at any minute. After hearing the tower was going to be hit, everyone was ordered to evacuate immediately. Children, older people, and women were all forced to climb down the stairs. Feeling frightened, we left the building and walked to the nearest mosque, feeling as if we were already dead."
The attack injured many people from nearby buildings, and destroyed homes, businesses, and belongings.
Mohammad was among those whose whole life changed in a blink of an eye, "It used to be that I owned the building. Then suddenly, I found myself without a home, business, or a future. I am now homeless, and I am barely surviving on the poverty line."
Young dreams destroyed
Al Jawhara was the beating heart for many businesses, including enterprises run by young entrepreneurs. Among them was a catering company called Betna, Our Home, which serviced a range of businesses in the area. Started by a team of talented girls with a vision to provide unique food not normally available in Gazan restaurants, Betna is struggling to re-establish itself after the attack. With so many businesses facing similar struggles, its founders have received little support. They, like many young people in Gaza, are beginning to despair.
The dire situation in Gaza has led young people to become largely disenfranchised and disenchanted, unable to fulfil their aspirations in a place in which poverty is widespread. The humanitarian situation grows increasingly acute, with more than 80% of the population (2.1 million people) relying on humanitarian assistance.
Almost half of Palestinians in Gaza have never known life without the Israeli blockade, which has been in place since 2007 and has devastated the future of an entire generation, fuelled massive youth unemployment and caused enormous damage to young people's mental health.
An exhausting cycle of violence and human rights violations
Those who once lived in Al Jawhara are now living either with relatives or renting apartments – a situation reminiscent of their grandparents' experience during the 1948 Palestinian exodus, in which generations lost homes, possessions, and memories accumulated over a lifetime.
Despite the strong resolve and determination Palestinians have shown, Islamic Relief believes that without a lasting solution based on the international law and justice and without ending the Israeli blockade, Palestinians will remain locked in a cycle in which civilians are exhausted, wounded, and in need of assistance, while violent acts and cruel human rights violations persist.
The conflict of May 2021 conflict received a lot of media attention, but the world's media has moved on, yet again. With Gaza currently out of the headlines, the international community may be fooled into believing the situation is resolved – all while tens of thousands of people are without a home and living under constant oppression. Israeli attacks and restrictions on Palestinians and Palestinian civic space also escalated to unprecedented levels this year.
Islamic Relief is clear that the plight of the Palestinian people living in the Occupied Palestine Territory must be treated as urgent rather than a recurring issue. To achieve lasting peace in the region, it is imperative to end the occupation of the entire Occupied Palestinian Territory and the blockade of Gaza.
Throughout each one of the conflicts in Gaza, Islamic Relief has provided lifesaving assistance on the ground. We respond swiftly to emergencies in Gaza by distributing aid items such as medicine, food, water as well as clothing, shelter, and personal hygiene items. We help young people to set up viable micro businesses and developing apprenticeship and internship opportunities to empower young people to earn a reliable living and make a positive difference in their communities. By working closely with communities, we help them build resilience against disasters. Today, we are calling for urgent support to help deliver long-term change.
With your help, we can support families to recover from this crisis and help Palestinians live with dignity in Gaza. Donate to our Palestine Emergency Appeal now.