Islamic Relief marks 10 years of working in Lebanon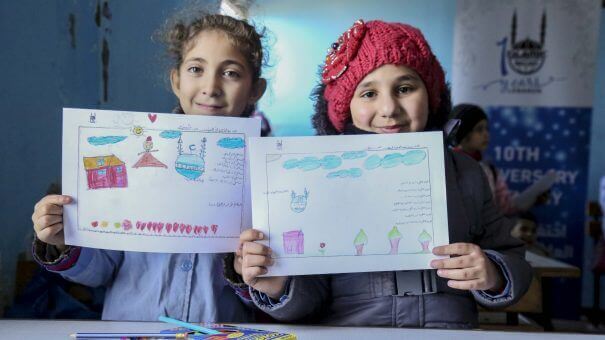 In one decade we've reached 2m people
Islamic Relief staff and supporters have been celebrating 10 successful years of operating in Lebanon.
Parties in Saida, Beirut and Tripoli included a football tournament and a children's drawing competition.
We first started working in Lebanon in 2006, providing those affected by the Lebanon war with food, water and hygiene kits.
Over the last decade your support has allowed our team to reach:
40,361 children with welfare services and 11,087 with education,

470,266 people with water, sanitation and hygiene programmes,

492,090 with basic assistance such as winter distributions of blankets and clothes,

47,954 with health programmes and

886,667 people with food including our Ramadan and Qurbani distributions.
In Lebanon there are currently four million Lebanese people living alongside two million refugees from Syria and Palestine.
Community cohesion is at the heart of Islamic Relief's work here.
Country director Abdelmonem Daymi said: "The greatest challenge we face in our work is the issue of safety and security.
"But over the last 10 years we have been able to reach all regions of Lebanon working across the whole population – Lebanese, Syrian, Palestinian, many different communities.
"We feel proud to be working so closely with these communities and building capacity with local partners."
Today, 2,700 orphans are sponsored through Islamic Relief's one-to-one programme in Lebanon.
And our other projects in Lebanon include opening a new kidney dialysis unit in a Palestinian refugee camp where patients have been forced to travel 95 miles (120km) twice a week to have this life-saving treatment.
Abdelmonem said: "I'm honoured to have this rich experience and proud to be able to contribute to the support of refugees.
"I'm also proud of the work done by Islamic Relief.
"It's not easy working in such a context but Islamic Relief's name is very well known here and people really appreciate the work that is done so we feel very honoured to be serving the community this way."
Read more about our work in Lebanon here.
Source: Islamic Relief Worldwide