News Update – East Africa Crisis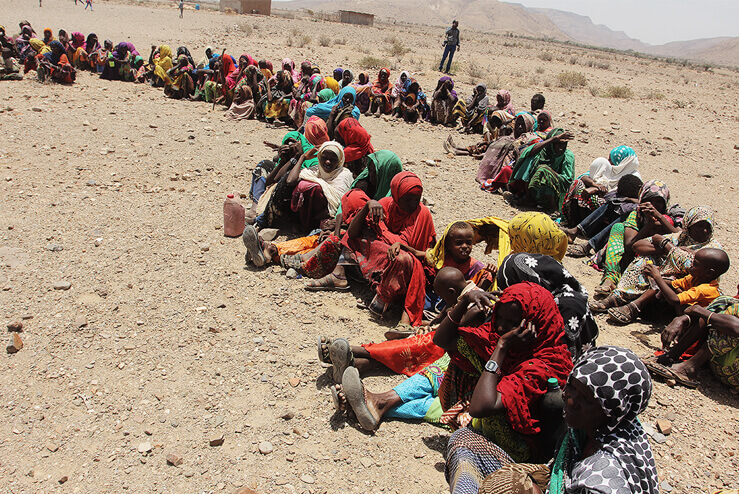 What is happening in South Sudan and the Horn of Africa?
Right now 20 million people are facing devastating food and water shortages due to sustained drought and conflict in East Africa.
In the Horn of Africa (Somalia, Ethiopia and Kenya), where successive rainy seasons have failed, it is feared drought will turn into famine.
In South Sudan, where conflict has been ongoing since 2013 (forcing 700,000 refugees to flee to Sudan since mid-2016), the UN has already declared famine and 5.5 million people – half the population – need assistance.
How Islamic Relief is helping
Our local teams are leading livelihood and food security projects, such as: giving training and advice to smallholder farmers, providing climate-resilient livestock and supporting community microfinance.
In Somalia we are drilling 15 new wells to supply year-round clean water to more than 100,000 people and a £1m recovery programme will plough farmland and supply farming tools, seeds and goats to 3,000 households, as well as bringing 10 underground tanks to capture rainfall back into use.

In Ethiopia, we are appealing for a £2.2m livestock restocking programme to supply almost 6,000 families with 10 goats each.

In Kenya we are working in the north-eastern counties to roll out new food and water programmes.

In South Sudan we are distributing food, water and other crucial items in two camps near Juba to people who have been forced to leave their homes.

In Sudan we are focusing our efforts on refugees and returnees, the most vulnerable group of people.
Why your help is needed
The Horn of Africa is in the grip of a severe drought. Two successive years of below-average rainfall (caused by one of the worst El Niños in history) have left some parts of Somalia, Ethiopia and Kenya facing their worst drought in decades. South Sudan, meanwhile, is in the grip of conflict, forcing hundreds of thousands to flee across the border to Sudan and sending inflation soaring so that food is now unaffordable for many and, in one state, famine has been declared. The forecast offers no relief, with warnings that conditions could get worse through 2017. In Somalia urgent action is needed to avoid repeating the mistakes of 2011-2012 when famine claimed the lives of 250,000 people. Half of these people were already casualties before the famine was declared, proving we cannot wait for the label of "famine" to be applied before we take action.
At a glance…
Ethiopia
5.6 million people are in need of urgent humanitarian assistance in Ethiopia.

The main needs have been identified as: water, food and livestock feeds.

Islamic Relief is delivering life-saving water trucking activities and rolling out a livestock response with support from UNOCHA.

The situation in Ethiopia is critical and is deteriorating rapidly.
Kenya
1.3 million people are in urgent need of assistance in Kenya.

23 out of 47 counties in Kenya have been affected by the drought.

The situation is rapidly deteriorating.

Islamic Relief Kenya is operational in the affected areas of Wajir, Mandera and Garissa counties.
Somalia
6.3 million people are in need of urgent assistance in Somalia.

1.2 million people in Somalia are classed in the most critical category- if there is no rain in March, famine will be declared in the country in April.

Islamic Relief has signed a letter to the UN Secretary General, highlighting the dire situation.
South Sudan
Conflict has been ongoing since 2013, with a spike in violence in July 2016 which resulted in large numbers of people being forced from their homes.

5.5 million people in South Sudan are in need of urgent humanitarian assistance – half the country's population.

The South Sudanese government has declared famine in one of the country's 10 states, Unity.
Sudan
There has been a surge of refugees into Sudan from South Sudan over the last few months.

In the last two months, over 32,000 people have arrived from South Sudan.

Roughly 2.2 million IDPs from Darfur continue to be dependent on humanitarian assistance.
Please support our work to help communities facing food crises in Africa.