Islamic Relief Malaysia Adamant in Delivering Aid Despite Limited Movement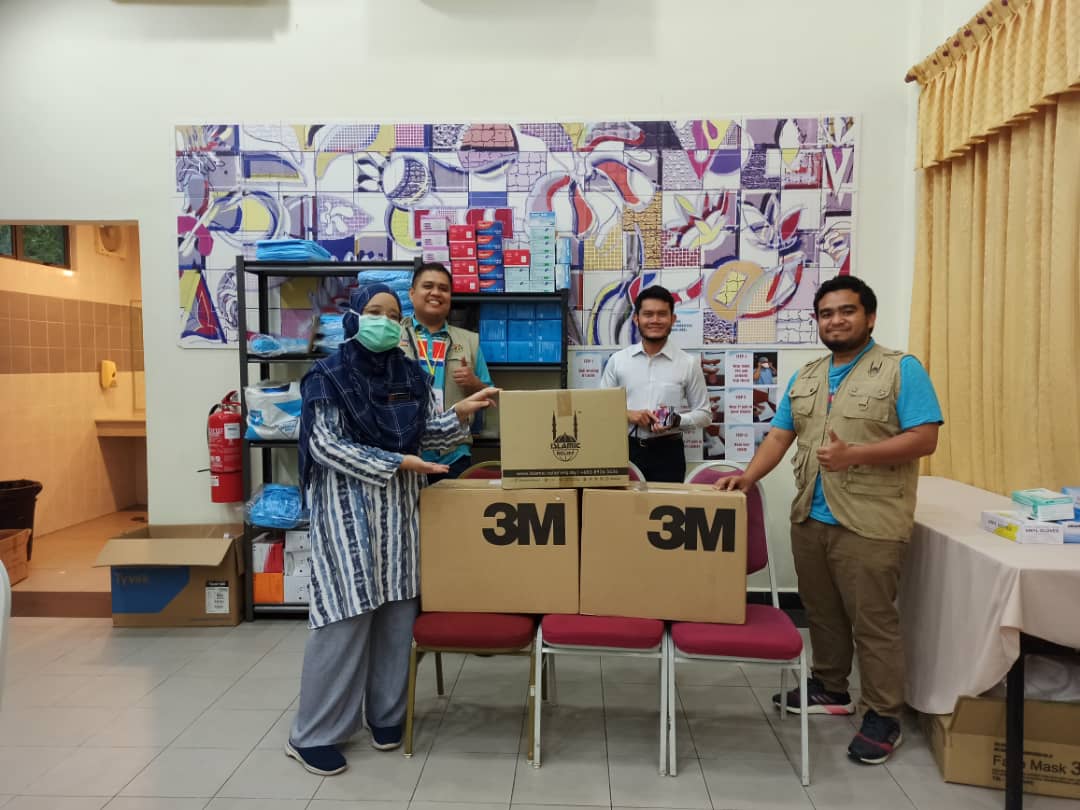 BANGI, April 7, 2020 – Despite remaining fully comply with the government's implementation of Movement Control Order (MCO) nationwide, Islamic Relief Malaysia consistently proactive to provide aid to the affected groups of people in restriction of movement.
Humanitarian aid workers consider the constraints faced as a challenge and a new experience besides training themselves to be more productive and creative in identifying the possible ways to ensure integrity and trust of donors be fully delivered to the beneficiaries.
Among the aid given are 1000 pieces of N95 face masks to the National Audit Academy (AAN) in Nilai which served as a quarantine centre for Malaysians repatriated from Iran. Nine boxes of biscuits, fast food, milk, packet drinks, and mineral water were distributed to frontliners at the quarantine centre in Ampang Hospital; and two units pharmaceutical refrigerator for medication/vaccine storage and preservation in Tuanku Ja'afar Hospital in the collaboration with MRSM Malaysia Student Association (Ansara), Taiping.
Apart from that, Islamic Relief Malaysia volunteers consist of Bilik Gerakan Khas (BGK) Pantai Timur committee members provided basic necessities such as rice, eggs, sardines, flour, and cooking oil to 80 families among the peasants and rubber tappers community in Batu Karang and Kedai Buloh, Pasir Mas who are suffering from chronic diseases.
The BGK Pantai Timur also provided chicken rice packs to 60 rubber tapper families in Rantau Panjang, Kelantan.
Not only in the Peninsular, Islamic Relief Malaysia personnel in Borneo also trying to ease the burden of the affected people in collaboration with MyAmal and the Malaysian Chinese Muslim Association (MACMA) by distributing food essential packs comprising of rice, biscuits, sugar, and et cetera to the people in Inanam and Menggatal, Sabah.
Besides food and non-food item, Islamic Relief Malaysia provides financial assistance to frontline agencies and institutions such as hospitals to assist them in the process of purchasing Personal Protective Equipment (PPE) specifically face mask, surgical gown, head cap, face shield, and hand sanitizer. Other than that, the matriarchs, vulnerable families whose households are living hand to mouth, small traders and hawkers whose their income is measured on a daily workload basis also received the aid through the fund raised from COVID-19 Emergency Appeal campaign.