IRM Explores The Life in Mabul Island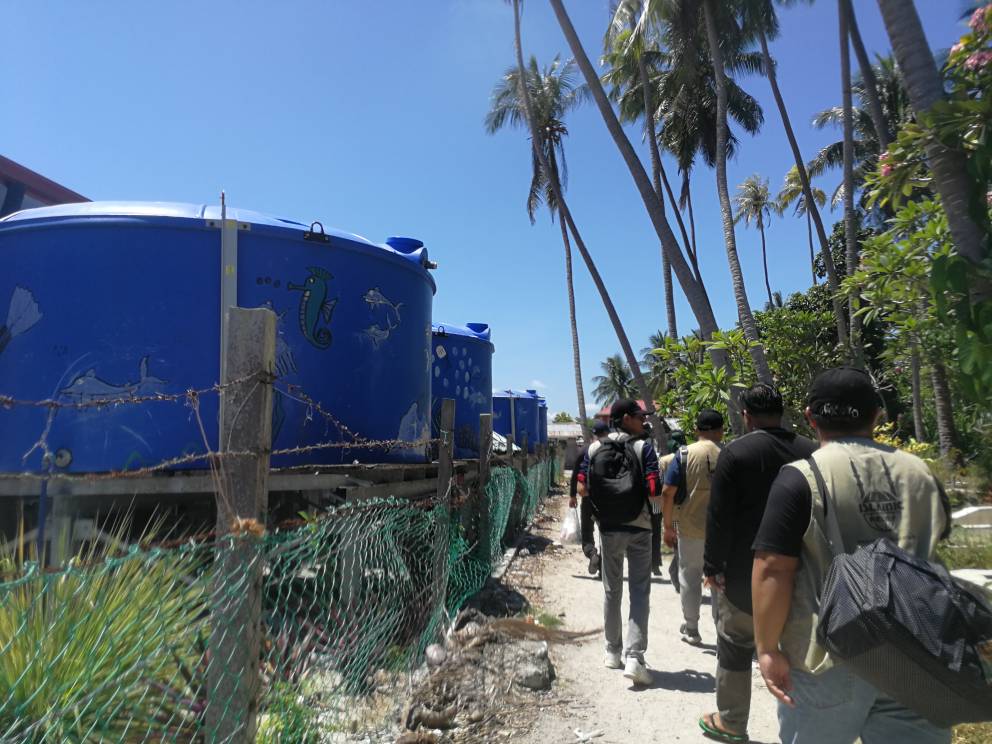 Mabul Island located in Sabah is among the best destinations that has captured the eyes of many tourists over the years be it from the country or overseas. One of the best parts in this island is the crystal-clear sea and its living things inside. Though it is a well-known tourism destination, the island has its own dark story behind that no one really knows about. Islamic Relief Malaysia (IRM) had the opportunity to explore the many hidden stories in Mabul Island.
Mabul Island voted as the best tourism destination is actually a place accommodated by those people whose citizenship are not recognised by the government of Malaysia. Not to mention, the island is also well-known with the life of sea-gypsy, deemed to be ones originated from Pala'u root. It can be divided into three types of community namely pala'u, refugees, and the locals from Sabah.
To date, the community in Mabul Island consists of over 3,000 people that can be sub-clustered into 580 families. Among the facilities observed in the island can include one government school, one Islamic school known as KAFA, Alternative Learning Centre (ALC), mosque, and small prayer room. They also run a business at their house and most items are brought in from Semporna back to the island.
The economy in Mabul Island is more focused on fisheries and usually, most fisheries in the sea are sold to tourists travelling in Mabul Island. They can include fishes, prawns, crabs, and squids. However, IRM revealed that the community is experiencing a water issue as they do not have a clean source of water to carry out their daily life. Drinking water is normally bought in Semporna while the water from well is used for general use such as bathing and cleaning.
Apart from that, as stateless people, they do not own any verified documents as a way to ease their impediments especially when they have to go through a process with any governmental bodies. This includes education as majority of them are not recognised as Malaysian to be registered under government school. However, with a help from a local that runs a tourism business in Mabul Island, ALC was developed as a platform of education for the kids to learn the basics; writing, reading, and calculating.
Since last year, ALC has successfully attracted a total number of 283 students from different age groups ranging within five year-old to fifteen year-old. Everyone in Mabul Island is a Muslim follower and that includes the kids as well which is why basic Islamic teachings such as performing the prayers, Al-fatihah recitation and comprehension, and daily prayers are injected in them so they will understand deeply about Islam. So, it is not strange to see these kids can recite Al-fatihah while at the same time comprehend the meaning behind the Surah.
Concurrently, health service is also another issue to be put under the spotlight as the community is not accommodated with any health institution. Any one from their community that falls sick has to be brought to the clinic or hospital located far away in Semporna. What's more unfortunate is that, fees will be charged upon and far higher than what most Malaysians have to pay.
IRM also had the opportunity to spend some time with the young kids in Mabul Island by conducting several friendly activities as a way to foster a better relationship with them so they will get a sense of belonging. Cleanliness and hygiene are often frowned upon, however IRM considers both elements to be important. Hence, a session with the kids with an emphasis to brush the teeth properly was done so they are better exposed to oral care.
Although basic Islamic practices have been their daily routines, IRM as the ambassador of Islamic-based humanitarian organisation also stressed the aspect of religious guidance to make them understand deeper about their religion, as most of them are Muslims. Among the components taught were the context of Al-Fatihah and its translation. On top of that, they were also equipped with Dhuha as a preparation for them to advance their knowledge.
The following activity involved those kids to polish their innate skill through drawing. It is not an excuse for them to stop polishing up their abilities even in the absence of drawing tools. IRM found that some of the kids have the inborn ability to inject their creative juice which is on par with the usual kids who can paint. From our observation, these kids are now capable of writing, reading, and calculating.
According to the evaluation and visitation conducted, IRM has a future plan to offer them with several aids through Ramadan Relief programme. The aids will be in the form of 100 food packs for 100 families perceived to be needing our help. Mosque will be given 70 Al-Quran so the people are at ease to organise any religious activities such as tarannum and tadarus.
Holistically, Mabul Island that we see as a picturesque travel destination is not as it seems to be as they are filled with various hidden stories in terms of its history and communities in the island. The status of their citizenship will still remain for another decades if there are no parties taking part to come into solution