International Women's Day – Overcome the Odds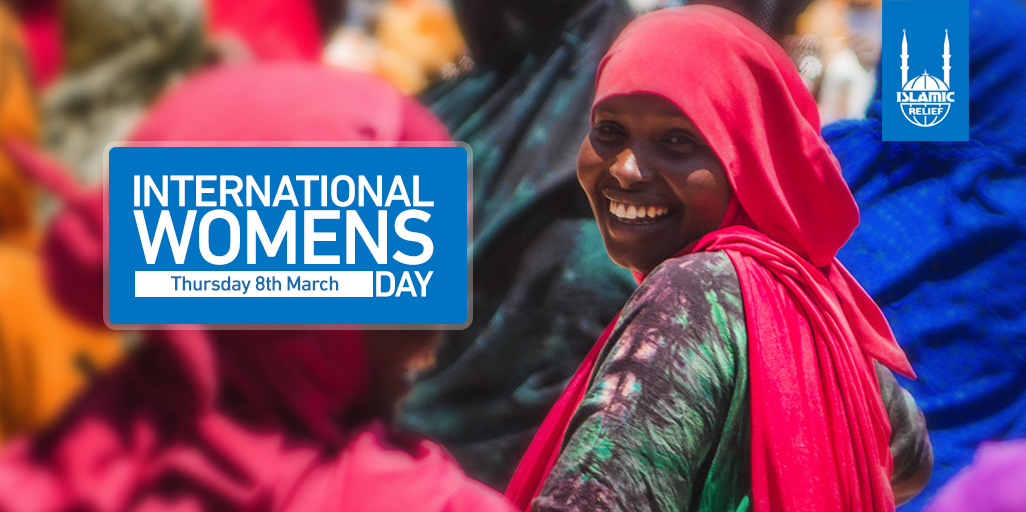 We live in a world where poverty and gender inequality go hand in hand.
Women and girls have poorer access to food, healthcare, education and paid work.

Women and girls make up sixty percent of people suffering from chronic hunger.

Women and girls are more likely to die from natural disasters.
Across the developing world, women and girls have fewer opportunities in life, limiting their potential as individuals and holding back the development of their societies.
In light of International Women's Day, we are sharing some the stories of some inspirational women who have overcome some immense difficulties and hurdles in their lives.
Hala, 24, living in Gaza
Hala got married in 2014. She was engaged for 11 months at the age of 20 and the camera was her all time companion. It recorded all the gorgeous, crazy and beautiful moments she went through.
Every shoot she took pinned her happiness to that time and memory. She connected all good times to that date. The marriage date means a new beginning, a new life, and a new journey. It holds series of beautiful moments and memories, but that was not the case with Hala when we asked her about her marriage.
Her husband Khaled who worked as a press photographer and died while he was holding his camera and documenting the Israeli war on Gaza. The same camera that recorded the birth of their love also recorded Khaled's death. This traumatic event had an immense impact on her, she says:
"On that day all my happiness, dreams and hopes had crashed in a moment. The death of my beloved husband shocked me. We were just married, had plans, and started to establish a family. I was unable to bear the pain, my life turned colourless, and all things seemed bleak."
Hala's family and friends persuaded her to finish her studies at university and not long after she gave birth to her daughter, Tolin. Tolin's birth provided her with a new surge of energy, inspiration and motivation. "Losing a husband and being a widow was no longer seen as the end of life."
Hala took up her camera and started some photo sessions with friends, slowly but surely her reputation grew and she now works as a professional photographer. She now earns a living from the photos she takes.
Samina, Pakistan
Life has not been easy for Samina. Her mother passed away when Samina was 15, after her final exams in the 10th grade her father had her married off. Her first child was a daughter and this angered her husband, he wanted a son and became violent towards her. While she continued to face physical abuse from her husband she gave birth to another daughter, her husband reacted by having a second marriage. After sometime, he passed away and it became difficult for her to pay rent, she was forced to move to single-roomed accommodation.
Samina's children were sick, her own health was deteriorating, and she did not have any source for income. She provided some private tuition in her neighbourhood and the same time started studying again. After graduating, she began teaching at a local school, the wages were low but they allowed her to cover the basic needs of her family.
Islamic Relief (IR) helped alleviate some of her burdens by sponsoring her daughters. Samina took on the role of group leader of an orphan guardian groups (OGG) formed by IR. It provided her with an opportunity to reach out to disadvantaged women. She listens them and works out solutions that is gratifying for her.
Samina remarried, but her second husband was against her daughter being educated. Her husband was physically and emotionally abusive, expected her to provide a child for him, and expected her to not to be in touch with her daughters. In order to end this ordeal, she left her husband and moved into another single-roomed house with her daughters.
After a few months she gave birth to another daughter, her tribulations made her frail and on one day her husband forced his way into her home and stole all her belongings. Samina, did not give up her struggle for a better life.
"Facing every kind of violence and discrimination from early marriage to my second marriage, I did not quit and stood up again and again."
With the help of IR, she opened a tuition centre in December 2017.  It started with 10 students and now it has 32 students enrolled.
Om Ismail, Gaza
The difficult economic conditions of the population in Gaza Strip have led many women to seek jobs to provide their families with money to lead a decent life.
Last year, 41 women worked to initiate the first Palestinian company run by women to produce date paste which is used for making cookies and pastries.
Om Ismail Abu Mandeel, 45 years old, supports an eight-member family. She is one of the founders of the company. She starts her daily routine early since 4am and then she attends her work place at 7am.
"Every one of us has her own story of struggle that makes us strive to meet the needs of our families. For example, I could pay for the university tuition for two of my children by the earnings of my job, and when they will finish studying; I will pay for the other two."
The journey of making the date paste is very exhausting for the women especially because they do not have greenhouses that contribute to drying the dates quickly.
"When we got funding from Islamic Relief to develop our small project through Livelihood Creation and Economic Empowerment for Vulnerable Groups project, we could establish two greenhouses and started using them to dry the dates. The Islamic Relief assistance was crucial for us to continue. We were waiting for it and all the women here are happy and grateful."
"We no longer have to wait long to dry the dates, we are drying it in just half a day, which helped us to produce more quantities of date paste in a short time" she states. "Thank Allah, we are no longer losing large amounts of dates as we were before. The women have become more comfortable."
"We produced 25 tons of date paste last year due to Islamic Relief assistance. We expect the quantity to double and we produce 40 tons this year."
"We still need to buy refrigerators, and we have a great ambition to develop our production lines to be able to produce multiple varieties of cookies and sweets; using the date paste produced by women here. Thus, we can employ more women."
"We feel very proud when we see the national product which is produced by women in the markets. All of the working women feel pride and happiness owing to the results of their hard work. Confidence has returned to them once they become able to improve their economic conditions."
Shefaly, Bangaldesh
Shefaly, has one son and one daughter. After her husband passed away, she struggled to survive. She started doing some tailoring work in order to earn some income, but it wasn't enough to provide clothes, educational materials and medicine for her children. Many days passed where her family did not have any food, her children would ask her for food but she couldn't manage to provide any for them. Her community and relatives avoided her in case she asked assistance from them.
In 2015, Islamic Relief (IR) came to the district in which she lived and she was able to apply for assistance.
"This is a turning point in my life. We were able to form a self-help group and Islamic Relief provided us with support and increased awareness in the areas relating to social, health and familial skills. They helped with skills training, supported the development of individual business plans, applications for grants and linked us with different governmental service providers. We formed a union and Self-Help Women's Forum to protect our rights."
"In 2016 I started different income generating activities like tailoring, chick-duck rearing, goat rearing, cow rearing as well as also paddy cultivation by renting land. I overcame my family poverty in this year."
Shefaly is now seen as shining example in her community. She was able to overcome poverty and difficulty, she now looks after her own farm, puts her children through school and assists other women in her local area.
Mr Shashi Mohan, a local from the same village as Shefaly stated:
"After her husband death she did work in other house, agriculture field, tailoring and sometimes seek assistance from community people also for managing food. Now she has a cow, a goat, chickens, an agricultural field and irrigation pump. She can earn good money to manage her family expenses as well as contributing other women development by giving suggestion. She is an example in our community".