"There are many painful stories in my mind every day and night"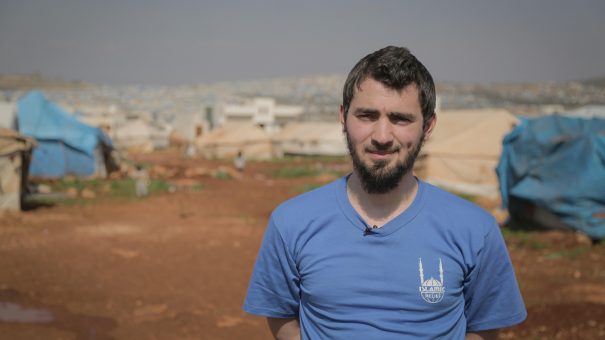 For World Humanitarian Day we're paying tribute to our humanitarian heroes in the field.
Mohammed Hamza, 28, graduated from the Faculty of Economics at Aleppo University and in 2012 he applied to join a Masters in economics at London School of Business and Finance. His dream came to a halt when he was caught up in Syria's conflict on his way to the airport:
"Due to the war I could not go back to Aleppo and I was stuck in the eastern part of the Ghouta/Damascus suburbs.
"The whole district came under siege and was bombarded by explosive barrels. For 18 months there was nothing to eat but whatever crumbs were left on the street.
"Out of starvation people had no other alternative but to eat leaves and grass – whatever nature could provide. The prices of food and basic items were rising by the minute. Food became so expensive that 1kg of flour cost US $30 and 1kg of sugar reached $25.
"After two years of starvation, agony and the fear of death falling on me, I managed to get back into a suburb of Aleppo. It was there I started working in humanitarian aid.
"After my long journey I felt it was my duty to do whatever I could to help the people who need it and reduce their suffering. I started working for Islamic Relief as a field monitor officer for Aleppo and Edlib suburbs.
"It was a disastrous situation. I have struggled to sleep at night because of what I see every day and night.
"In Syria, starvation and death are everywhere. It is too hard to separate myself from the ongoing situation.
"There are many painful stories in my mind every day and night, but the story of 12-year-old Nour is one of the hardest.
"I used to provide her family with a share of the Islamic Relief food basket. She and her mum used to queue for hours to get food.
"I saw her recently after she lost her mum and her little brother. She'd also lost one of her eyes. She was crying for her mum and just the sight of her made me and all my colleagues burst in tears.
"Most Syrian children are like Nour. I don't know what to say or how to help them.
"Ahmad, for example, is only 16 and he lost his dad a few months ago. Last week he also lost his mum and his younger brothers and sisters when a rocket was dropped on their house.
"He had to retrieve their bodies with his own hands. He was holding his mum's hair – what was left of her – and calling for her to take him with her.
"What can anyone provide for this young boy? It is too hard but it makes me stronger and more resilient to carry on with my work.
"With the help of generous people and with the hard work of charity workers we will carry on and try to bring some hope and help to our people."