Supporting orphaned children globally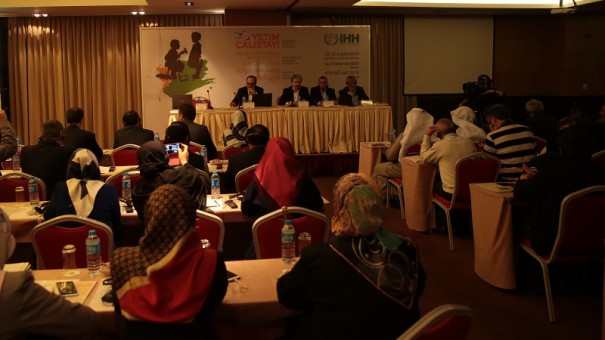 Islamic Relief currently sponsors more than 48,000 orphans in 24 countries and was invited to attend the two-day conference, hosted by Turkish NGO IHH Humanitarian Relief Foundation in Istanbul, to discuss the challenges facing orphaned children.
Anwar Ahmed, orphans and child welfare manager at Islamic Relief global headquarters, spoke at the event. He discussed the issue, and the number of factors behind the increased numbers of orphaned children in the world.
According to figures from Unicef, there are around 153 million children worldwide who have lost one or both of their parents, and, according to Save the Children, more than 7 million children are in institutional care.
Speaking after the event, which ran from December 12-13, he said: "It would be unfair to say all institutional care is bad as it very much varies from establishment to establishment, however, often they are overcrowded, with regimental routines, resulting in children not getting the individual attention, affection and social connections that they need to thrive. Research also shows that growing up in institutional care can damage and delay a child's development.
"The Office of Child Development at the University of Pittsburgh found that with holidays and staff turnover, children in orphanages are often exposed to 60 to 100 different caregivers within the first two years of their life, and this is clearly not a positive experience for them. Children are much happier and do much better when in a family environment, and so Islamic Relief helps relatives support orphaned children rather than have to turn them away."
There are many reasons why children have been orphaned and they include health of parents, with 17.9 million children having been orphaned by HIV or Aids, the lack of sanitation in many countries, and the increase of armed conflict.
Figures from the ISS Armed Conflict Survey showed that in 2010, there were 55 active conflicts in the world, causing 49,000 recorded fatalities. Four years later, in 2014, while the number of conflicts had reduced to 41, the number of recorded fatalities had risen to around 180,000.
Responding better to the situation
There are a number of problems in addressing the needs of children who have been orphaned. Key challenges include meeting their basic needs such as food, shelter and water, access to education, child labour, forced marriage, trafficking, lack of community and family support and property dispossession.
Every day children are abandoned because of poverty, and, according to the World Health Organisation, an estimated 800,000 people each year commit suicide, with more than 75 per cent of these living in low or middle-income countries.
Anwar Ahmed added that the conference had been designed to bring together best practice and collaborative thinking on the subject with a view to adapting and working together to better respond to the situation.
Islamic Relief's One-to-One Orphan Sponsorship programme was set up in 1986. Our scheme meets the basic needs of orphaned children and their families by providing a regular allowance, access to healthcare and food distributions. Boys and girls are supported to attend school and make the most of their education. Their parents or guardians are supported through our microfinance and livelihood projects so they can earn a better living. Where needed, we deliver psychosocial support and set up child-friendly spaces to help children overcome trauma.
We also tackle issues that put children at risk, such as child trafficking, child labour, early and forced marriage and gender-based violence.