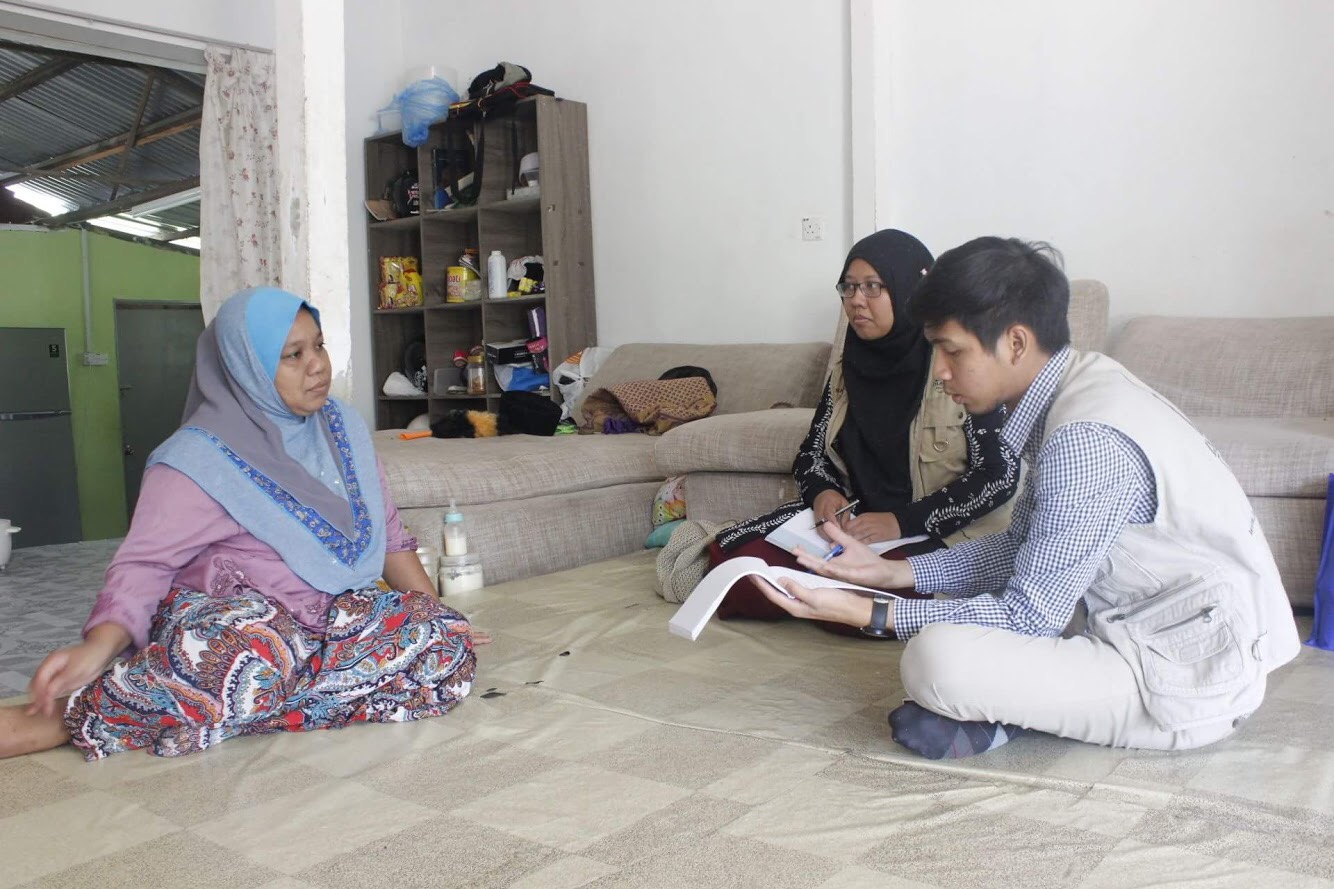 The success a person achieves today will not be a reality without the truest pillar of supportive system, a person we call 'Mom'. Indeed, a mother bears the responsibility to take care of their children and this proves the inner strength of a mother to perform their task in shaping the youth's future generation. What's more to say when a mother is the spine to every child. However, different mothers face different levels of hardship in surviving through difficulties.
Julina Lassim, a single mother who is also one of the beneficiaries of Islamic Relief Malaysia (IRM) spent some time sharing her challenges she faced all this while. The death of his beloved is a wake up call that it was a bitter fact for her to go on with life. There was not a single property being handed over except for the home which is now her shelter today.
"Previously, it was very tough and difficult because as a single mother, I had to bear all the responsibilities and given the fact the life has pushed me to rock-bottom," she said when being interviewed. Julina who was also a cleaner at a private institution is now unable to continue servicing due to her health condition.
Julina's situation became more intense when her attempt to get a pension from the Social Security Organisation (SOCSO) regarding her spinal condition was unsuccessful because SOCSO believed that Julina could still perform duties normally. Not to mention, she has also suffered from Thyroid and undergone surgery previously. Indirectly, this has been the loss for Julina's income to support her family.
In fact, Julina explained that she was supported by Zakat to run a business and there were related equipment and machines given but she was unable to retain the business with the absence of necessary budgets to cover the cost for the forthcoming periods. "I really hope that I could attend classes and learn more about business so I can gain extra income with the knowledge."
A mother of four children also faces another major challenge from the community when two of her children are dyslexic. "I just couldn't describe it. I feel so disappointed with teachers throwing out vulgar words to my kid," she explained in grief. Things are not easy for Julina to raise dyslexic children as needs moral support from the community in educating her child.
Knowing her son, she believes his child's capability is just as the other students in class but needs guidance as best as possible. She said, although feeling dejected, there are still people who are willingly helping us to provide assistance. "I'm really thankful to have a nephew who is willing to sacrifice her time to sacrifice to guide my child in education." Educating a lesser than normal child is tough for her. But yet, Julina will still uphold her will to continue sacrifice for the future of her children.
Julina's two children who are dyslexic had to attend special classes and they were previously referred to a special school but since Julina has no proper transportation and her poor physical health status, she could not afford to send her children to the school. Furthermore,, his son has a great soul and such a high spirit to study at school.
Despite having poor health condition, Julina is very determined to continue gaining income by working at home, selling savoury cakes and cookies for the sake of survival. As a mother, she hopes that her children can become someone successful in the future and change the fate of family as these children are the source of strength to face every hardship.