"Islamic Relief's heart surgery centre in Syria saved my life"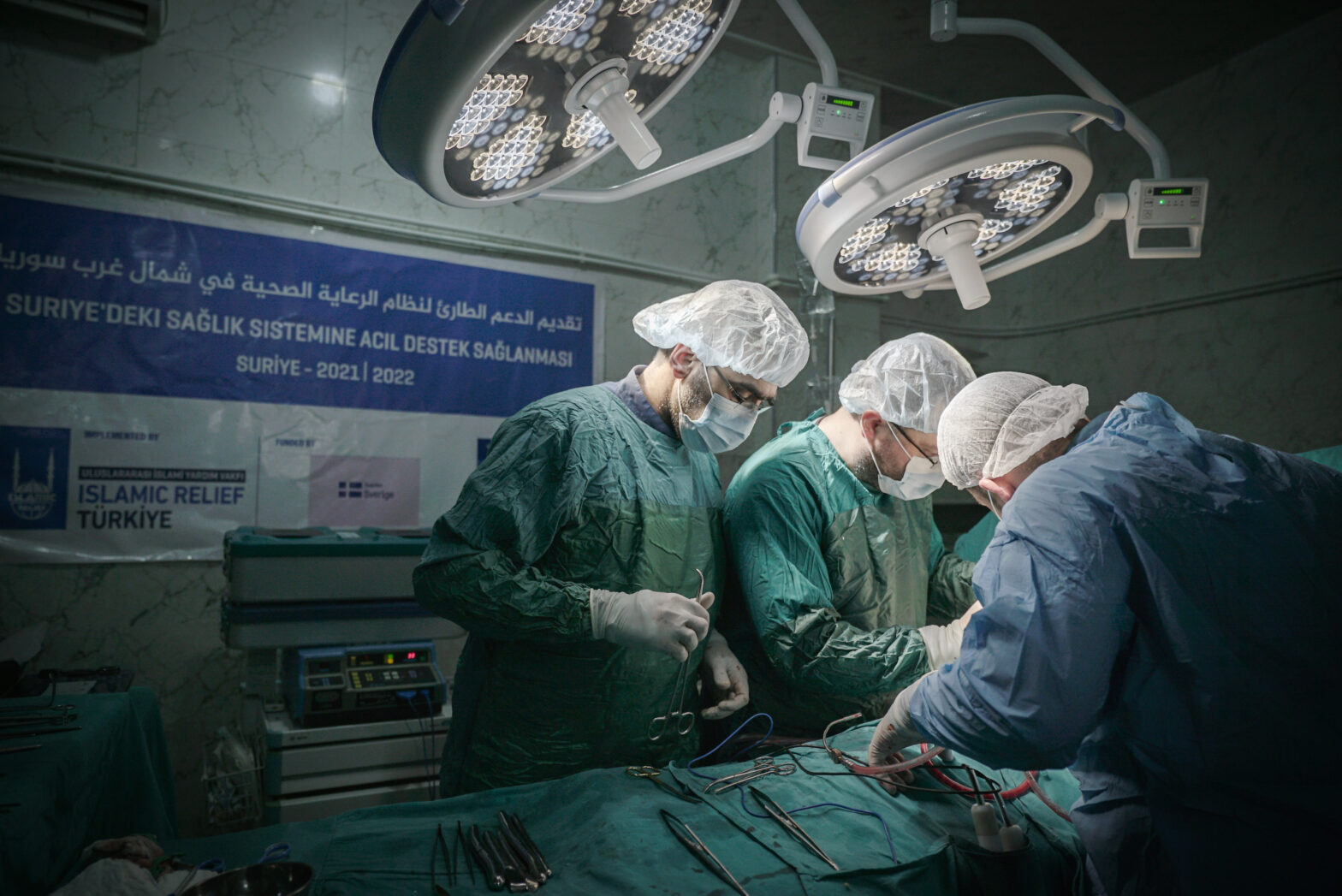 11 years of crisis have devastated Syria's healthcare, but with your support Islamic Relief is making sure vulnerable people can access life-saving and life-changing treatment.
Among them is 58-year-old Ahmed. Left alone after his family fled their home in Kafranbel, in the Maarat al-Numan countryside, Ahmed began to feel tightness and severe pain in his chest.
"I started wondering, will I die of a heart attack? I prayed to God to save me."
Ahmed waited for his son to arrive in the morning to head to a hospital in the city of Idlib. Doctors told him that he urgently needed a cardiac catherisation, but the surgery would cost over $2,000.
A charity paid for the operation, but due to the extent of his heart disease the procedure failed. For the treatment he needed, Ahmed would have to go to Turkey, a journey which he could not afford and which he would have to make alone.
The Islamic Relief Centre for Cardiac Surgery
Cardiac surgery, including neurosurgery and vascular surgery, is one of the most in-demand specialisms in northern Syria. These surgeries cannot be provided in mobile hospitals or facilities without dedicated expertise and expensive medical equipment.
2 years ago, Islamic Relief funding established the Islamic Relief Centre for Cardiac Surgery in Idlib. It is the only specialist heart surgery centre in northern Syria, treating patients who would otherwise be forced to make the dangerous journey for treatment abroad or whose untreated conditions would eventually lead to their death.
Dr Farouk Al-Mohammed, a cardiologist, helped to deliver the centre's first operation, a coronal bypass, in October 2020 – an operation that would previously have been impossible in northern Syria.
"It was a great challenge to establish this centre under bad conditions, within a besieged area with no electricity, no communications and limited capabilities," he says.
Despite the ongoing crisis and the challenging working conditions, over 100 open heart surgeries have already been performed at the centre – helping adults and children with coronary bypass surgeries, valve replacement and repairing congenital heart defects.
A lifeline in northern Syria
Once Ahmed arrived at the centre, he was seen by the specialist doctors. They found that 3 of his coronary arteries were completely closed, and the final artery was partially closed. The doctors exclaimed that they were surprised he was still alive.
The cost of Ahmed's life-saving operation would be over $6,000 in a private hospital, but the operation was performed at the Islamic Relief Centre with no cost to him. His health has improved significantly, and he is now able to go to the market every day and walk long distances without getting tired.
"I thank the medical staff for the excellent service they gave me, and thank God I am now in the best condition. I hope to God that in 2022 there will be peace and that we will return to our homes and lead a dignified life."
Supporting Syria's dedicated medics to save and change lives
The demands for the centre's specialist services continue to grow. Every week 10 patients register for a surgical procedure. Without the dedication and commitment of the medical staff, and the funding from Islamic Relief, millions of people would lose access to critical cardiac surgery.
With your support, we can continue to stand by the medical staff battling extreme conditions and the devastating impact of the crisis. We can save more lives.
Dr Farouk Al-Mohammed says: "After 11 years of the crisis in Syria, we have lost many lives, hospitals and infrastructure, but we have not lost hope – the Syrian people are able to rise."
With your help, we will continue to fund life-saving and life-changing medical treatment for the Syrian people.
Will you stand with the dedicated doctors of Syria? Donate to our Syria appeal now.