Aleppo: Chlorine attack captured in pictures and video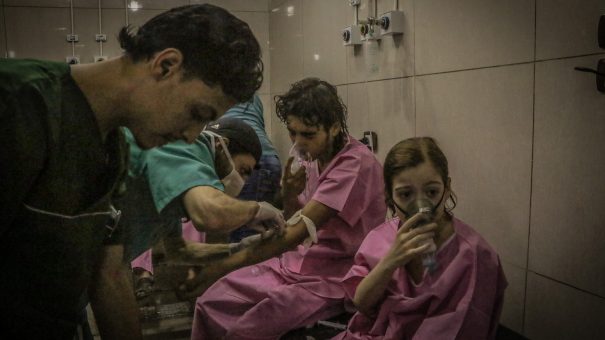 'Children were convulsing' say staff on the ground
Children walk the streets, using their hands to mask their mouths.
The pictures below show the devastation of this week's bombardment on Aleppo, with the area around Sukkari reduced to rubble and its residents choking on chlorine.
In the second chlorine attack to hit the city, there were reports of barrel bombs being dropped by helicopters.
Speaking from the Bustan Al-Qasr neighbourhood, nicknamed "the Passage of Death" after being targeted by snipers, Islamic Relief's media officer, Tahir Al Sabsabi, said: "Some of these barrels contained a chlorine solution.
"The smell was very strong and overpowering.
"Children were convulsing because they had breathed in the chlorine gas.
"The civil defence rescuers suffered a lot and had to be taken to hospital and medical centres because of the chlorine."
It's understood that more than 100 people were injured in the attack, with reports that at least one man had died.
Rescuers and medical staff have been relying on basic equipment to save lives.
Islamic Relief is working on the ground deep inside Syria since 2012 and also in neighbouring countries.
We've reached over 6.5 million Syrians so far.
More pictures click here —> http://www.islamic-relief.org/aleppo-chlorine-atta…