Rohingya Integrated School of Excellence (RISE) to produce qualified Rohingya students.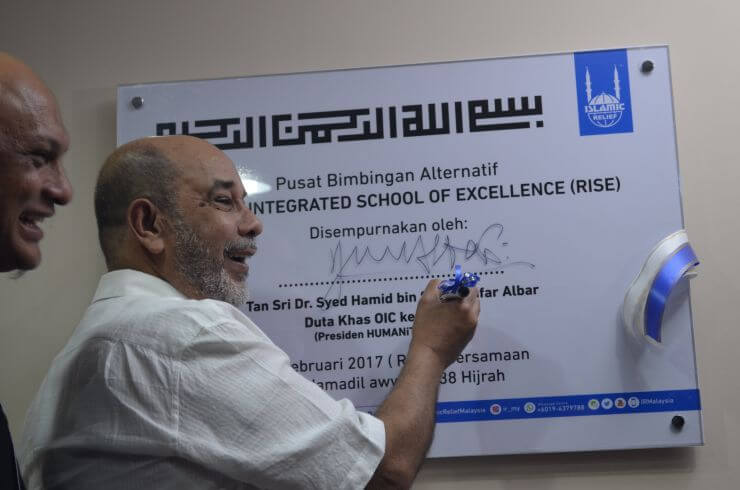 Kajang, 15 Feb. 2017 – Islamic Relief Malaysia (IRM) today launched Pusat Bimbingan Alternatif, a designated alternative coaching space for the Rohingya community located in Taman Kajang Utama, Kajang, Selangor.
The centre, which is named Rohingya Integrated School of Excellence, is the first school established under IRM. To add, it is fully monitored by IRM.
The primary aim in establishing the school is to provide free educational services to the Rohingya minorities living in the vicinity of Selangor.
The centre is launched by Tan Sri Dr. Syed Hamid bin Syed Albar, the President of HUMANiTi Malaysia, who also serves as OIC's special envoy to Myanmar.
Also presentduring the launching ceremony was Tn. Hj. Zairulshahfuddin Zainal Abidin, CEO of Islamic Relief Malaysia (IRM), Zaid Al-Rawni, CEO of Islamic Relief Canada, alongside IRM'spersonnel.
In his speech, Zairulshahfuddin said: "Education is a basic right belonging to every person. The future of these Rohingya children depends on how we educate them today. Realizing this, IRM is very determined to establish this aspirational school so that these unfortunate Rohingya children around Selangor will be able to enjoy education just like the others, as well as preparing them with basic skills for their future."
About Rohingya Integrated School of Excellence (RISE)
According to Zairulshahfuddin, the school will operate Monday to Friday, beginning at 9 am to 3 pm daily.
Six curriculum subjects have been identified and will be given due emphasis in the centre'steaching and learning, which is English, Bahasa Melayu, Myanmar Language, Mathematics, Science and Islamic Education.
In addition to this, IRM conducts skills-based classes such as cooking, sewing and computer literacy at the centre. Class instructors and teachers are qualified local graduates and also, sourced from the Rohingya community themselves.
Besides that, to ensure that these Rohingya children continue to be in school, a special outreach programme named HOPE will be carried out each weekend. In this programme, fellow teachers, instructors, and volunteers altogether will visit the Rohingya communities and conduct outreach education activities especially for them.
"IRM has huge roles and responsibilities towards this school. IRM provides operational expenditure of the school such as teacher's salary, and facilities rental, besides supplying school's equipment and teaching aids for the purpose of classroom lessons.
Why IRM is reaching out to the Rohingya communities
According to United Nations High Commissioner for Refugees (UNCHR)an estimate of 150,000 Rohingya refugees are currently living in Malaysia. However, only 54,856 of the total are registered with UNCHR
Back home in Myanmar, the Rohingya are generally deprived from any basic rights such as property ownership and also education. They are not allowed to own land of house and they are also barred from enrolling into basic education. This has led to the unfortunate outcomes where 85% to 90% of the Rohingya population are reported to be illiterate.
Without the ability to access education, they are not able to read and write, even in their own mother's tongue. A further unpropitious consequence of this is that they constantly face difficulty to secure jobs and to earn decent income for their livelihoods.
IRM has taken the initiative to help the Rohingya communities populating the Bandar Baru Bangi, Kajang, Serdang and Balakong area by establishing the Alternative Guidance Centre by featuring academic lessons tailored for the Rohingya children in the listed areas.
For further information, please visit our website at www.islamic-relief.org.myor you may contact us by telephone at 03-8926 3434.