Nelson Mandela Children's Hospital: Islamic Relief joins launch celebration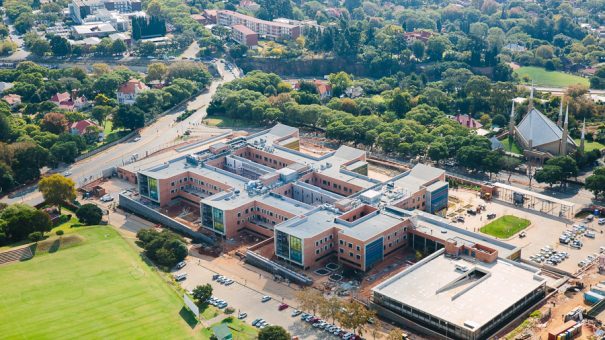 PRESS RELEASE, December 2 2016
Launch event for 200-bed hospital in Johannesburg on December 2
Islamic Relief has funded oncology unit to the tune of $7.7 m/110m ZAR
Waseem Ahmad, International Programmes Director, speaks at launch
Representatives of Islamic Relief South Africa, Worldwide, USA and UK all present and available for interview
Islamic Relief is one of three major donors to the new Nelson Mandela Children's Hospital to speak at the launch event for the hospital in the Parktown area of Johannesburg on Friday, December 2.
Our speaker is Waseem Ahmad, International Programmes Director for Islamic Relief Worldwide, who has played a pivotal role in coordinating global support for the project from Islamic Relief partner offices around the world.
This collective effort has delivered a donation of $7.7 million from the Islamic Relief family to fund the hospital's oncology unit – including $2.5m from Islamic Relief UK and $1.75m from Islamic Relief USA, the two biggest single country donors.
"This hospital has been 11 years in the making and it's been great for me to see it taking shape," says Waseem Ahmad. "Islamic Relief is proud to have funded the oncology unit, providing a lifeline for children with cancer when the African continent has so few specialist facilities.
"We're also privileged to be associated with such a state-of-the-art facility whose services are so badly needed, and to be part of such a fitting tribute to Nelson Mandela.
"As the anniversary of his death approaches on December 5, what better way to celebrate his life and all that he stood for than to launch the Nelson Mandela Children's Hospital – a beacon of hope for the children of South Africa for decades to come.
"Islamic Relief's large donation to this important project would not have been possible without the big-hearted generosity of Muslim communities around the world.
"The ethos of the hospital reflects the ethos of Islamic Relief itself – we help vulnerable people where the need is greatest, regardless of race or religion."
As well as the oncology unit funded by Islamic Relief, the new 200-bed hospital has centres of excellence in cardiology and cardiothoracic surgery; haemotology; nephrology; pulmonology; craniofacial surgery; neurosciences; and general paediatric surgery. The first young patients are expected through its doors for dialysis and radiology treatments in the New Year.
Islamic Relief has committed $7.7m (110m ZAR) to solely support the hospital's oncology unit. It is a facility that will set the standard for modern child-centred healthcare facilities. Its features include a bone marrow transplant facilities and laboratory; intensive care and high-care beds; a dedicated pharmacy; and a radiology facility.
According to recent figures from the CHOC Childhood Cancer Foundation, one in 600 children in South Africa is affected by cancer before the age of 16. Yet more than 40 per cent of South African children with cancer never receive specialist treatment. There are only four specialist children's hospitals on the entire African continent, compared to about 20 in the UK. The Nelson Mandela Children's Hospital (NMCH) will help change these grim statistics.
For more information or to arrange interviews with representatives of Islamic Relief in Johannesburg for the launch, or to obtain photographs or footage from the Islamic Relief team at the event, please contact Martin Cottingham on 00-44-7702-940982 (martin.cottingham@islamic-relief.org.uk).
NOTES TO EDITORS
Islamic Relief is an international aid and development charity that aims to alleviate the suffering of the world's poorest people in over 30 countries, mainly in Africa, Asia and the Middle East. As well as responding to disasters and emergencies, Islamic Relief promotes sustainable economic and social development by working with local communities – regardless of race, religion or gender. With a global headquarters in the UK, it has offices in over 40 countries and has assisted over 110 million people in its 32-year history. Its biggest current operation is its Syrian crisis response: it has delivered over $190 million worth of aid to over 6.5 million Syrians inside Syria and in neighbouring countries since the conflict began. For more information see islamic-relief.org
Islamic Relief South Africa is an important member of the Islamic Relief global family, both in terms of the funds it raises and the programmes it implements – such as orphan sponsorship, clean water projects and community development initiatives. For more information see http://www.islamic-relief.org.za/what-we-do/
Available for interview at the Nelson Mandela Children's Hospital launch: Waseem Ahmad (International Programmes Director) and Martin Cottingham (Director of Communications) – Islamic Relief Worldwide; Anwar Khan (CEO) – Islamic Relief USA; Tufail Hussain (Deputy Director) – Islamic Relief UK; Norman Moyo (Head of Programmes) – Islamic Relief South Africa.