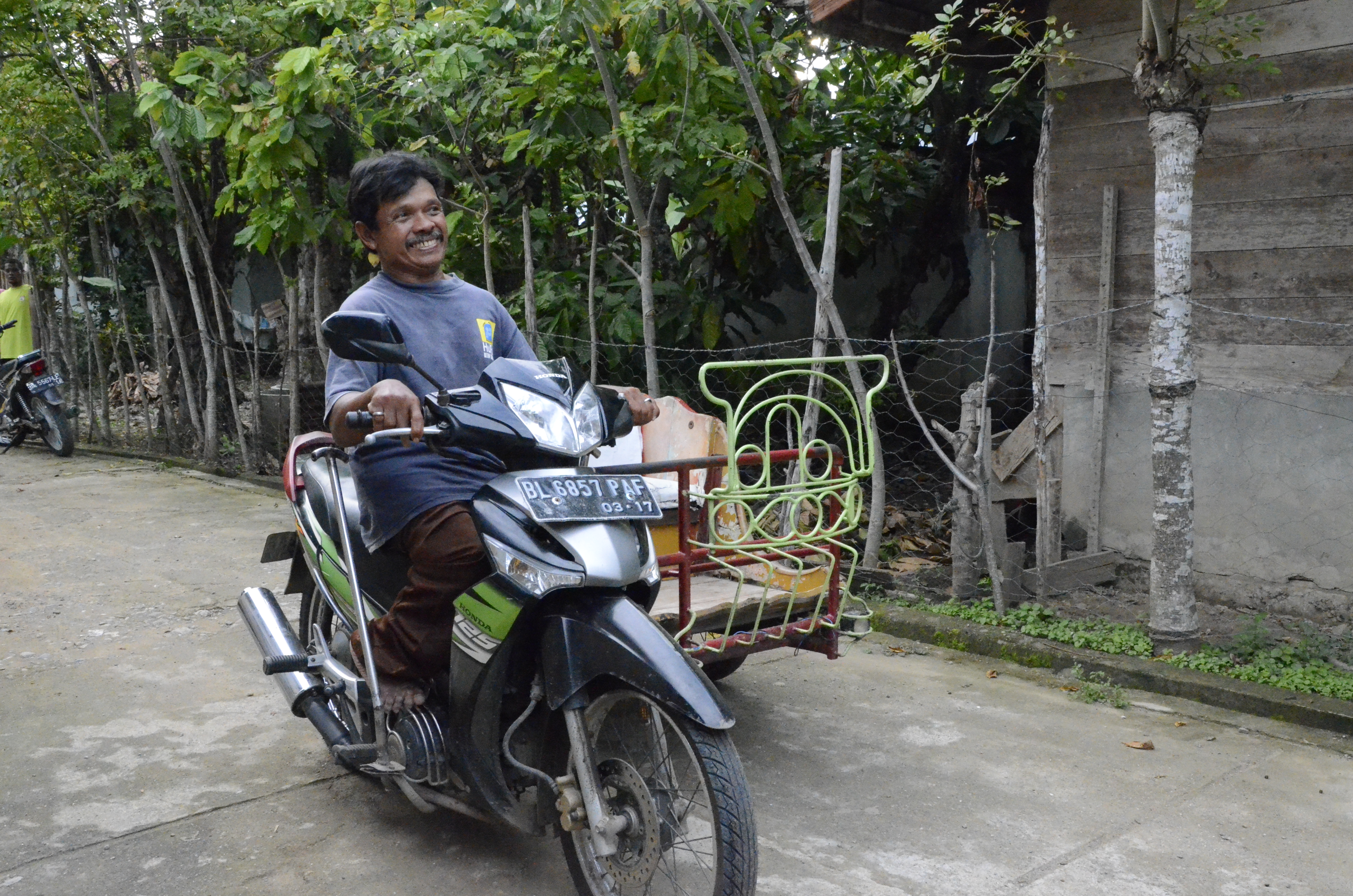 Lack is sometimes not a barrier. Permanent permanent disability that has ever been born is never a barrier to Syamberli, 51 years of survival on his own business.
He also never allowed himself to continue to be seen as weak by society even though his footsteps were not as agile as other normal people.
The native of Pidi, Indonesia's native teens is trained largely since school. His passionate spirit led him to Palembang to study his skills in electrical engineering.
After 3 years, he returned to his native land with great ambitions to change his destiny out of the hardship.
Armed with a vigorous spirit, Syamberli gathered little by little and opened a shopping kiosk to support a family near his home. The kiosk was the second home to witness the fall of Syamberli in search of a rice for almost 25 years.
"Alhamdulillah, many customers come to my shop even though other shops offer the same electrical appliance repair service. I always believe everyone's livelihood has been written and everyone has their own sustenance," Syamberli said.
He adds, although the profits earned are uncertain but enough for him, his wife and two children continue to survive in a simplicity.
As long as Syamberli shared the story of his life and family to the delegation of Islamic Relief, his wife Juwaidiah, 41 years of age remained faithful to accompany and encouraged her husband who sometimes seemed nervous to speak.
For us, the cheerful and warm smile of Juwaidiah is one of the sources of strength to Syamberli. They complement each other and are always grateful for the benefits of their livelihood despite the naked eye sight, their lives are not as good as early morning breakfast, late evening meals.
It was supposed to heat up to the evening, apparently raining in the middle of the day. Business kiosk which is the battlefield for the syamberli to make a living destroyed in the earthquake and tsunami tragedy that inflicts Aceh especially in the Pidie Jaya area on December 7, 2016.
Based on news reports following the incident, about 97 people have been killed while hundreds more injured in a series of quake magnitude 6.4 Richter scale.
Syamberli among the affected residents due to an incident that occurred around 5am.
"During the incident, I was trapped inside the house. There's a wall going down and almost just hit me, my son's upright lift up and take me out as I can not move fast to save myself because of my foot defect," Syamberli's story gratefully.
He adds, the dawn of the dawn which is usually decorated with the sound of poultry and chicken cocktail turns into noise. Sounds like a shriek of voices alternating with the rumbling of human footprints running in search of shelter.
Anxiety reactions clearly radiated at the Islamic Relief delegation when the syndicate shared the panic. Whether or not the way and the style of a satanic story of narration seems to have led us through the past with him.
"The incident not only ruined my kiosk but our home was also destroyed and hit my tricycle. Almost a year we had to stay in the tent at the front of the house," Syamberli said.
When an Islamic Relief officer asked about eating and drinking as long as he lived in a tent, he and his wife just smiled. They look heavy to tell more about it. Perhaps the experience passed is too bitter to remember.
After a year, Syamberli received temporary home assistance from the Government of Indonesia. He returned to the electrical repair work of his home. Every day he will ride a tricycle to find customers around his residential area.
"Income is less when doing a home repair work. But, that's enough. Beginning 2018, good start to me. I received an offer to take training courses to repair electrical appliances that are more geared towards home use tools such as rice cooker, television, fan, blender machine and more by Islamic Relief," explained Syamberli with a cheerful face.
At first, Syamberli felt disbelief over the offer given her age. However, Islamic Relief officials who bring good news explain Islamic Relief's assistance is very comprehensive and has never put any difference as a barrier if the beneficiaries really deserve.
"The selected disabled persons in the first phase of the training were comprised of residents affected by the earthquake disaster at the end of 2016 and unaffected but also squeezed poverty," said Zairulshahfuddin Zainal Abidin, Chief Executive Officer of Islamic Relief Malaysia.
The training course provided by Syamberli is sponsored by Maybank Islamic Berhad under the Livelihood Recovery For Disable People (LIRE4D) project. A total of 100 participants have participated in this exercise as an effort to help empower Pidie Jaya Disabled Persons (OKU), Acheh.
"Maybank Islamic has long been involved in such humanitarian work. We emphasize the responsibility of the maqasid syariah in implementing humanitarian work to help the needy," said Zainal Abidin Jamal, Chairman of Maybank Islamic Berhad.
There are 4 training courses offered for disabled persons namely sewing, handicraft, electronic base and oyster mushrooming company.
"I would like to thank Maybank Islamic Berhad, Islamic Relief Malaysia and Indonesia for their support. I look forward to opening a kiosk to increase family income," Syamberli said.
Islamic Relief and Maybank Islamic Berhad hope that the dream of every beneficiary who is attending this course will be reached and the skills learned can be utilized as best they can and are shared for the economic development of the locals.