How Almira defies the odds to empower children with disabilities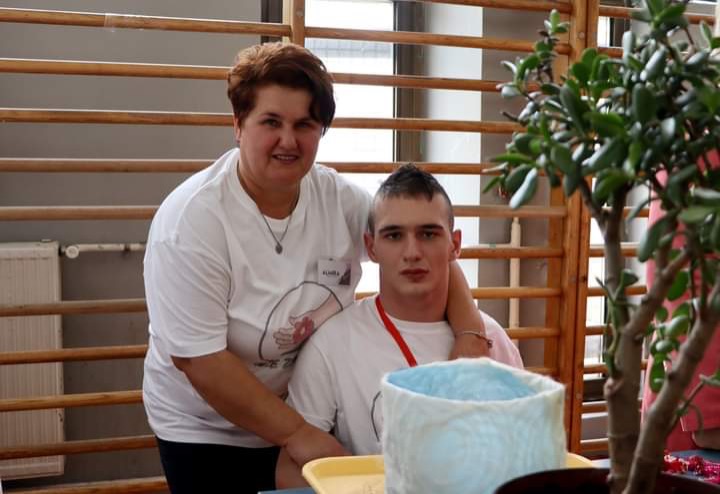 Celebrating International Women's Day (8 March), we share the inspiring story of Almira, a widowed mother who has transformed the lives of children with disabilities in northeastern Bosnia and Herzegovina.
Almira, a 51-year-old woman from the small village of Priluk, has faced many challenges in her life. One of the most significant was the birth of her twin sons, 1 of whom, Meris, was diagnosed with cerebral palsy when he was just 7 months old. Meris had to undergo 8 surgeries due to his condition.
As her sons grew older and started attending school, Almira's husband tragically passed away, leaving her to raise their children alone. A difficult time for Almira was complicated further as Meris was unable to continue in regular education as he got older and required more assistance. Despite the challenges, Almira refused to let her son's condition limit his potential. She refused to let him lead a life confined to 4 walls and instead encouraged him to pursue his dreams.
Almira's daily routine revolves around taking care of Meris, who requires constant support and care. Despite the physical and emotional fatigue that comes with her responsibilities, Almira finds happiness in the situation. Meris' world has become her world, and the specialist institute that Meris now attends, and its community, have become their family.
Almira once felt isolated and alone in her struggles to care for Meris, but she recognised the need for a supportive community where parents could connect, share their experiences, and seek guidance from one another.
Through her research, she discovered that there were no such social clubs in their area and decided to take action and create her own with the help of other parents.
A long and arduous journey
Through a social club that she set up, Almira was able to bring together parents who had been feeling isolated and disconnected from others. The club provides a safe and welcoming space where parents could share their experiences, give and receive emotional support and offer practical advice to one another. This has helped to alleviate some of the stress and loneliness that many of the parents were experiencing.
Almira's determination to make a positive impact did not stop at founding the social club. She had a personal goal to create a new programme at the institute Meris attends that would provide vocational training for the children. But establishing the programme was not easy.
The process to gain official accreditation for the programme was long and arduous, spanning 3 years and with many obstacles along the way. However, Almira remained persistent and, with the joint effort of parents, the institute, and the government, was eventually successful.
A helping hand
While working to get the programme established, Almira was in desperate need of financial and emotional support. Islamic Relief's Orphan Sponsorship Programme provided Almira with a lifeline, offering not just financial aid for her Meris, but also the emotional and mental support that she so desperately needed.
While the sponsorship helped to cover Meris' everyday needs, Islamic Relief also stepped in to help pay for an expensive operation the child needed.
Almira had been spending a significant amount of money on Meris' treatment, leaving her with only a minimum pension for basic necessities, but with the help of the organisation's greenhouse project that provide space for growing plants indoors, she was able to start her own business from home.
Now, she sells a variety of produce such as peppers, tomatoes, and cucumbers, providing her with extra income and a sense of independence, while allowing her to stay by Meris' side.
Overcoming adversity
Almira's story is one of overcoming adversity and making a positive impact in her community. Her hard work and dedication to her son and his future, as well as those of other children with developmental disabilities, is a testament to the strength of women. Almira's story also shows that it is possible to create change and make a difference, even in the face of great challenges.
As we celebrate International Women's Day, Islamic Relief encourages everyone to support and empower women like Almira who are making a difference in their communities.
Whether it is through sponsorship programmes, education, or providing opportunities for growth, we can all play a role in supporting and uplifting women. Join us in making a difference and empowering women around the world.