Piyara's journey: From hardship to success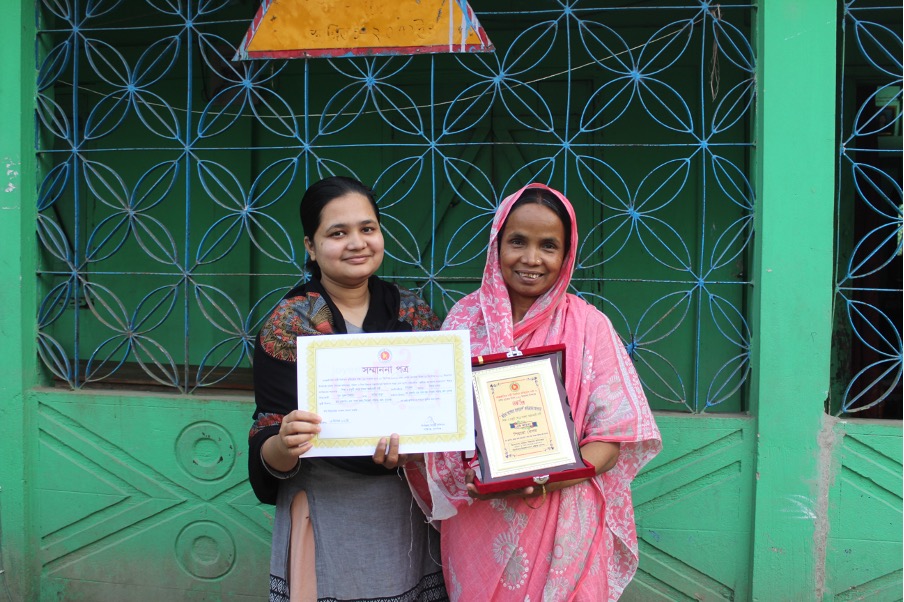 As we commemorate International Women's Day (8 March), it is an opportune moment to reflect on Bangladesh's progress in promoting women's development and empowerment. The country has made significant strides in breaking down the barriers that have long hindered women's progress. There has been a significant shift towards including women in decision-making and leadership positions, helping Bangladesh break free from the past in which women were marginalised and neglected.
This International Women's Day, we celebrate the inspiring journey of Piyara, who defied the odds and overcame formidable obstacles to become a symbol of female resilience and success in Bangladesh.
Piyara, the youngest of 5 siblings, grew up in a family with limited income. Despite this, Piyara's father ensured that all of his children received an education. His untimely death not long after Piyara finished high school was heart breaking for the family with no other income, Piyara was forced to abandon her dream of further education.
To help support her family, Piyara's mother arranged a marriage between Piyara and a teacher who supported her to continue her education. Together, they had 4 children, but still, the couple struggled to make ends meet. Tragically, in 2012, Piyara's husband passed away suddenly from a heart attack, leaving her without the financial stability her husband provided and at a loss as to how to manage a family on her own.
A family's struggle and triumph
Piyara's struggles were numerous, particularly as no relative would help to support her. She found it difficult to provide 3 meals a day for her children and pay the rent for their small home. Her worries were compounded by the fact that her children's education was also at risk, a painful reminder of her own past.
Piyara and her husband had always vowed to ensure that their children received the education they deserved, no matter what challenges they faced.
Thankfully, Piyara's situation took a turn for the better after discovering Islamic Relief's Orphan Sponsorship Programme . The programme is designed to assist orphaned children and their families by providing them with much-needed financial support.
Through this programme, Piyara was able to meet her family's needs and improve their quality of life. She kept her children in school, with her eldest daughter going on to receive a first-class university degree in economics.
A newfound sense of purpose
Reflecting on her journey, Piyara said, "losing my life partner was an immense shock and trauma that turned my life upside down overnight. As he was the sole breadwinner of our family, my primary concern was to ensure the safety and security of my loved ones in his absence. Despite these challenges, I remained resolute in my determination to provide a better life for my children."
Piyara devoted herself to raising her young children, taking on the roles of both mother and father. To better support her family, she joined self-help groups facilitated by Islamic Relief. Through these groups, she received training on income generation, leadership, child rights and savings, among other essential support.
Piyara being awarded the Ratnagorva Award (Best Mother) from the Shantiganj Upazila administration in Sunamganj.
With encouragement and support from Islamic Relief, Piyara discovered a newfound sense of purpose and community. She began providing private tuition to students in her neighbourhood, where her ability to explain complex topics made her immensely popular in her village, and her teaching skills allowed her to expand her classes from just 3 students to multiple groups. The income generated from providing private intuition allows Piyara to continue providing for her children.
Piyara treats each student as if they were her own child. She's known for finding ways to reduce fees for underprivileged children, and as a result, she has earned great respect and affection from the people in her village. They fondly refer to her as 'Master Apa' ('Apa' translating to 'Older Sister' in Bengali) – a title that reflects both her expertise and her compassionate nature.
Piyara's tireless efforts and unwavering commitment have earned her numerous accolades, including the esteemed Joyeeta Award in 2022, presented by the Ministry of Women Affairs under the Education Category at Upazila level. She was also honoured with the Ratnagorva Award for Best Mother by the Shantiganj Upazila administration in Sunamganj – the award highlights the commendable efforts of mothers who have overcome adversity to raise their children.
Piyara's story is a reminder that with determination and support, women can overcome even the most challenging circumstances. Her story is a testament to the transformative power of empowering women and the enormous potential that can be unleashed when women are given equal opportunities to succeed.
As we celebrate International Women's Day, let's pledge to support and empower women like Piyara, so they can continue to defy the odds and succeed.
Support our vital women's empowerment work, which enables vulnerable women to gain agency over their lives: please donate now.