Fighting against All Odds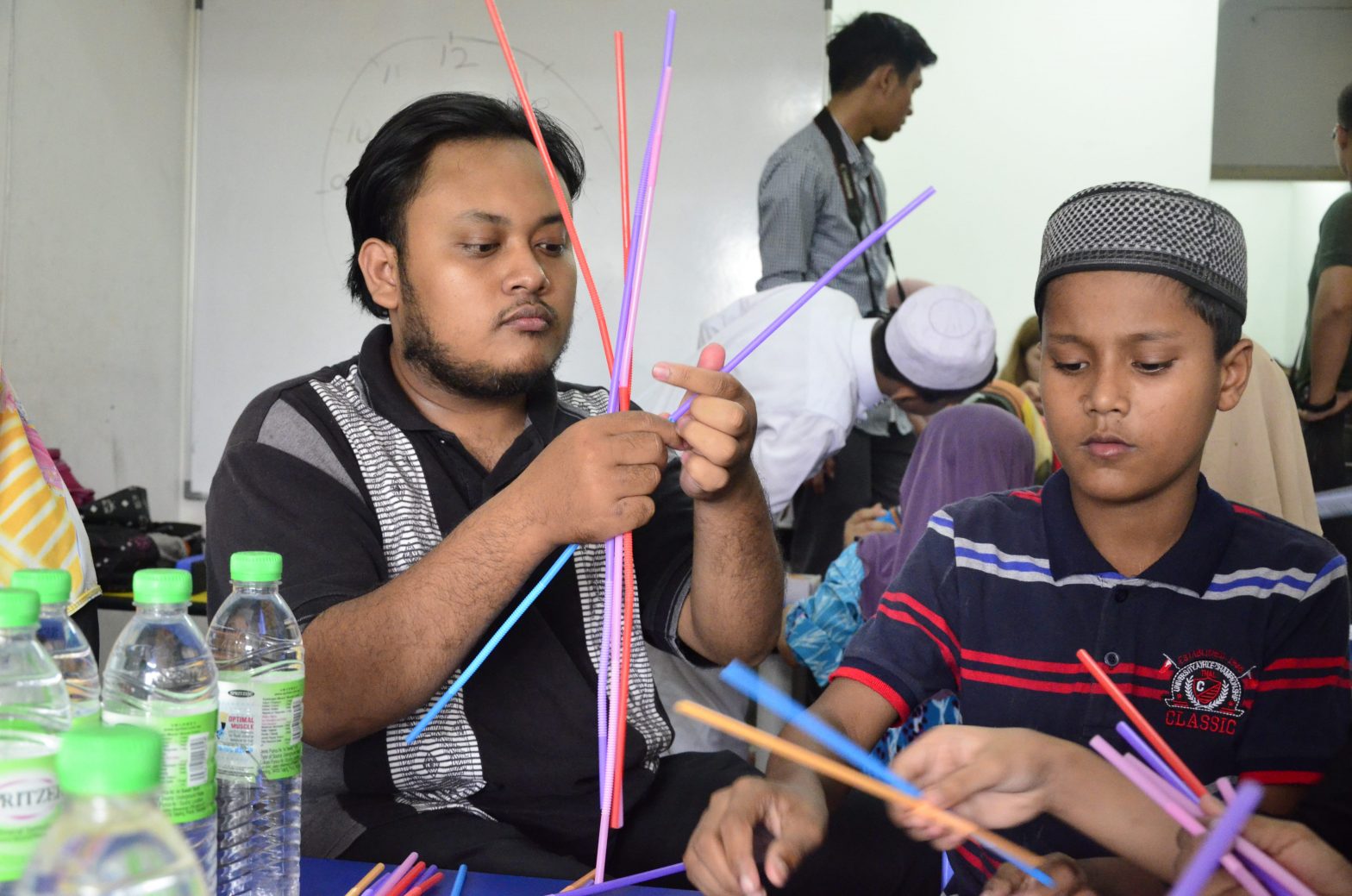 There's a proverb that says strike the iron while it's hot. Apart from parents, teachers are also responsible in shaping the behaviour of children at early stage of life. Fundamentally, the public recognises that teachers play a role to deliver knowledge in educating and helping the students to unleash their potential.
Nevertheless, we should understand the concept of 'education' in a bigger perspective. The sole responsibility of a teacher is not just standing in front while delivering knowledge but involving a need to train them as a person who can contribute to the society in the future. Wan Mohd Amirol Ashraf Wan Mohd Badruddin, a teacher at Rohingya Intellectual Skill and Excellence (RISE) has a fair share of experience teaching the Rohingyan children.
RISE is a project that was initially developed by Islamic Relief Malaysia (IRM) aiming to provide formal education for the refugees especially the Rohingyan children in Malaysia. Pleased to be addressed as just Ustaz Wan, he states that RISE is an alternative learning centre that is wide in scale that it does not emphasise only on formal education.
Training mind
"When I first began my career as a teacher here, it was never in my thought that the centre envisages such a big ambition to groom each student's ability so they will be competent while shaping their identity. For instance, pastry skills including baking cakes so they are equipped with certain aptitudes which makes them easier to land a job," said Ustaz Wan explaining his initial thoughts about RISE.
Months after months, Ustaz Wan's presence at RISE has tremendously adjusted his mindset to become more aware of humanitarian issues happening to vulnerable communities, in this case, the community of Rohingya. "Initially I have never planned to be choosy when it comes to starting a career as I believe it's all fate. But after some time at RISE, I began to learn and be more thoughtful on the humanitarian issues occurring in their country.
"I can say that after some time working here as a teacher, the mindset I carry all this while has been attuned as apart from earning for myself, the job I'm working on at the moment is considered a communal service and social responsibility purposely designed to educate the needs, the Rohingyan children. Initially, there was nothing else I could think of instead of securing a job but it all changed after putting my blood and sweat here as a teacher," Ustaz Wan explained his early experience serving the learning centre.
Being a teacher means there's always a few awkward moments when interacting with the Rohingyan kids during his early days at RISE. "I would be lying if I said I never came across any awkward moments with them. At first, I was shocked as their dialect was totally different from the real Bahasa we use on a daily basis. Some of them even imitate the way Chinese speak, even. When I tried probing into their life, only then I knew they used to work with Chinese in Malaysia," said Ustaz Wan.
Responsibility to shape identity
As a teacher that is solely responsible to help shape their identity, Ustaz Wan alongside other teachers at the learning centre are of the opinions that the students' ability to speak proper Bahasa should be taught comprehensively in efforts of enabling them to communicate with the public. In fact, they are the third generation that obtain formal education at RISE.
"They are actually the third generation. Meaning that, their parents and even grandparents have passed through a long phase of life without obtaining formal education at school. I also believe that there is a need for us to understand their educational background where they never got the chance to study. Hence these students here are the earliest generation to fight the gap. To tell you the truth, their community is not well-educated and as a teacher here, we work hard to train them," said Ustaz Wan about the Rohingyan community.
When asked about sweet moments he had with the students at RISE, Ustaz began to picture the visit at National Science Centre along with volunteers from Islamic Relief (IR) Canada through a programme called Inspire last year.
"There was this one gratifying moment at National Science Centre I had with these students. I still remember of the volunteers from IR Canada spoke to us about how Malaysian praised the attitude of Rohingyan kids as they were all well-behaved and obedient.
"As a teacher, I feel as though we have unlocked a big chunk of success after breaking sweats, blood, and tears to train and shape them up to date. It has always been our top principle for us as a teacher that the success of children is measured by their ethics, attitude, actions, and morals should they not be able to perform in academic achievement and as a teacher, I am deeply touched by their positive changes." Explained Ustaz Waz while remisnicing the happy moment with them.
Learning a foreign language
Similarly, the primary goal for a teacher has never been off-track from producing more students who can actually master all subjects taught in class. But for the most part especially these kids, what is most important and crucial for them is to master English and its use on a daily basis.
"As much as we stress on other subjects, we always put an emphasis on English so at the very least they can understand the language themselves in terms of reading, listening, writing, which eventually enables them to speak the language on their own.
"By mastering the global language, it will definitely help open more trajectories of opportunity to secure a job in third countries that welcome the presence of refugees. I am confident that if they are given or awarded a basic learning certificate, it will be of assistance for them to seek for job along with their English communication skill," Ustaz Wan clarified as he justified on the skill that should be imparted to Rohingyan kids.
Speaking of the challenges that he dealt with throughout his service at RISE, Ustaz Wan clarified that the challenge to communication became the major hindrance for him to teach, however not a problem to stop teaching. "I can presumably claim that communication is my biggest challenge because when I first started my career here, most of the students could hardly speak our language, Malay Language, and did not have a knack to grasp the context accurately. So, there existed a language barrier.
"When it comes to comprehension ability, each subject contains certain terminologies or special keywords which require thorough explanation to understand. For instance, scientific terms such as oxygen or carbon dioxide. Clarification should be repeated lots of time so that the information will always be on their mind. They might get a clear idea in their own language, nonetheless, guidance should be striven to make them understand the context in Bahasa or English. I can conceptualise this as chain work as it involves explanation, memorising, and remembering which eventually leads to understanding," he explained about the challenges faced along the way.
Furthermore, the future of these Rohingyan children is actually brighter if they migrate to the third country as part of their survival to continue making ends meet. "In my opinion, their chance is a lot better if they choose to migrate to third country that is Muslim-friendly and live in their community. In Malaysia, this is where they can learn as many skills as they can before deciding to migrate."
There is nothing else that a teacher can pray for, Ustaz Wan want the children to be valuable for their own community while being able to contribute something to the society. "We will always be here to train and help them within our capacity and of course as a teacher, I want them to be the role model for their community in the future."