Emergency food aid needed as households in Somalia cut off by floods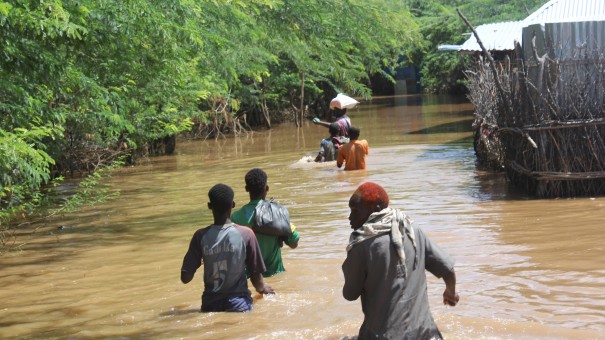 Emergency food distributions are planned where floods have cut off people in remote villages.
Islamic Relief is one of the few INGOs that has been able to access the most hard-to-reach areas on the outskirts of flooded Beledweyne town on the Ethiopian border (200 miles north of Mogadishu), with our field staff using a tractor and "improvised canoes" to get to stranded people.
Aid workers have reported that some families are living on rooftops.
The government has confirmed that around 70,000 people have been displaced so far, with teams on the ground stressing that the number is increasing day-by-day.
Farming communities, consisting mainly of minority clans in the area, are the worst affected with fears that flooded fields will lead to a serious scarcity of food in coming days.
Sixteen deaths have already been confirmed, with an outbreak of diarrhoea believed to be responsible for the deaths of 15 children and one older person.
Amir Manghali, Islamic Relief's regional desk co-ordinator in Somalia, said: "People have not been able to have a decent burial because there is no dry ground where they can be buried.
"This is a desperate situation."
He added: "There are problems with sanitation as there are now no toilets or latrines in this area.
"Most have been flooded and the water that people are using to drink and wash with is the same water from the latrine.
"The water is muddy, dirty and smelly and this is the water people are drinking on a daily basis.
"With a lot of stagnant water around there are now fears of a malaria outbreak, so in the coming days it's going to be really hard for people here to survive in these conditions."
The Islamic Relief team in Somalia is now working on an urgent response, delivering 1,000 food packs to feed 6,000-7,000 people in the most vulnerable, hard-to-reach households, but this supply will only be enough to last 10-11 days.
Islamic Relief began working in Somalia in 2006, providing Ramadan food parcels and Qurbani meat to poor families in the Puntland region. Our country office is in Mogadishu, with other field offices in Garowe (Puntland) and Hargeisa (Somaliland).