UN Women and Islamic Relief team up for gender justice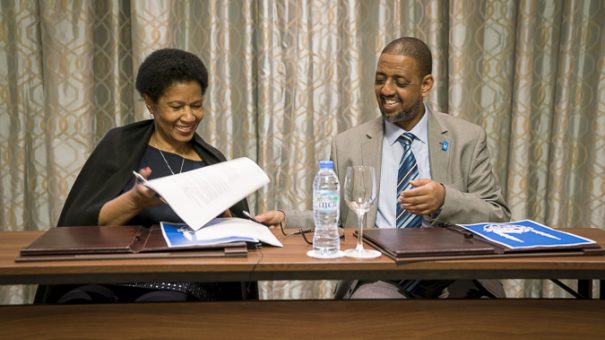 Islamic Relief joins forces with UN Women, the global champion for gender equality, to strengthen joint work on empowering women in the Muslim world.
UN Women executive director Phumzile Mlambo-Ngcuka and the chief executive officer of Islamic Relief Worldwide, Naser Haghamed, officially launched a Memorandum of Understanding (MoU) in the United Arab Emirates on 19 October.
The bilateral meeting activated a partnership of strong collaboration and mutual-interest with a particular focus on the areas of humanitarian assistance to women in conflict-ridden and refugee communities, combating violence against women and girls and starting a broad dialogue on the Islamic discourse on women's rights and gender equality.
Islamic Relief has been expanding its work on gender justice, rights and development in the Muslim world over the past few years – issues that are becoming harder and more critical to tackle with the growing challenges of the Arab States region.
Mr Haghamed said: "Millions of people from Syria to Burundi have had their lives devastated by conflict and disasters – and women and girls of all ages and abilities are mostly affected.
"A new approach guided by the Leave No One Behind Agenda and Core Humanitarian Standards commitments is needed, through the creation of active and meaningful partnerships between INGOs and UN bodies.
"Such partnerships aim to respond to the violation of human rights, and prevent and reduce the impact of conflict and disasters on women and girls."
Ms Mlambo-Ngcuka said the partnership will bring strong benefits to each side: "While UN Women's technical and normative experience would be valuable to IRW, the extensive grass-root network and innovative policy and research work on different thematic areas would also be a key asset for UN Women's work on gender equality and women's empowerment."
The signing of the MoU comes at a time when the Syrian conflict had come to create the worst refugee crisis since World War II with millions of displaced families in the Arab States region and beyond.
Women and girls are exceptionally vulnerable in conflict zones and refugee communities.
They are also disproportionately affected by poverty and humanitarian crises – both of which are growing phenomena of our modern times.
"This is the time for alliances, for dialogues and for unity in the face of the waves of violence and extremism affecting our world and further deepening poverty and deprivation," Ms Mlambo-Ngcuka said.
"Women's capacity has never been more important to create partnerships that can both protect women and invest in their power to foster peace and change communities," she added, noting that plans will be under way for UN Women and Islamic Relief to consolidate their strengths with a view in particular to bringing a gender perspective to the response to the Syrian refugee crisis.