Overcoming disability in a refugee camp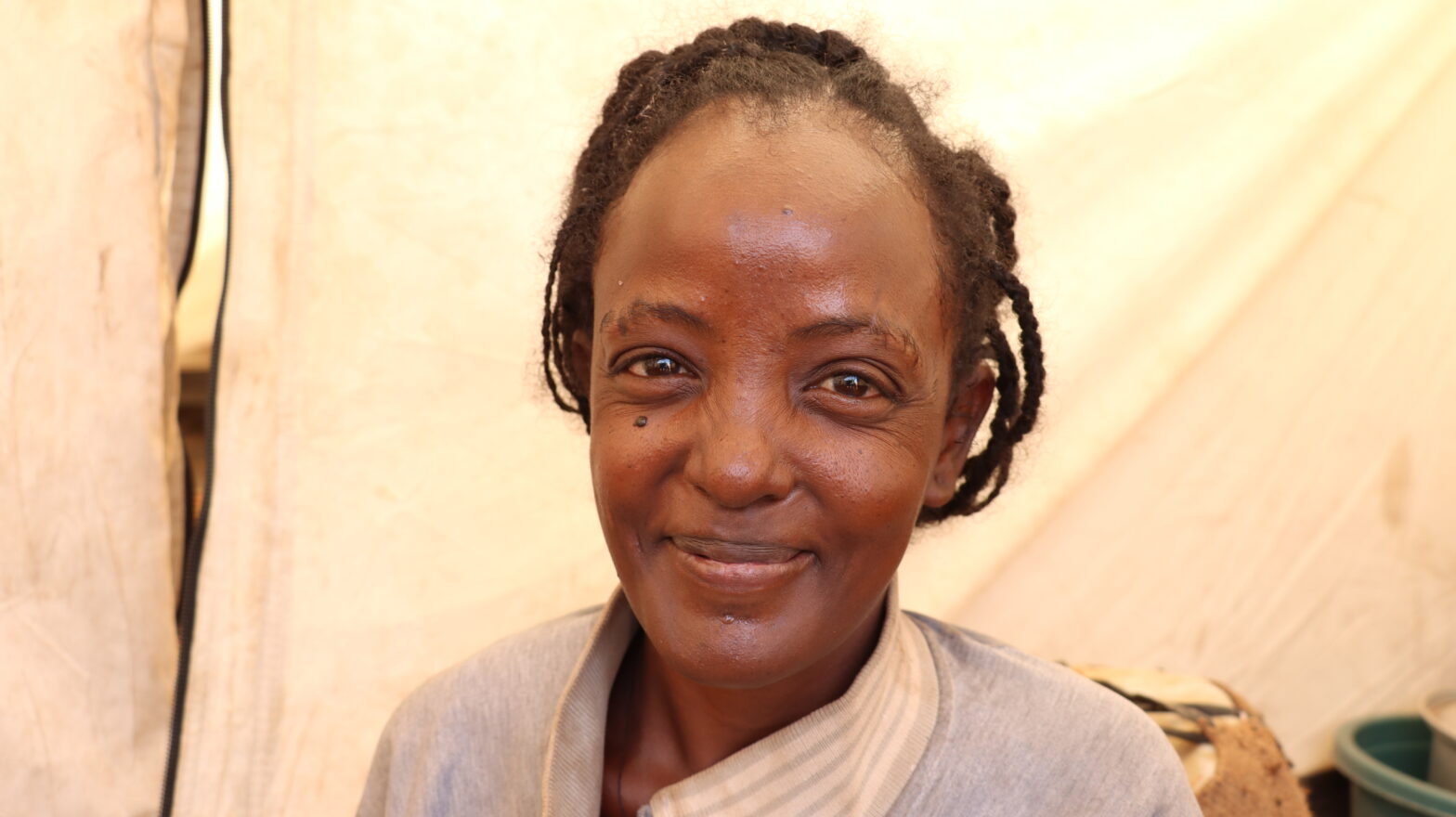 For people with disabilities, fleeing conflict and arriving in a refugee camp can be an even more difficult experience. Islamic Relief's Aya El Fatih talks to one Ethiopian refugee in Sudan about the challenges she has faced:
When conflict erupted in the Tigray region of Ethiopia in November 2020, tens of thousands of people were left with no choice but to seek refuge in neighbouring Sudan.
Among these refugees is 30-year-old Mulu, who was forced to flee when the war reached her hometown. Mulu has a life-long medical condition making her legs bowed and difficult for her to walk, so her husband had to carry her in his arms as they fled.
Loss and fear
"I saw bombs exploding and people dying all over the place," Mulu says. "I was very scared, my husband's friends were killed, it was horrific. I hope I never have to relive that feeling."
"When the bombs started exploding, everyone ran in separate directions. That's when we got lost."
Mulu's father was killed and she hasn't been able to contact other members of her family since then.
"I barely sleep. I think about them all the time, whether they are dead or alive. Leaving my family behind is unsettling; I am disabled but I worry about them more than I worry about myself."
Life in the camp
Mulu has now settled in a tent in Um Rakuba refugee camp in eastern Sudan, which is home to more than 20,000 Ethiopian refugees.
She doesn't have children, but has taken a 16-year-old lost child under her care. She says she sympathises with lost children more than anyone as she has lost contact with her family.
On a hot sunny day, we met her as she prepares Injera (traditional Ethiopian flatbread) on a clay stove by pouring the batter rapidly in a spiral manner from the outside inwards. She leaves it for a few minutes on a griddle until it is cooked.
The rich smell of freshly baked Injera soon leaves everyone hungry. The Ethiopian refugees have made clay stoves themselves as Injera is a big part of their diet.
Mulu says, "I am well settled here, I get food and water."
Islamic Relief and other humanitarian agencies have provided aid such as food, water and sanitation. But there are still many challenges, especially for a woman who struggles to walk.
"I fall on the ground if I walk for long distances," says Mulu. "It is also hard for me to use latrines, sometimes I fall into the pit."
Islamic Relief has delivered aid such as hygiene kits directly to Mulu's tent because she cannot  stand for long in a queue.
"I sincerely thank Islamic Relief for the house-to-house delivery, I can't thank them enough," she says.
According to Elsadig Elnour, Islamic Relief Sudan's Country Director, "At Islamic Relief, we give special attention to people with a disability, the elderly, and pregnant women. We don't want them to worry about not receiving aid because they can't reach the distribution points.
"The house-to-house aid distribution not only ensures people with disabilities are included and better protected from being hurt or puhsed in crowds, but is also a preventive measure against Covid-19."
Humanitarian response
The crisis in Tigray continues and the need for humanitarian assistance is ever-rising.
Islamic Relief is providing aid in Tigray itself and to refugees in Sudan, which is now hosting more than 80,000 refugees from Tigray in three camps: Um-Rakuba, Al Tunaydbah, and Hamdayet.
Islamic Relief's response in these camps includes providing food, water, sanitation and hygiene, education, and street lighting systems. We also provide other items such as plastic sheeting for tents, mosquito nets, jerrycans for carrying water, soap, toothpaste, sanitary pads and face masks to protect against Covid-19. So far we have provided aid to around 30,000 refugees.
Islamic Relief has constructed more than 60 latrines and 30 washing facilities at Um-Rakuba and Al Tunaydbah Camp, and is working to construct classrooms and provide secondary education for refugees through funding from Education Cannot Wait (ECW). We have installed solar-powered street lights in Al Tunaydbah, to improve safety and protect refugees at night.
Mulu herself received a hygiene kit and kitchen utensils from Islamic Relief. She wishes for peace and hopes to go back to her country, but in the meantime is relying on humanitarian aid.
"I don't have clothes, I only have the clothes I am wearing now, as you can see they are torn," she says. "I need a mobile phone to get in touch with my family and a flashlight to be able to move in the dark. I also need a thicker sleeping mat given my disability."