This World Refugee Day, we are recognising the strength and courage of refugees like Hassan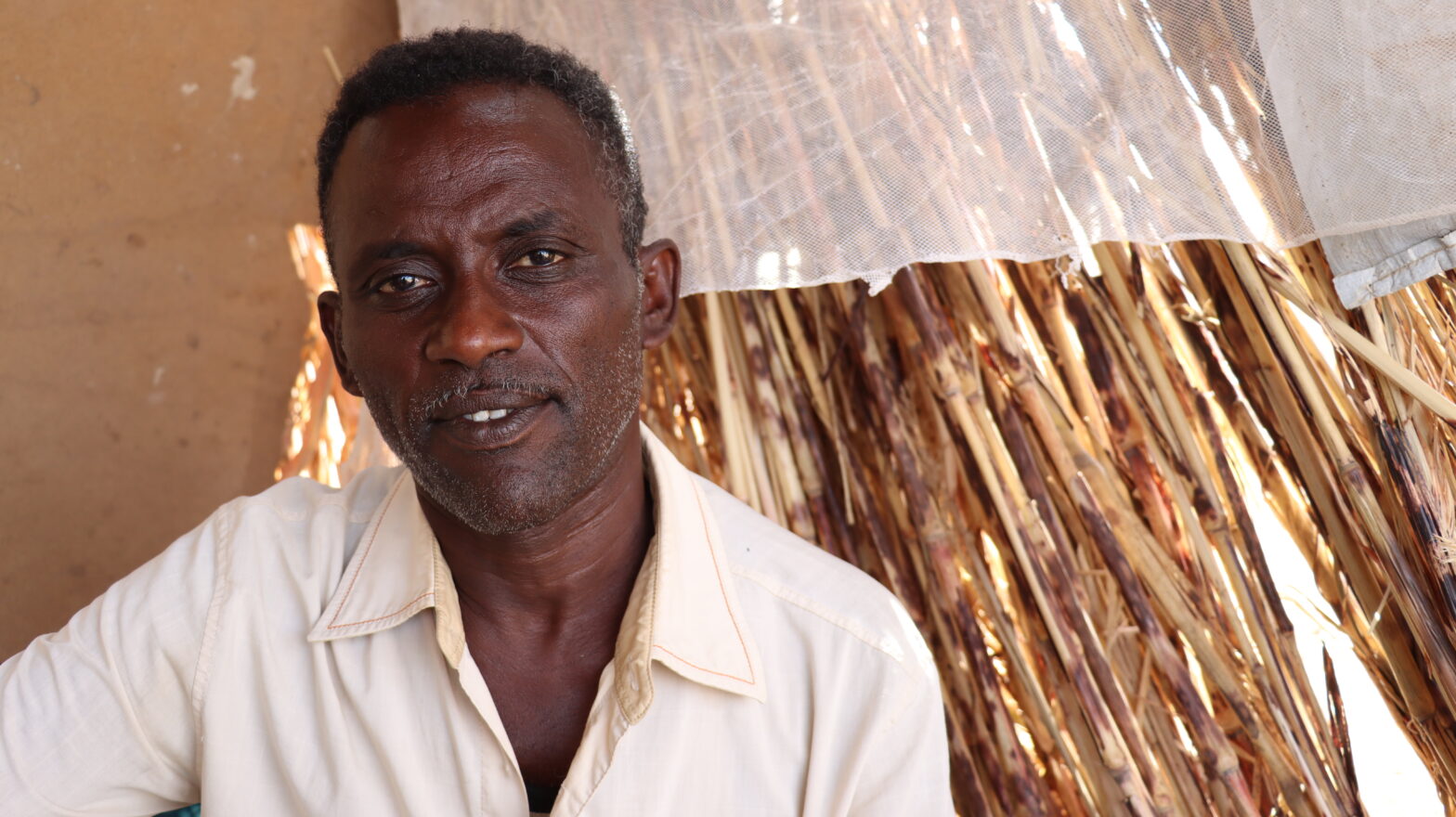 Never before has the world recognised a World Refugee Day in which so many people are displaced. Largely driven by conflict, the number of refugees has doubled in the past 10 years, from 41 million in 2010 to nearly 80 million today. Today, Islamic Relief shines a light on the strength and courage those forced to flee in search of safety. We draw inspiration from people like Hassan.
Military clashes in the Ethiopian region of Tigray have been ongoing for months, with no end in sight. More than 70,000 people have fled to neighbouring Sudan. Some on foot, others by vehicle or by boat across the border river. Due to Tigray being partially closed, making access difficult, people arrived through border crossings that can only be reached via dirt or unpaved roads.
They arrive exhausted after walking long distances, carrying very few belongings.
Hassan and his family were one of the first people to reach the camp after fleeing their hometown, Humara, to find safety in Sudan.
Everything left behind
"We walked for 3 days before we got to the border," Hassan says, pointing to his parched, bare feet. "Everyone was scared. Our money, our animals, our houses, our clothes: we have lost everything."
Hassan told us how he and many others had to quickly flee the violence, and how they saw many of their friends and neighbours die.
"Before the conflict, we had properties, businesses, we didn't worry about tomorrow, but that all changed when the violence started. I am not sure if anything or anyone is still there, but thankfully my mother and siblings are safely on the other side of the country".
Hassan counts himself among the lucky ones, as he used to live and work in Sudan and had connections from his time here.
"It was very rough at first. When we first arrived there was no aid, we had to eat what we were offered. For many that meant they had to go hungry as the food was so different from what they were used to.
"Things gradually started to change when more aid came in. My friends and acquaintances from Sudan were a great support system during those uncertain times as I was able to lean on them when things got tough."
Heart-breaking loss
Amongst the chaos, Hassan and his pregnant wife were struck by more tragedy. He is emotional when he speaks about his loss.
"My wife and I were so happy when we found out she was pregnant as we have been trying for so long. When we fled Tigray she was 2 months pregnant. When we reached Hamdayet we were very thirsty. We hadn't had water for days, we were walking for so long and my wife was so tired, it took a toll on her health.
"So, when she lost the baby, it was so extremely hard for us. This conflict took away so much."
Building new lives together
They had been living in the camp for some time before Hassan felt able to start to explore opportunities within the camp, which shelters mostly Christian families.
A quiet and knowledgeable man, he was approached by the community to be one of the two main leaders of the camp. He is a "peace leader", which involves dealing with disputes and supporting reconciliation, as well as helping organise the camp, registration of new arrivals and rationing.
A Muslim, he says that being nominated as a camp leader reflects the harmony within the camp.
"The majority of Tigray people in the camp are Christians, but we don't differentiate between Muslims and Christians here, we live in peace. Back home my whole life we lived in harmony with Christians, I don't see any differences between us. This situation has not changed my views, it only reminded me that we are all humans."
Despite the harsh realities, poignant stories like Hassan's remind us that ordinary people can work together, form a support system and help guide each other.
The current crisis-disrupted situations in the world can help sharpen our sensitivity and understanding for refugees. Our faith can be a bridge and on this World Refugee Day we encourage many more people to commit themselves to building a humane, pluralistic world with solidarity.
Inspired by our faith, Islamic Relief has been providing emergency assistance to those affected.
We have provided Hassan and his family with shelter, mattresses, blankets, rugs and other essential items. We are helping displaced families and host communities survive a crisis with dignity, find stability in need, and to hold onto hope.
Join us in standing in solidarity with families forced to flee: donate to Islamic Relief to support our work to enable refugees to live dignified lives.