East Africa Blog: Losing a child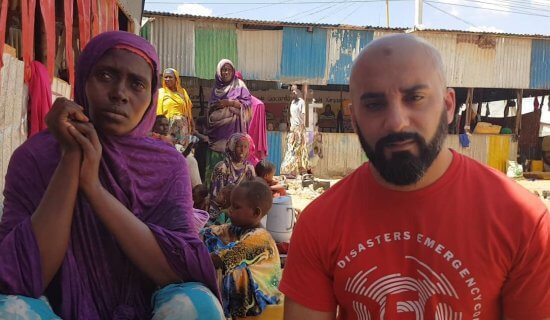 Dotted around Mogadishu, the capital city of Somalia, are camps where countless desperate families arrive in search of food and water. It was at one of these camps, where teams from Islamic Relief regularly distribute food packs, that I first met Fatouma.
Fatouma, from a village in the Burhakaba region, around 250km from Mogadishu, told me her harrowing story of survival through the catastrophic drought.
"The drought has been with us for years, but in the last 12 months things became unbearable. My people are farmers, and our lives depend on our livestock and the land. The lack of rain meant nothing grew, which meant there was no food for the cattle to eat – which ultimately resulted in our remaining cattle dying very quickly. We had no choice, but to leave home in search of food and water.
Fatouma and her six children left their village with nothing but the clothes on their backs. The journey was an arduous one, which they undertook on foot. Every now and then they were able to get on public transport, only to be quickly kicked off once it transpired that they had no money.
"It was excruciating to walk in the blazing heat, and there were times when we felt like giving up, but we knew we had to keep on going, if we wanted to survive. My children became ill because we couldn't feed them and the bodies of my three youngest started to swell badly."
Unknown to Fatouma, the swelling was an indicator of severe malnutrition. Sadly, one by one, her young children Nooratu, Khadiju and Usman died whilst on the journey to Mogadishu. They were buried in different villages en route, where they relied on the good will of local villagers, to raise money for their burials.
It took Fatouma 10 days to reach Mogadishu.
When they finally arrived, they faced another desperate situation – a camp with little sanitation. And with limited food donated by the locals, who themselves were struggling to survive as a result of the drought.
Life at the camps is dire. With families constantly arriving to seek refuge and aid. In the last 48 hours, over 200 people had arrived for sanctuary.
We didn't speak the same language but from looking into Fatouma's eyes, it was clear that she was still in a deep state of shock, a palpable sense of loss and hopelessness.
This devastating story was a recurring theme in the famine of 2011, parents were too weak to bury their children, bodies were simply left on the roadside. This will become a widespread reality if we do not act now.
Source: Islamic Relief UK