World Humanitarian Day: Reflecting on Two Decades of Unwavering Commitment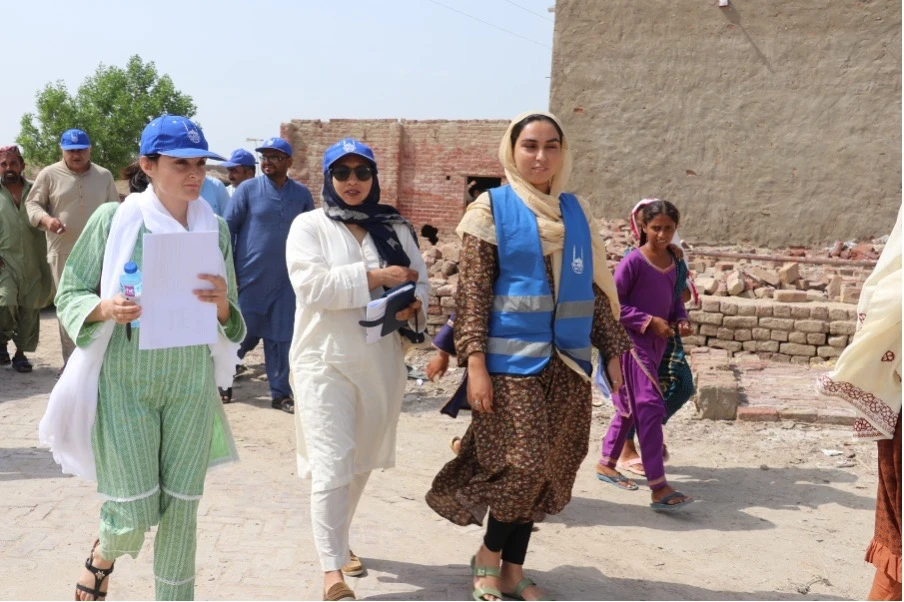 World Humanitarian Day: Reflecting on Two Decades of Unwavering Commitment
World Humanitarian Day is a day dedicated to recognising humanitarian personnel and those who have died working for humanitarian causes. Islamic Relief's Head of Global Advocacy. Shahin Ashraf, talks about why this year's theme, 'No Matter Who, No Matter Where, No Matter What', resonates so much with her.  
Two decades ago, we found ourselves at a crossroads in history. The world was beginning to understand the magnitude of humanitarian crises, and it was evident that a collective response was needed. That's when World Humanitarian Day was born. Now, 20 years on, I find myself reflecting on what this day means, on how our work has grown in scale and complexity, and most of all, on the glimmers of hope I've seen in places where you would least expect it.
This year's World Humanitarian Day theme "No Matter Who, No Matter Where, No Matter What", encapsulates the very essence of what it means to be a humanitarian. We come together under this banner to celebrate the unsung heroes who inspire hope, no matter the odds.
A Global Community bonded by empathy
I've been fortunate to witness firsthand the incredible reach of our humanitarian efforts. In places like Ethiopia, Afghanistan, Bangladesh, Pakistan, Somalia, Nepal, and beyond, the indomitable spirit of humanitarians is evident. They navigate treacherous terrains, confront perilous situations, and act as pillars of support, driven by the universal values that connect us all. Their relentless commitment transcends geography and divisions, emphasising that humanity is defined by compassion.
Pakistan: A Testament to resilience
A year ago, the devastating floods in Pakistan brought despair to many. Now, at the Islamic Relief office in Larkana, Sindh, I see a glimmer of hope. Our local team have been working tirelessly in scorching 48°C heat, rescuing children, establishing livelihood programs, and distributing agricultural tools. These heroes embody the very essence of humanity. They remain steadfast, serving as a living testament to the power of resilience.
During my visit, I had the chance to talk to a young farmer whose life was upended by the floods but restored through our agricultural programs He was full of gratitude and determination as the told me his story, one of thousands touched by our efforts.
In some of the most remote regions of countries like Pakistan, our efforts may be the only lifeline for the afflicted.
An Unforgettable Encounter in Afghanistan
My work has taken me to the breathtaking landscapes of Afghanistan, where Islamic Relief has been actively supporting vulnerable communities.. I met a young woman there, a widow whose husband had abandoned her and her 6 children. She was struggling to make ends meet, but her strength and courage moved me deeply. With the support of Islamic Relief Afghanistan, she has found safety, education for her children.
Her story was a reminder to me that our work extends beyond immediate relief to empowering individuals to rebuild their lives. It underscores the reason why humanitarian work is not just about aid—it's about restoring dignity and hope to the most vulnerable.
The stories from Pakistan and Afghanistan are examples of the intricate web of humanitarian work being carried out every day. These field experiences remind us that our shared humanity is our greatest strength, and that, in the face of adversity, empathy and resilience are our most valuable tools.
Looking Ahead
World Humanitarian Day 2023 serves as a call to action for all of us. By embracing the principles of "No Matter Who, No Matter Where, No Matter What," we contribute to a legacy and stand in unity, reaffirming our commitment to a world where empathy prevails.
Today, 20 years on, I'm filled with pride and humility as I reflect on how the humanitarian work has expanded and evolved. On this World Humanitarian Day, I invite you to join us, support us, and remember the countless heroes on the frontlines. Their dedication, often in the face of immense adversity, showcases what it truly means to be a humanitarian with Islamic Relief.
Please continue supporting Islamic Relief so that we can reach more people in such areas. Donate now.