Through the Lens of Humanity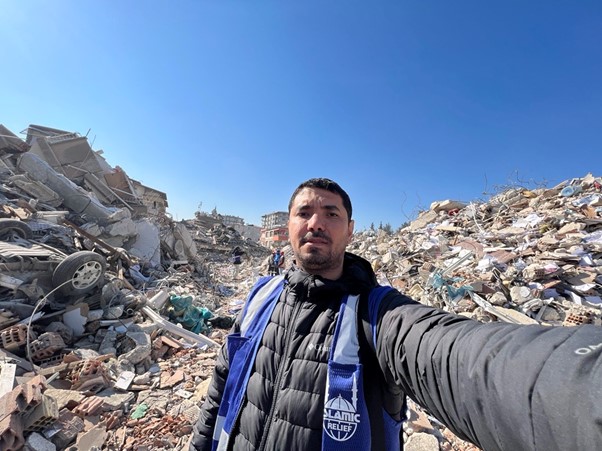 Through the Lens of Humanity
As part of World Humanitarian day, videographer and photographer Majdi Samman talks about his experiences travelling to conflict zones and capturing his experiences on camera.
Growing up in the conflicted region of the Occupied Palestinian Territories, I've been exposed to a world that most people only see through the news. The unrest, pain, hope, resilience – these were everyday realities for me.
This early experience has shaped my life's mission and prepared me for my role as a videographer and photographer with Islamic Relief.
In my work, I've travelled to some of the most afflicted places in the world. From the warring regions of Syria, to the catastrophic blast in Lebanon, the famine-stricken villages of Somalia, and the poorest areas of Mali – I've seen humanity at its most vulnerable. My lens is my tool for capturing these moments and the raw emotions those we help feel in these difficult moments.
The Power of Photography and Videos
They say a photograph or video clip is worth a thousand words, it's a window into the world's most conflicted zones and an intimate look at lives that might otherwise remain invisible. For many, these images are their first and perhaps only insights into far-off tragedies. The power of the lens is not just in the image it captures but, in the narratives it builds.
During my visit to Syria, I encountered children who had seen too much for their young age. Their eyes held stories of loss and survival, but also hope. The images I captured there not only tell the story of a 12-year crisis but also show the resilience of the human spirit.
The Impact of Witnessing Humanitarian Crises
Being in the middle of such profound human suffering and triumph has inevitably shaped my worldview.
In the remote villages of Mali, I found people whose lives are fundamentally different from mine but whose dreams, fears, and love are similar.
Every year for the past three years, I have journeyed back to Bosnia for the anniversary of the Srebrenica massacre. Along with others, I attend the funeral prayer carried out for the dozens of victims found every year. These newly discovered bodies are laid to rest in a solemn commemoration. The experience is heart-wrenching but necessary, a way to honour those lost and to never forget the lessons history has taught us.
The blast in Lebanon was a visceral reminder of how quickly life can change. I was there, capturing the aftermath, seeing the shock in people's eyes, and the community coming together to rebuild. These images were not just about the devastation but about the strength of the Lebanese people.
A Mission Close to Home
This year calamity struck close to home, in Turkey, where I reside with my family. Living in Turkey for the past 11 years has allowed me to deeply connect with the country and its people. When the earthquake struck, I was not just a photographer capturing the events; I was a part of the community. Working alongside Islamic Relief, we supported and helped those affected, providing material aid and emotional support.
My experiences have taught me that even in the most difficult moments, there's a common thread of humanity that binds us all. My lens has allowed me to see this, and I believe it is my responsibility to show the world.
I want people to see the faces behind the headlines, to understand that these are not just stories from far away. We cannot turn away from what's uncomfortable; we must engage, empathise, and act.
Through my work with Islamic Relief, I hope to continue to use my camera as a voice and a tool to shed light on the unseen. In the end, we are all connected, and it's through understanding and empathy that we can make a real difference.
Please continue supporting Islamic Relief so that we can reach more vulnerable people around the world. Donate now.