UN Refugee Summit: A quick guide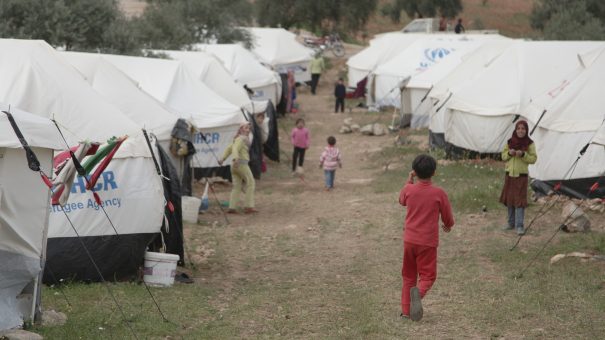 Find out what's happening and how you can make a difference.
Q: When is the UN Refugee Summit?
A: Monday, September 19.
Q: Where is it?
A: UN Headquarters, New York.
Q: What's it all about?
A: This is a chance to make the voices of refugees heard. The UN General Assembly is hosting a high-level Summit for Refugees and Migrants to address the unfolding global forced migration crisis. The aim is to bring countries together with a more humane and coordinated approach.
Q: What's new?
A: This is the first time the UN General Assembly has called together governments and heads of state to discuss the large movements of refugees and migrants and it is a historic opportunity to draw up a blueprint for a better international response. It is a watershed moment to strengthen governance of international migration and a unique opportunity to create a more responsible, predictable system for responding to large movements of refugees and migrants.
Q: Why now?
A: The number of refugees globally now exceeds 20 million – the highest figure for more than two decades. Increasing political instability and violent conflict are pushing thousands of families to flee their homes every day, leaving everything behind in search of safety. Unfortunately the international response to the forced migration crisis has been inadequate and in many cases nation states have failed to meet their basic commitments to refugees under international law. According to UNHCR figures, the world's six richest nations (by the World Bank's GDP ranking) are hosting less than 9% of the planet's 65 million refugees, and many are demonstrating a strong reluctance to open their borders to refugees by exaggerating threats to security, culture and economic stability.
Q: What will it achieve?
A: Many refugees currently reside in countries that have failed to ratify the Refugee Convention and millions each year continue to be born stateless without access to basic human rights. It is clearly time to bring people together to discuss the growing needs and find more effective ways to respond.
Q: How can I help?
A: We will be sharing lots of useful information about the refugee crisis before and during the summit. You can follow us on Facebook and help us by taking one of the following actions:
Stand #WithRefugees and sign the global petition calling on world leaders to do more. It will be delivered to the summit on September 19 We are asking governments to ensure every refugee child gets an education, every refugee family has somewhere safe to live, and every refugee can work or learn new skills to make a positive contribution to their community.

Join the Solidary With Refugees March taking place in Parliament Square in London on Saturday 17 September where we will have an Islamic Relief block.
Q: Why is it relevant to Islamic Relief?
A: Since we first began in 1984, Islamic Relief has been committed to the protection of refugees and to the establishment of a more humane and productive response to hosting refugees and supporting their long-term resilience. With partners in over 40 countries worldwide, we provide life-saving assistance and support to refugees and forced migrant communities in countries including Afghanistan, Jordan, Kenya, Lebanon, Pakistan, Sudan, Syria, Tunisia, Turkey and Yemen.
Forced migration crises disproportionately impact the developing world, with nine out of ten refugees being hosted in developing countries which are already struggling to meet the needs of their own citizens. Moreover, the modern forced migration crisis has taken a distinctly Islamic identity. The biggest refugee populations under UNHCR care are Afghans, Syrians and Somalis, collectively accounting for more than half of the global refugee total, while Pakistan, Iran and Lebanon host more refugees than any other countries. The former UN High Commissioner for Refugees, Antonio Guterres, recognised in 2012 that Organisation for Islamic Cooperation states were hosting approximately 50% of the world's refugees – a percentage that has likely increased in recent years as a result of the crises in Syria and Iraq.
Q: What is Islamic Relief doing at the Refugee Summit?
A: Islamic Relief has listened to the concerns and needs of refugees across the world and will share these with government representatives and policy makers at the summit. We are launching two advocacy reports on the day of the summit, the first one is focused on the impact of the refugee crisis on children following an interfaith mission trip with the Lutheran Immigration & Refugee Service to Jordan, Lebanon and Turkey and one on the lives of female refugees and their livelihoods following a field trip to Iraq.
Islamic Relief is also convening the Faith & Migration working group meeting with the Joint Learning Initiative on September 19 where faith based organisations will come together to discuss best practice and how faith based local communities can support refugees. Islamic Relief has been working with other key NGOs including ACT Alliance, OIC and LIRS to prepare for the summit.
At the summit itself, Islamic Relief will engage with key policy makers, government representatives and take part in civil society marches standing in solidarity with refugees in both New York and London.
See the eight key messages we're taking to the summit here.
Q: What does Islam say about refugees and forced migration?
A: Islam has a rich heritage of forced migrant protection, stemming from the original teachings of the Qur'an and examples from the lives of Islamic prophets. Central to the Islamic tradition are the concepts of welcoming and dignity.
The Qur'an calls on humankind to fulfil the role of protectors and helpers to "those oppressed men, women and children, who cry out, 'Lord, rescue us from this town where people are oppressors!'" (Qur'an 4:75), and promises that those escaping persecution will find "many a refuge and a great plenty in the earth" (Qur'an 4:99).
Islamic teachings emphasise that refuge is the divine right of the persecuted, and humankind has the responsibility to provide shelter and protection to those in need, wherever they seek it.
Dignity is considered a central aspect of human identity, as the Qur'an speaks of how God "honoured the children of Adam" (Qur'an 17:70). Protecting human dignity is therefore a critical responsibility. Rather than treating forced migrants as social and economic burdens, the Qur'an commends those who "show love for those who migrated to them" and "give [the migrants] preference over themselves even if [the hosts] too are poor". (Qur'an 59:9)
Forced migrants are to be regarded as brothers and sisters, afforded the same rights and protection as all citizens, and should be encouraged to attain independence and self-sufficiency in their new communities.