Many people dream of the beauty of white, soft and fluffy snow, but yet there are those who are suffering from the cold harsh winter. 
Express Your Gratitude
Islam encourages us to be grateful for every blessing bestowed upon us by Allah whether it is in the form of money, rank and position or even blessings of health, happiness, tranquility and the free time accorded to us in our daily life.
The best way for us to express our gratitude to Allah is to obey His commandments and strive to perform good deeds in order to enter paradise.
Currently, almost the entire world is affected by the Covid-19 pandemic and in some countries affected by war, people suffer more – threatened by famine, violence, gender bias and so on.
Under such circumstances, we need to strengthen our understanding on the meaning of gratitude to make us strong and united and to give generously
Sadaqah and infaq are some of the best ways we could undertake to express our gratitude through sharing what we have with others. Indeed, Allah SWT has promised great rewards for people who give sadaqah, no matter how small the value. Every coin and good action will be rewarded, InshaAllah.
The World is Getting Worse
690 million people still go to bed on an empty stomach every night. – World Food Program (WFP)
88 million to 115 million people suffer from poverty this year – The World Bank.
In 2021, 235 million people are expected to rely on humanitarian assistance and protection to survive. It is equivalent to 1 in 33 people worldwide.
In 2021, it is estimated that more than 150 million people will live below the poverty line globally with an income RM7.89.
2 million children died, 12 million people became refugees, 4 to 5 million people suffered from disability, while some 1 million children became orphans due to war and ongoing conflict over the past decade.
Every five minutes a child dies due to violence.
Between 80 and 100 million girls are "missing" from the world's population due to gender-based infanticide, femicide, malnutrition and neglect.
More than 79.5 million people had been forced to flee their homes by the end of 2019 with 45.7 million being internally displaced persons (IDPs).
At least 224 million children are denied access to education.
3 million adults and children are trafficked each year into forced labor, bonded labor, and forced prostitution worldwide. 56 percent of these victims are women and girls.
Let's Create a More Caring World As a sign of Our Gratitude
mySedekah campaign aims to raise RM3 million which covers various aid sectors such as food, emergency, community development, health, education, water, sanitation & hygiene (WASH) and others.
This campaign will run throughout the year to be support good relationship between donors and beneficiaries.
"The impact of Covid-19 is huge. I am also not exempted from salary deduction. When I told my husband that we need to spend money more wisely, my husband said do not forget to give sadaqah and always be grateful because I still have a job despite the pay cut. Insha-Allah, I will continue to share with others and contribute more to help those in need." – Donor from Islamic Relief Malaysia
"I am from B40 family. As of now, I am still struggling to build my career in order to have a good life. For me, charity is something that can make us feel more grateful and thankful for what we have in our daily life. Charity also makes me feel contented with what Allah has given me especially when I see vulnerable people. Every month, I will make sure that I make a contribution even though it is a small amount, it may change a person's life." – Donor at Islamic Relief Malaysia"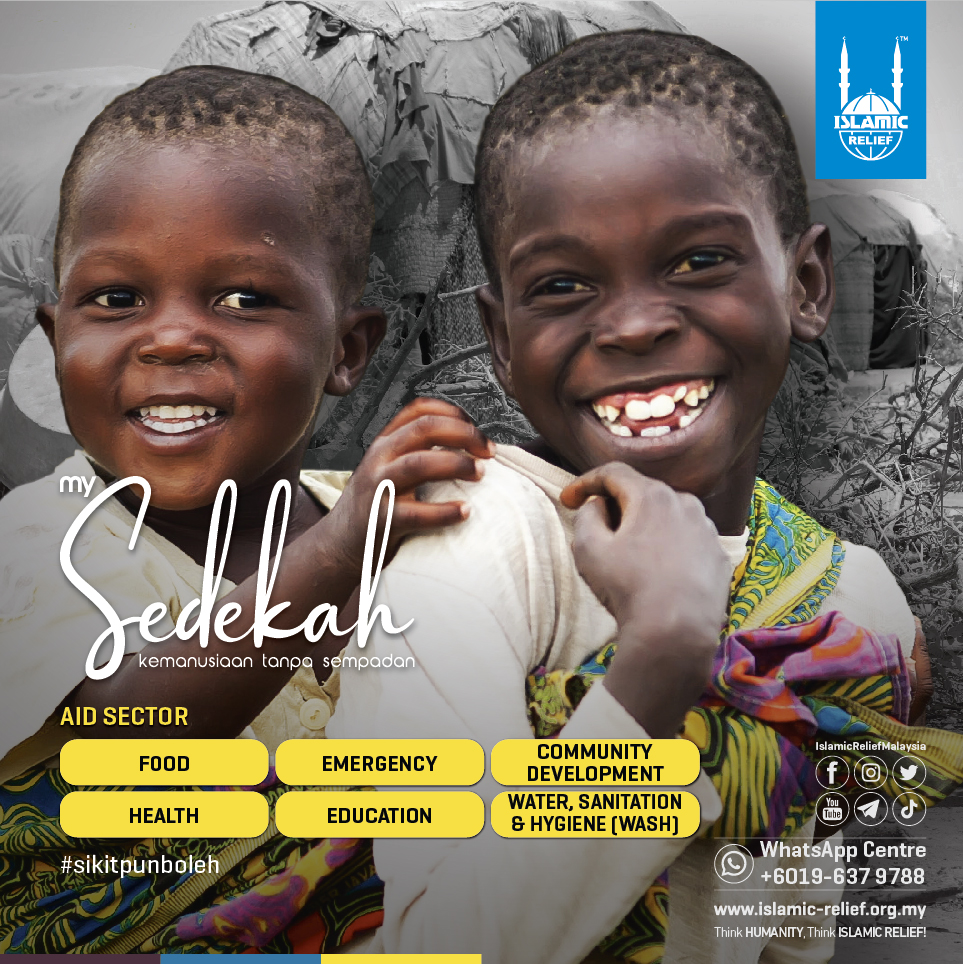 A grateful person is one who is always open and willing to learn from the experience of others who have suffered some form of misfortunes.
#mysedekah #kemanusiaantanpasempadan #sikitpunboleh