Islamic Relief counselling in Gaza helps girls like Noha who face violence at home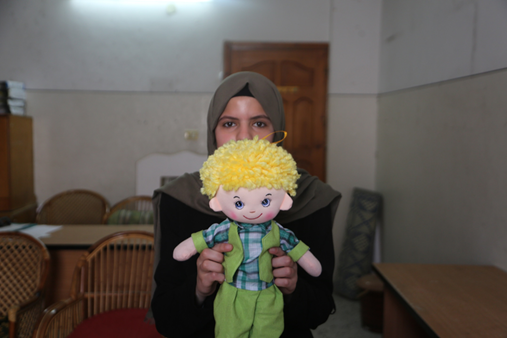 Fourteen-year old Noha* lived in such fear that even the sound of her own name terrified her.
Noha lives in Gaza, where economic hardship and the anxiety of further conflict is ever present. Home did not feel safe since her brother regularly subjected her to physical and emotional abuse.
"Every day, I was terrified whenever my older brother called my name, because it was usually followed by beatings," says the teenaged girl.
The abuse affected Noha in many ways, including at school as her educational achievement declined.
"For so many years I hated my brother, my family, and myself.  Home was a hellish place. I used to run away to my aunt's house and stay away days on end to avoid the beatings," Noha says.
Noha's suffering increased when her brother lost his job and money became tighter.
"My brother was about to get married, but he was forced to break up with his fiancée due to lack of money and he couldn't find a job. That is when everything deteriorated and his violence towards me became more frequent," she explains.
With her mother's help, Noha was able to get counselling from Islamic Relief.
"When my mother asked my opinion about participating in the psychological support sessions, I didn't agree at first as I felt ashamed. Now, I am very happy that I received this service, thanks to Allah.
"The counsellors give me advice and when I feel sad I don't hesitate to tell them.
"I have changed a lot after participating in the psychosocial sessions with Islamic Relief. Now, I'm stronger and able to stand up for myself, and talk to my brother. I'm not avoiding him anymore."
The psychosocial support Noha received focused on stopping the violence perpetuated against her, and increasing family bonding.
"The counsellors visited us at home and provided psychological support sessions to my brother and all my family members. This helped us get to a closer and more loving place in our relationships.
"I love mathematics and Islamic studies and when I grow up, I would like to be a teacher. School wasn't on my mind when I was going through abuse, and I could see it affecting my schoolwork and overall happiness. Now I am in a better place in my life and have the desire to succeed. Thanks to the counsellors who worked with me".
Even though Noha has overcome some of her challenges, like so many others in Gaza she now faces the impact of Covid-19.
"Due to the coronavirus, schools are closed. Teachers have been giving online lessons, but unfortunately I do not have a computer or a smartphone to access these lessons.
"At home we have only one phone, which belongs to my eldest sister. Each of my siblings uses the phone for an hour a day. This does not give enough time to follow all my lessons. What's more, when the electricity is off at the house, there is no lighting so I am unable to study or read."
However, Noha is thinking positively and studying as much as she can.
"Even though we live in challenging times, and social movements are getting stricter in Gaza and around the world, education is giving me a connection to the outside. Focusing on learning is keeping me going during the hard times. I hope that all the seeds I plant will grow into something of significance to the world."
During this year's 16 Days Of Activism campaign we are joining thousands of organisations working to highlight stories like Noha's. She has gone through many changes and experiences, and through Islamic Relief support has the confidence to finally stand up for herself and speak up.
Islamic Relief works to strengthen community-based mechanisms to enhance local capacity to prevent and respond to protection risks, including gender-based violence (GBV).
Some of the training is aimed at enhancing women's and children's capacity to be able to support themselves and protect themselves from GBV.
We ask others to join us in placing survivors at the centre of our programmes by empowering local communities to take ownership of developing more cohesive and sustainable programmes.
Islamic Relief is pushing for an end to all forms of gender-based violence. Discover more about how we're making a difference through our 'survivor centred' approach to humanitarian and development programming.