"I help survivors of abuse like me to see a different way to live"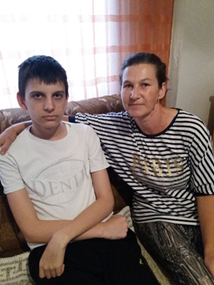 Nermina, who lives in Gracanica in Bosnia and Herzegovina, experienced many years of domestic abuse. Here the 43-year-old reveals how Islamic Relief has helped her and why she speaks out to empower others.
My husband was an alcoholic and I had a difficult marriage for the 15 years I was married to him.  We all suffered. The memories I had of him all involved him coming home drunk and hitting me and my children.
His presence in the house in the house frightened us. His threats and physical abuse became more frequent over time, especially after he lost his job due to his alcohol abuse.
I struggled a lot as a mother and a wife. I became the main breadwinner. I had to protect my children from my husband – he used to hit me in front of them whenever I objected to his drinking or his demands for my oldest son to walk for miles so he could feed his addiction.
Sometimes we would slip away from home very early and take shelter with my parents until he calmed down. He had extremely volatile emotions and I was afraid of what he might do to me and my children.
But I learned to cope – I had to. At the beginning I didn't have the strength to leave. I was young when I married him, and since we were going through a war in Bosnia I gave him many chances to change. I confronted my husband after he beat me severely when I was pregnant with my oldest child. No one intervened and I felt so alone.
Still I always threw myself into fights with him to protect my children. I just didn't want to see him pound their heads against the wall or break their bones.
My husband eventually died, but he left a long lasting effect on my family. My eldest son in particular has psychological issues that stem from living with his father. I have tried to push him to go see someone, but I haven't been successful. My only desire is to see my children happy and successful.
We give ourselves a voice
I have gained hope by talking to other women who suffer from domestic violence. Many of my friends and neighbours have also suffered a lot from gender-based violence. And that's why Islamic Relief is so important to me, because they empower women through various projects so that they can escape from abusive situations. I have received Islamic Relief support through working on greenhouse projects and receiving sponsorship for my young son.
But most importantly, I have been able to get mental health support through Islamic Relief's psychosocial programme. I have never gone to therapy before and now I speak about what I have been through and even though I get emotional through Islamic Relief I now realise that I am not alone. It's important to stand up for yourself and not normalise violence, especially given the current climate the world is in at the moment.
I keep hoping that people will open their eyes and see that we can live in a different way. When you talk with people, you realise so many are going through abuse, whether it is mental or physical.
I draw my strength from other strong women, and my children. Without them, I wouldn't be the woman I am today. They have been very supportive and they have given me a reason to move on with my life.
Global estimates published by WHO indicate that about 1 in 3 (35%) of women worldwide have experienced either physical and/or sexual intimate partner violence or non-partner sexual violence. This abuse happens in every region of the world, in every community.
Women and girls are particularly vulnerable to this horrific violation of human rights.
Across Eastern Europe and beyond, Islamic Relief is working to end to all forms of violence against women and children.
Learn more about Islamic Relief's work protecting women against violence and promoting the rights of women and girls.