The Future of Orphans
Every child deserves a positive start in life and the hope for a bright future. Each day millions of children across the world face incredible hardship. Struggling to survive amongst wars, disasters, drought, famine, or disease, they all too often become orphaned as a result.
Improving children's daily lives by providing them with educational supports, safeguarding them against illness, and by giving them access to proper food and nutrition, can also provide a cushion that would help alleviate suffering in emergency situations. Perhaps most important, those basic resources can provide a world of hope to children for a brighter future.
At least 140 million orphans worldwide (2015) including 61 million in Asia, 52 million in Africa, 10 million in Latin America and the Caribbean, and 7.3 million in Eastern Europe and Central Asia.

15.1 million have lost both parents.

Almost 10,000 children become orphans every day.

Almost one third of all orphans worldwide comes from countries such as Syria, Iraq, East Turkestan, Somalia, Mali, Sudan, Palestine, Afghanistan, Central African Republic, Egypt, Kenya, Nigeria, Yemen, Myanmar, and Algeria.

One in seven orphans and abandoned children lives in poor countries is engaged in child labor.

At least one tenth of the refugee children in the world are orphans.

The number is increasing due to ongoing wars, conflicts, natural disaster, epidemics, poverty and mass migration.

Orphans may face so many economic and mental issues.

Orphans usually unable to get an education and often drop out of school to support their family even at an early age.

Orphans who live in war area are targeted by human traffickers, organ mafias and forced into prostitution or begging.
Islamic Relief's Response
Islamic Relief Malaysia took the initiative to raise funds of RM500,000 through MyYateem #CareForOrphan campaign to help orphans around the world via several upcoming projects. Globally, Islamic Relief has been working to help orphans in more than 20 countries including Palestine, Bosnia & Herzegovina, Somalia, Yemen, and Indonesia for more than 30 years and served tens of thousands of orphans.
Basic School Needs
Providing school supplies
to orphans such as
stationery
Basic Health Needs
Helping to maintain the health of orphans through medications and vaccine injections
Food & Nutrition
Supplying balanced and adequate food needs to orphans including vitamins
Full Package
Providing a complete package to the orphans including psychosocial support
The Messenger of Allah, peace and blessings be upon him, said, "Whoever embraces an orphan of two Muslim parents by feeding him and giving him drink until he is independent of him, Paradise will certainly be necessary for him. Whoever emancipates a Muslim man, he will be his freedom from the Hellfire; he will be rewarded for every limb of his in equal measure."
[Narrated by at-Tirmidzi]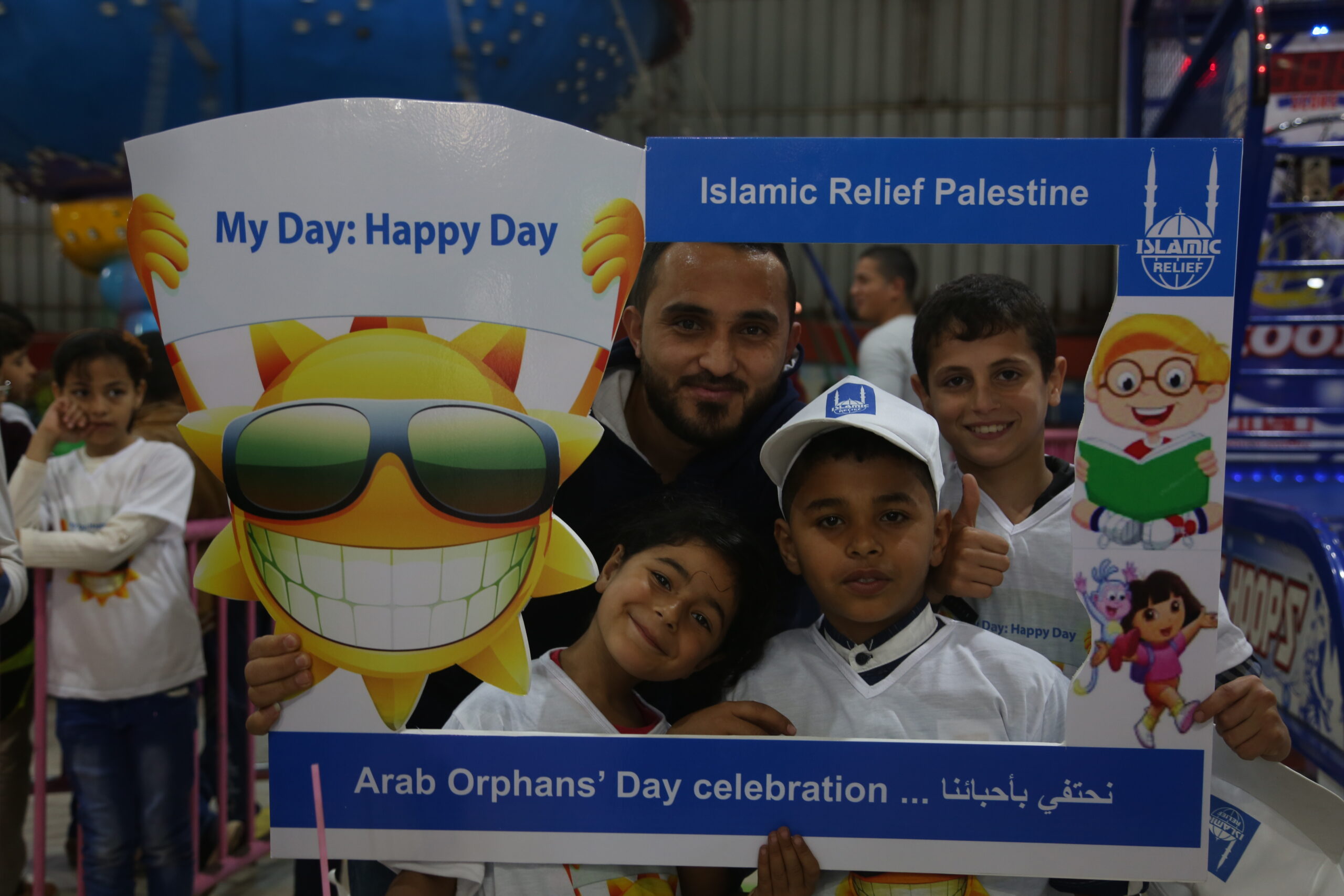 One of the activities that we have conducted in a mass is a celebration of Orphan Day with Palestinians in 2018 to entertain more than 150 children with the theme of, "My Day: Happy day".