Many people dream of the beauty of white, soft and fluffy snow, but yet there are those who are suffering from the cold harsh winter. 
Malaysia is a country comprising of multi-racial and tribes. The custom of celebrating multi-racial festivals in harmony is unique and considered normal among Malaysian citizens. Though humanity is suffocated on the global scale, however, Malaysians should receive the credit for our success to live together peacefully besides maintaining the survival of humanity and unity. As the important aspect of the Chinese New Year festive is to pay respects to others, thus, this is the most valuable sentiment that we should continue to apply in our daily lives as concerned multi-racial Malaysian citizens.
In line with its basic principles to allocate resources regardless of race, political affiliation, age, gender, abilities, or belief, Islamic Relief Malaysia is set to welcome the upcoming Lunar New Year (year of the Ox in the Chinese zodiac) which falls on 12 February. Share the Joy #kongsirezeki apparently carry its meaning to appreciate the unique diversity in Malaysia by sharing joy and sustenance with the underprivileged irrespective of race, religion, or culture.
Share the Joy #kongsirezeki campaign is targeting RM100,000 that will benefit groups of people among the underprivileged in Klang Valley, Sabah, and Sarawak. This campaign runs for 33 days starting from January 11 until February 12. Despite has to carry different implementation methods to remain vigilant and stringently abide by the standard operating procedures (SOP) outlined by the authorities, Islamic Relief Malaysia attempting to help 650 Chinese beneficiaries during this festive cheer of brilliant red.
Among the available packages offered are the Kongsi Fa Cai package worth RM200 which is comprising of food and non-food items. Meanwhile, the Kongsi Gift package worth RM30 is comprising of shopping voucher.
Through Share the Joy #kongsirezeki campaign, Islamic Relief Malaysia aims to achieve the objective of instilling positive values in the multi-racial community, promoting a loving culture, and respecting each other.
No matter what kind of differences we have, now is the best time to reach out to the underprivileged during these trying times. It is absolutely fine to share the joy with them within our means. The key is 'helping hands' because kindness is a reciprocal act and it is needed for a better world.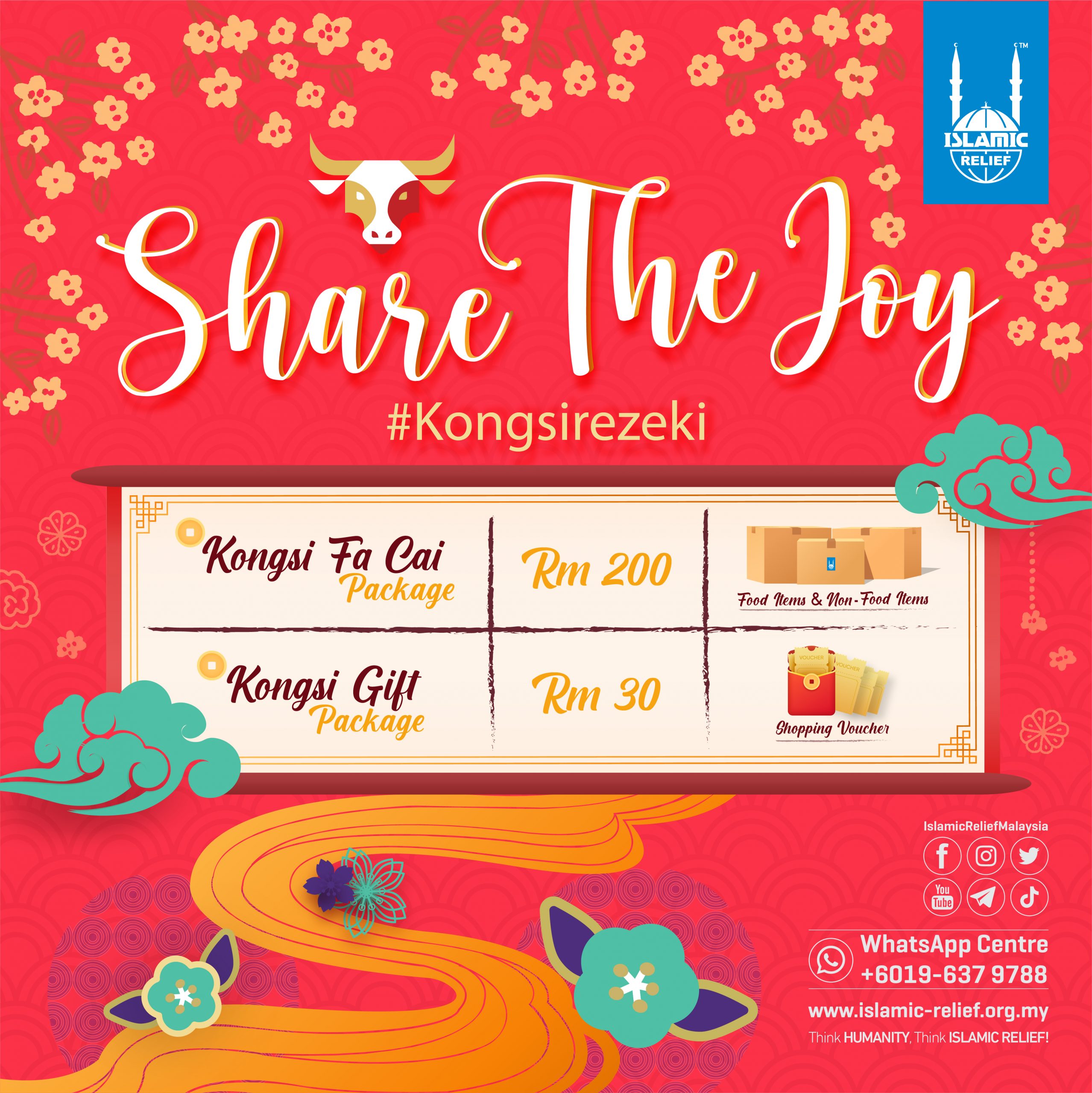 #kongsirezeki #mysedekah #kemanusiaantanpasempadan #sikitpunboleh