HOW ISLAMIC RELIEF IS HELPING
Official figures from the United Nations put the death toll since 2011 at over a quarter of a million people, with over 10 million having fled their homes.
" Islamic Relief has been responding to the crisis in Syria since 2011, working on the borders to provide people caught up in the violence with essential humanitarian aid. Since 2012, we have been working deep inside the country to reach vulnerable families. "
The Islamic Relief Syria Crisis response has been a $185 million programme, which has provided assistance to 3 million Syrians so far. 2.2 million of those are inside Syria itself in areas including Aleppo, Idlib and Homs, as well as supporting refugees in Iraq, Jordan and Lebanon.
Our comprehensive Syria emergency response includes:
– Medical assistance
– Food parcels and World Food Programme vouchers
– Shelter and cash for rent
– Water and sanitation
– Essential items such as baby kits, blankets, clothing and heaters
– Money to help refugee families meet their urgent basic needs
– Livelihoods and education support
– Psycho-social assistance for those displaced by the fighting
– Essential aid and food supplies for Palestinians trapped in Yarmouk camp.
We also continue to push the international community for urgent action to end the conflict and to secure better humanitarian access in the war-torn country.
WHY YOUR HELP IS NEEDED
Vulnerable people are bearing the brunt of what has become the worst humanitarian crisis of the 21st century.
Around 12.2 million people inside war-torn Syria now require humanitarian assistance. Almost half of these are children. Over four thousand schools have been destroyed, and the country's health system has effectively collapsed. Water supplies have been cut and food is in short supply, particularly for the 4.7 million living in besieged, hard-to-reach areas.
MILLIONS DISPLACED
Many have been forced from their homes. In Syria today, at least 7.6 million people are thought to be internally displaced. Many displaced families live in camps or collective shelters with scant access to water, food, medicine, and other essentials – including adequate protection from the extreme weather conditions in the summer and winter months.
On average, a family flees Syria every minute. More than four million have left the country since the crisis began – and that figure is set to rise still further in the coming months.
Islamic Relief has been responding to the crisis since 2011. Today, we are working deep inside Syria to help those that most need assistance. We also provide much-needed support to vulnerable families seeking safety in nearby countries, working to ease their suffering and support host communities in meeting the needs of the new arrivals.
AT A GLANCE
– Syria is now in its fifth year of conflict
– Over 191,000 civilians have died
– 12.2 million people in the country need humanitarian aid
– Almost 5.1 million children are living in dire conditions inside Syria
– About 7.6 million are displaced within Syria
– More than four million people have fled the country – many of these are children
– 1.7 million refugees require food assistance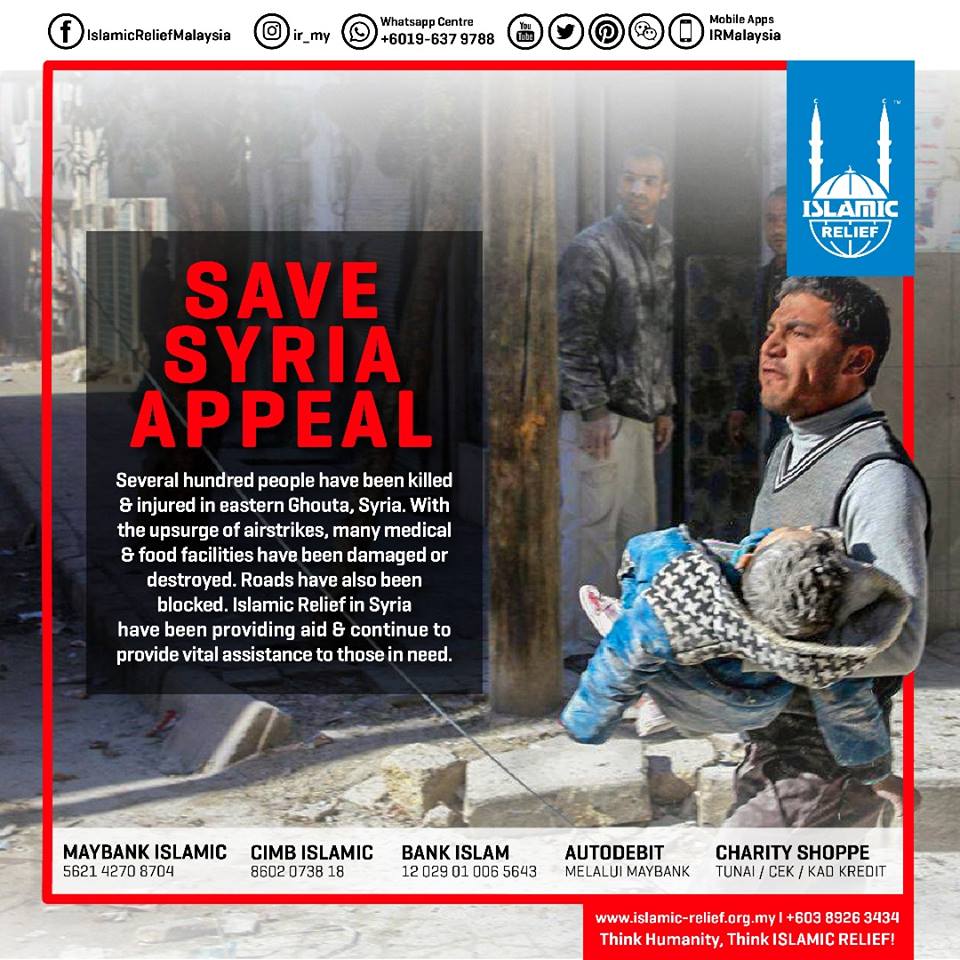 News Update:
• Over the last few weeks, a number of military offensives have further worsened the humanitarian situation across Syria
• Heavy bombardment in southern and south-eastern rural Idleb has caused casualties and displacement amongst civilians, as well as severe infrastructural damage
• Between 15 December and 3 February, the Camp Coordination and Camp Management (CCCM) Cluster tracked 325,443 displacements (some may be secondary displacements) in north-western Syria- mainly towards Dana, Salqin, Kafr Nobol, Ariha and Atareb sub-districts
• On 20th January, the Turkish army launched a military offensive in the Afrin district of Aleppo; up to 30,000 people are reported to be displaced within Afrin (ACAPS)
• About 400,000 people have been living under a government-imposed siege in Eastern Ghouta, an opposition-held area east of the Syrian capital, since 2013
• Since 18th February, an escalation in airstrikes in Eastern Ghouta has aggravated the humanitarian situation, and resulted in the deaths of at least 250 civilians (BBC). More than 50 children were among the dead, about 1,200 people were injured . The situation in Eastern Ghouta is very chaotic. The primary information is received from IR Syria implementing partners in Ghouta as well as secondary sources (media).
• The IR Syria Team has been providing health and NFI assistance to affected IDPs in Idleb and Hama, has prepositioned winter NFI kits in Afrin, and in Eastern Ghouta, through local partners, has provided food, NFIs and fuel for heating to the affected population.
Pray for our brothers and sisters in Syria.