Let's Join MyYateem Charity Week Program Organized by Islamic Relief Malaysia. Together, Let's Help and Bring A Bright Future of Orphans in Conjunction with Celebration of Prophet Muhammad S.A.W Birthday Month.
MyYateem Charity Week is a platform to invite volunteers to get involved and participate in fundraising activities to help orphans and vulnerable children around the world.
This program was set up by a group of Islamic Relief volunteers in London with a vision for collective action in 2003. They are trying to bring a message that UNITY can be problem-solving on humanitarian work and show that we were stronger together rather than apart.
Over this 18 years, Charity Week has grown into a global annual initiative event among Islamic Relief volunteers and has successfully raised over 9 million dollars which benefits for orphans and vulnerable children in 28 countries.
This year, Charity Week theme is "We Are One Body" and aims to raise 1 million dollars in collaboration with volunteers from 8 Islamic Relief branches to help in the education sector in Idlib, Syria. From the total target, Islamic Relief Malaysia aims to raise funds of RM70,000.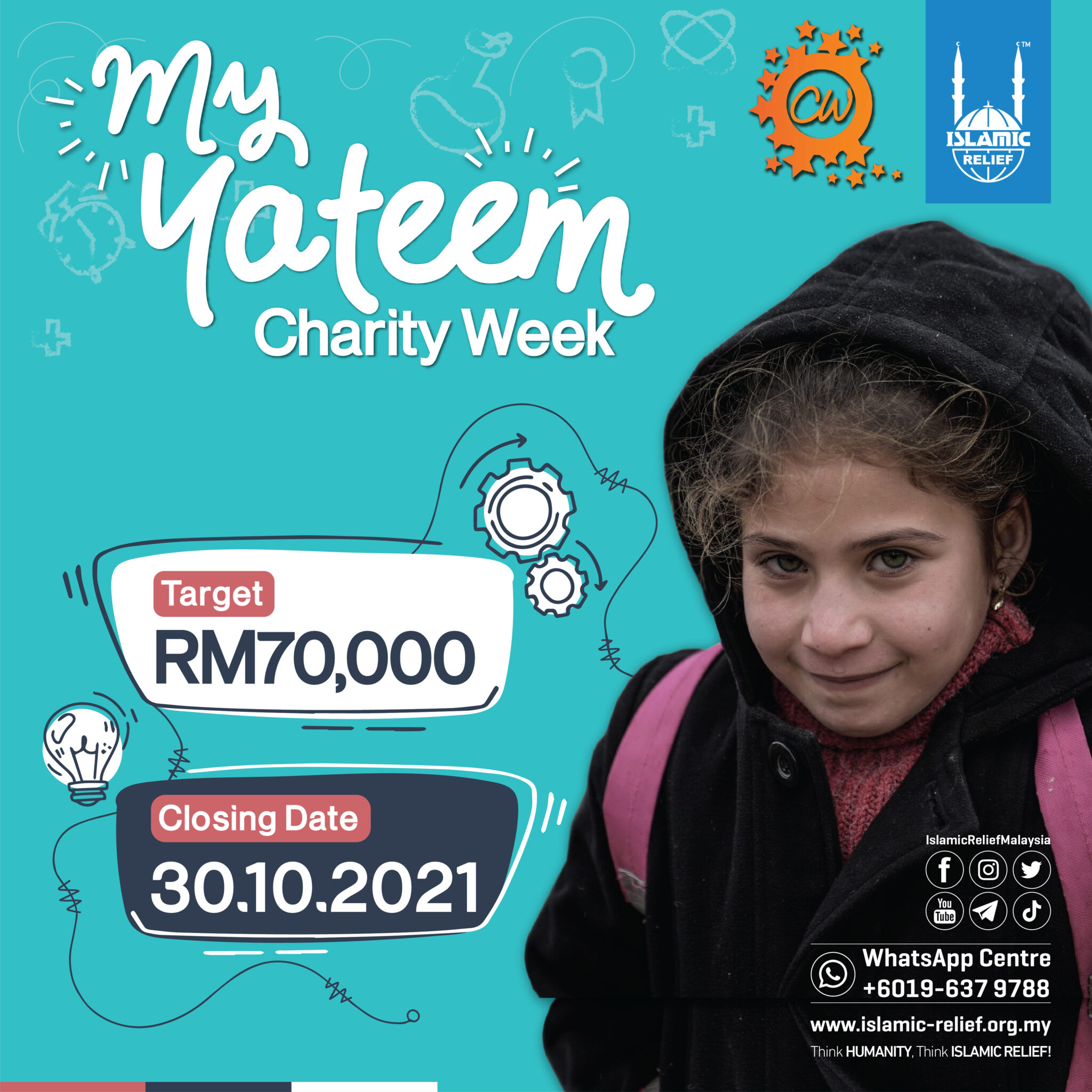 10 Years of Devastation in Syria, A Decade of Destruction and Dire Suffering
For the past 10 years, the brutal conflict in Syria has left millions of people displaced, living in constant fear, hunger, and suffering.
The lives of Syrian children have been affected by the conflict. They are regularly exposed to escalating violence since childhood, have been forced to flee their homes, and experience loss or separation from their parents and family member.
According to United Nations Children's Fund (UNICEF), nearly 2.45 million children in Syria are out of school, while those children who are able to attend classes often learn in overcrowded classrooms, and in buildings with insufficient water and sanitation facilities, electricity, heating, or ventilation.
Around 86 percent of schools for Syrian children need humanitarian support to sustain the operation. The educational institutions were shortages of teaching material as well as teaching staff.
Realizing there is a huge impact if the situation remains, Islamic Relief has taken an initiative to help them in the education sector to improve access to quality and inclusive education in Idlib, Syria. 
It is also to ensure the Syrian children can continue their studies and also to strengthen the educational system.
The assistance provided through this project are:
Provision of school kits to 21,900 students

Provision of school feeding, teaching materials, sports equipment, and other facilities in 60 schools

Provision of monthly salaries to 22 teachers and school management staff who follow the training support program organized by Islamic Relief.
Don't miss the opportunity to join MyYateem Charity Week. Together, let's unite to help Syrian orphans to have the right to education. #CW2021 #WeAreOneBody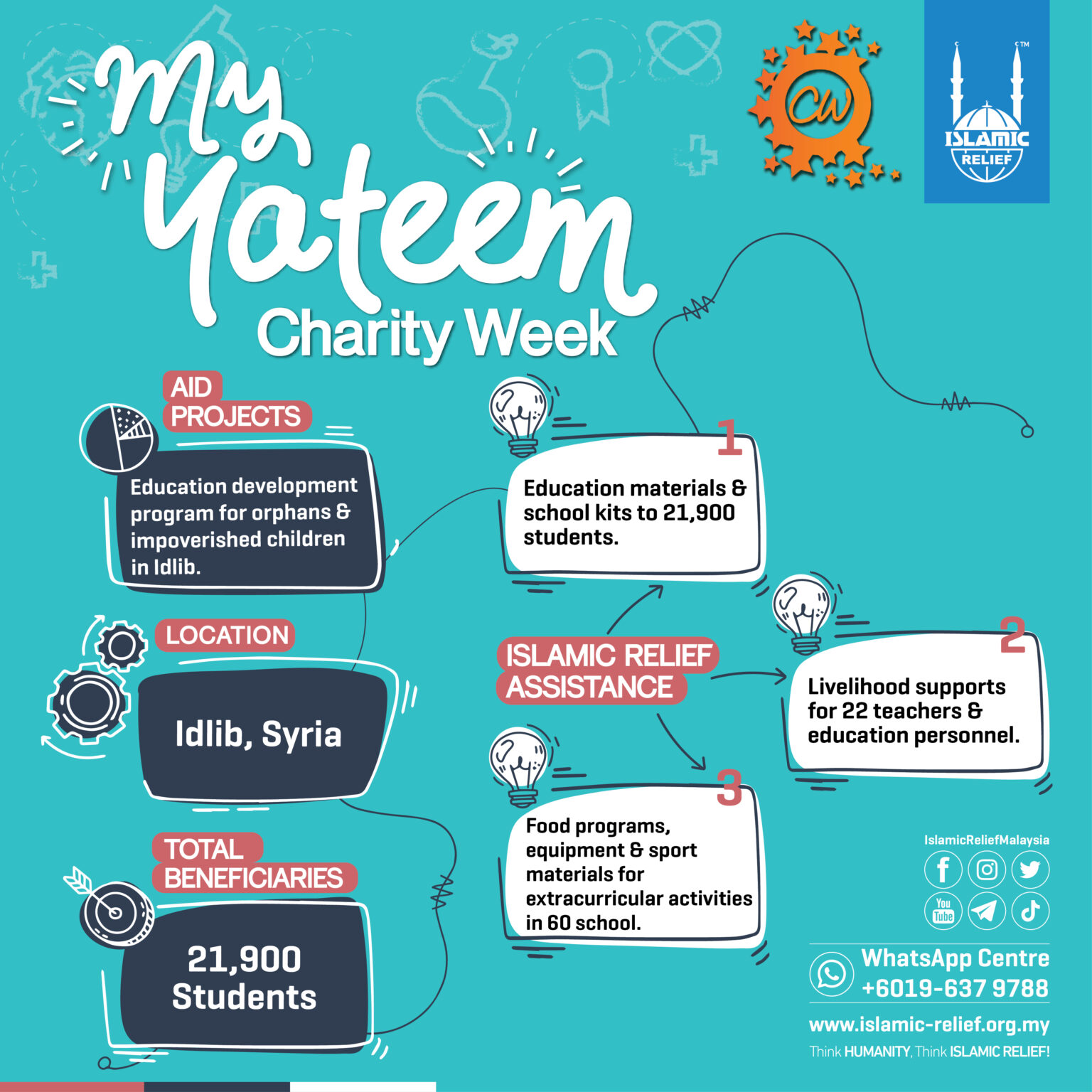 The Messenger of Allah, peace and blessings be upon him, said, "Whoever embraces an orphan of two Muslim parents by feeding him and giving him drink until he is independent of him, Paradise will certainly be necessary for him. Whoever emancipates a Muslim man, he will be his freedom from the Hellfire; he will be rewarded for every limb of his in equal measure."
[Narrated by at-Tirmidzi]